Kris Jenner & Khloé Kardashian Supported Ryan Seacrest At The Oscars & Twitter Isn't Pleased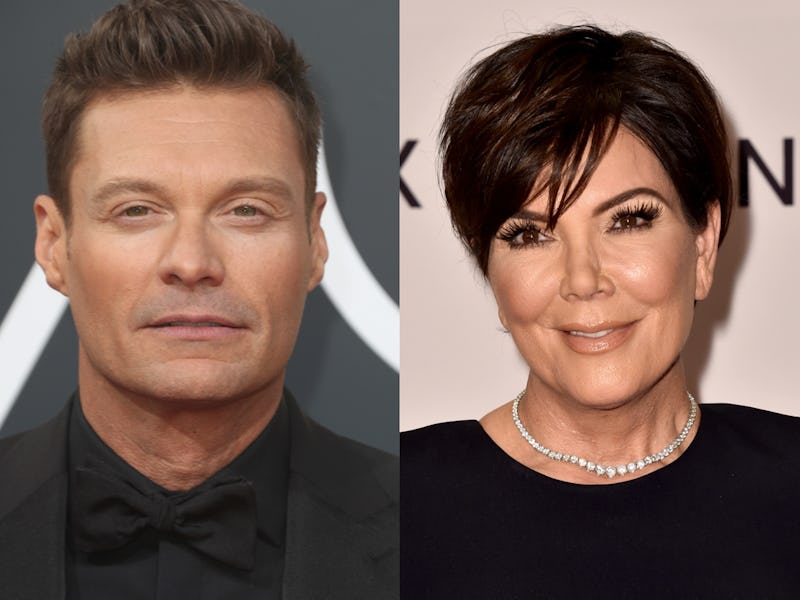 Frederick M. Brown/Getty Images Entertainment/Getty Images; Alberto E. Rodriguez/Getty Images Entertainment/Getty Images
Not long before the E! Oscars red carpet officially kicked off, members of the Kardashian family supported Ryan Seacrest on social media. Kris Jenner posted an old photo with the red carpet host to Instagram, and Khloé Kardashian shared a celebratory tweet. The support comes amid sexual misconduct allegations against Seacrest, which the host has repeatedly denied.
Earlier on Sunday, Jenner wrote on Instagram:
"Oscar Sunday wouldn't be the same without you @ryanseacrest @giulianarancic!! Can't WAIT to watch you on the Red Carpet tonight!! I look forward to this night every year! I'm so proud of you!! #BFF #beautifulheart #E! #TheOscars #Oscars2018 #AcademyAwards #AcademyAwards2018 #LiveFromTheRedCarpet #Oscars90"
Meanwhile, Khloé's message was similar, but more succinct. Along with some heart emojis, the Revenge Body host wrote, "Oscar Sunday!! I love the E red carpet coverage with my favs @RyanSeacrest and @GiulianaRancic."
Given the recent allegations against Seacrest, fans on Twitter and Instagram weren't exactly pleased to see the famous family backing the Oscar red carpet host. Although, the support is not that surprising, since Seacrest has served as the executive producer of Keeping Up With The Kardashians for a decade. (Bustle reached out to reps for Jenner and Khloé for comment on the backlash, but did not receive an immediate response.)
Just last week, sexual harassment and abuse allegations against Seacrest surfaced in an article published by Variety. The accusations came from his former stylist, Suzie Hardy, who claimed the alleged abuse, which included alleged unwanted sexual aggression, happened for years. Seacrest denied these allegations in multiple statements. He told The Hollywood Reporter:
"Yesterday, Variety published a salacious story that revealed the specific claims against me for the first time — even though an independent third-party investigator found insufficient evidence to support the claims. Much to my dismay, Variety didn't speak with me or bother to speak with other credible witnesses or even ask for any of the evidence that was obtained during the investigation when offered, all of which clearly challenged the veracity of the claims made against me.
This person who has accused me of horrible things offered, on multiple occasions, to withdraw her claims if I paid her millions of dollars. I refused. I have worked extremely hard to achieve my success and I don't take my opportunities for granted. I don't want to accuse anyone of not telling the truth but in this case, I have no choice but to again deny the claims against me, remind people that I was recused of any wrongdoing, and put the matter to rest."
While it was announced in November 2017 that there were allegations against Seacrest (which he called "reckless" at the time), it was not until Feb. 26 the claims were detailed publicly. Back in November, E! also began an investigation into the claims. An E! spokesperson told Bustle in a statement dated Feb. 1:
"E! has now concluded the investigation into allegations regarding Ryan Seacrest. The investigation, conducted by outside counsel, found insufficient evidence to substantiate allegations against Seacrest. E! is committed to providing a safe working environment where everyone is treated with respect and dignity."
In her interview with Variety, Hardy said of the investigation, "Total exasperation was my definite feeling when I heard about it. I felt like by the third interview, it was obvious the investigator was whitewashing it for Seacrest's side." To Variety, Hardy's attorney denied the claims that she asked for any monetary compensation. (An E! spokesperson told Bustle in a statement, "E!'s investigation was extremely comprehensive and thorough... Any claims that question the legitimacy of this investigation are completely baseless.")
With the allegations making headlines in the lead-up to the Academy Awards, some fans were disappointed to see Jenner and Khloé vocalizing support for Seacrest. Comments on Jenner's Instagram post ranged from "oh god no" to "how is he still invited to the oscars" to "I used to watch your show but never again." Another wrote, "I feel like they should have removed him just like they did all of the others until they prove otherwise - he shouldn't have special treatment just because of who he knows."
Over on Twitter, Jenner tweeted out the same photo and received plenty of responses — mostly in disapproving GIF form.
And as for Khloé, her tweet raked in similar replies. Plus, plenty of people called for the reality star to vocalize support for the #MeToo and #TimesUp movements instead.
At the time of reporting, Khloé's sisters — Kim, Kourtney, Kylie, and Kendall — have yet to post anything about Seacrest or the ceremony. Given the reaction fans are having, it doesn't seem too likely that they'll chime in at this point.
If you or someone you know has been sexually assaulted, call the National Sexual Assault Telephone Hotline at 800-656-HOPE (4673) or visit online.rainn.org.