Ryan Seacrest Denies Misconduct Allegations From A Former E! Stylist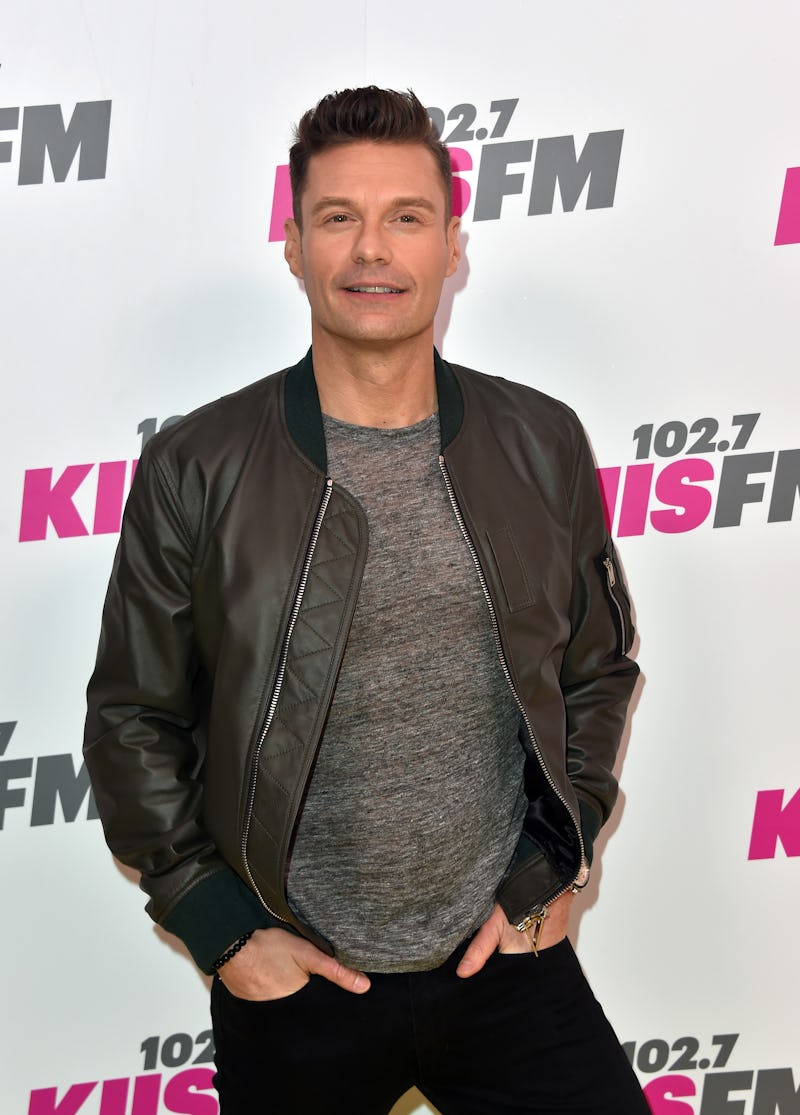 Frazer Harrison/Getty Images Entertainment/Getty Images
Following a recent outpouring of allegations of misconduct in Hollywood, American Idol host Ryan Seacrest released a statement preemptively denying accusations of inappropriate behavior before the details have even become public. According to The Hollywood Reporter, the misconduct claim is being made by a former E! wardrobe stylist from Seacrest's time on E! News. She reportedly made her accusation about a week ago. An E! spokesperson told Bustle on Saturday, "We can confirm that we have started an investigation."
On Saturday, Bustle reached out to Seacrest's rep and received the following statement, which is the same THR published on Friday:
"Recently, someone that worked as a wardrobe stylist for me nearly a decade ago at E! News, came forward with a complaint suggesting I behaved inappropriately toward her. If I made her feel anything but respected, I am truly sorry. I dispute these reckless allegations and I plan to cooperate with any corporate inquiries that may result."
As THR noted, Seacrest is not commenting on the specifics of the complaint, so it's currently unclear what exactly the accusations entail. An E! spokesperson also confirmed that an investigation was taking place to Huffington Post, but the outlet claims the representative would not provide responses to questions about what type of inappropriate behavior allegedly took place. Seacrest's own statement also leaves this information vague.
Seacrest became a household as the host of American Idol, which debuted in the early 2000s and ran for 15 years. He then became an anchor and managing editor for E! News, and launched Ryan Seacrest Productions, which signed a multi-year deal with ABC Studios this past August. He is currently the co-host of Live with Kelly and Ryan, and is slated to host the upcoming American Idol reboot on ABC. Seacrest is also the executive producer of Keeping Up with the Kardashians, and hosts a morning radio show, On Air with Ryan Seacrest, on KIIS-FM.
In recent weeks a number of high-profile men in the entertainment business have been accused of misconduct in the wake of the Harvey Weinstein and Kevin Spacey bombshells and the #MeToo movement encouraging people to speak up about their own experiences involving sexual harassment or assault. Prominent comedians and politicians have also been accused of misconduct, including Louis CK and Al Franken, both of whom have apologized for their behavior.
"I treat all my colleagues with kindness, dignity, and understanding, as this is a principle that's core to who I am," Seacrest's statement continued. "Throughout my 25 years in the entertainment industry, the majority of my co-workers have been women, and I've endeavored to foster a positive work environment of mutual respect and courtesy, as that's how I believe it should be."
The remainder of Seacrest's statement reads,
"I'm distraught that anyone or any situation would call that into question. I'm proud of my workplace reputation, and believe my track record will speak for itself. I'm an advocate for women. I will continue to support their voices."
An unnamed source, reportedly with knowledge of the situation, claimed to Deadline that Seacrest's unnamed accuser wanted a "substantial amount of money to keep quiet." The site also reported that Seacrest refused, because he was "weary of the implications of guilt baked into acquiescing to such a financial demand." Instead, he reportedly decided to go public before details of the accusation became known.
If you or someone you know has been sexually assaulted, call the National Sexual Assault Telephone Hotline at 800-656-HOPE (4673) or visit online.rainn.org.
Editor's Note: This story has been updated from the previous version to include that Bustle received a statement from Seacrest's rep.