LaCroix Cocktails Exist & They Are Basically Begging To Be Instagrammed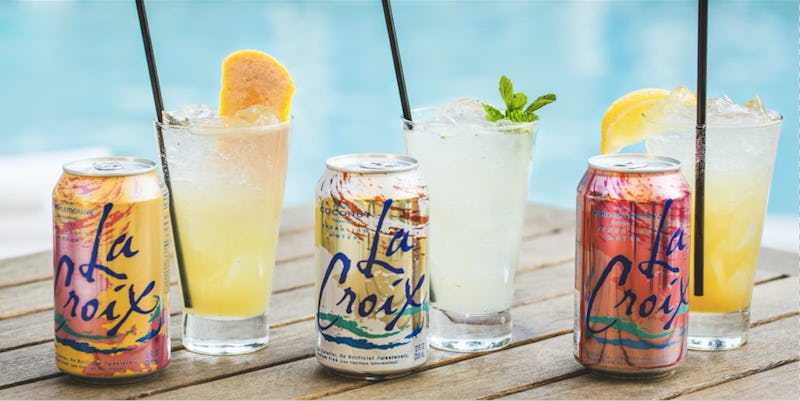 W Los Angeles
LaCroix is already eminently Instagrammable thanks to its artsy can design, so it makes sense that the popular sparkling water brand is being used in very photographable cocktails. Indeed, the W Los Angeles - West Beverly Hills just released a menu full of LaCroix-based cocktails, and when paired with some fruit and an actual LaCroix can, they look like a social media influencer's daydream.
As reported by Cosmopolitan, the W's LaCroix cocktails will be served at the hotel's "outdoor restaurant concept," The Hideout, where they can be paired with lunch and brunch dishes like lobster benedict, duck confit chilaquiles, croque madames, and dry angus beef burgers, along with small plates and larger entrees like beef short ribs and grilled lamb chops on the restaurant's dinner menu. The cocktails will also be available at the W's WET pool deck, which is open to hotel guests seven days a week, and to non-hotel guests for a fee, Monday through Thursday.
The cocktails use LaCroix's most popular flavors, Pamplemousse, Coconut, and Berry, and run $14-a-pop, which is a bit steeper than mixing a can with a couple shots of vodka in your apartment, but it does have a bit more social cache. Here's the French Kiss, comprised of LaCroix Berry, Hennessy V.S., Montenegro and lemon. It's so pretty!
It does look rather refreshing, if a bit too ice-filled for my taste. Ice means there's less room for alcohol, after all. I SEE YOU, W HOTEL.
Here's the Berry Wild, made with LaCroix Pamplemousse (not Berry! It's a trick!), Belvedere Wild Berry, Benedictine and lemon.
And last but not least, there's the Coco-jito, made with LaCroix Coconut, Don Julio Blanco, lime and mint.
This is the first time I've seen LaCroix advertised in a cocktail, though certainly its possible other bars and eateries have used the popular bubbly drink in their concoctions without fanfare. Personally, I'm not a huge fan of LaCroix — while some people like that the drink is less intensely carbonated than seltzer, and less sugary than a soda, I find the flatter bubbles and mere hint of flavor reminiscent of, say, day-old club soda that I accidentally left in my gym locker overnight, or water I accidentally poured into a glass that still had a couple drops of juice in it.
But LaCroix works well in cocktail form, in part because the subtlety of flavor and bubble complements alcohol's stronger taste. There's a wealth of recipes for LaCroix cocktails online. Read, for instance, Lifehacker's investigative piece on the best LaCroix flavor/booze combinations (gin goes well with Pamplemousse, brandy goes best with Peach-Pear, and whiskey/Tangerine is a treat); or Serious Eats's cocktail list for summer-friendly LaCroix concoctions, like the Pamplemousse Cooler (vodka, muddled cucumber, fresh lemon juice, simple syrup, elderflower liqueur), the Citrus Spritzer (Campari, tangerine LaCroix, lime and orange) or the Timekiller (Coconut LaCroix, rum, sweet vermouth). None of those will cost you $14, and you can pour in as much or as little alcohol as you please.
Either way, it's clear LaCroix's moment isn't over just yet. This fall, LaCroix-inspired hair became a thing, with colorists from Scruple's Hair Care using dye to create tresses inspired by LaCroix's can design. The resulting looks were very cool, but also, you know, based on bubbly water.
Then, of course, there was the LaCroix cake trend, with a popular YouTube video instructing millennials how to craft an Ace of Cakes-esque dessert shaped and frosted like a LaCroix can. Cake is always good, thus I approve of the LaCroix cake — but, of course, it's still a cake that looks like a seltzer can, so. And allegedly, LaCroix makeup is about to become a thing, with beauty influencer Markie Meghan (not to be confused with Meghan Markle) hyping a Berry LaCroix-inspired look on her Instagram in November. We live in a truly remarkable age.