This New 'KUWTK' Clip Is So Chilling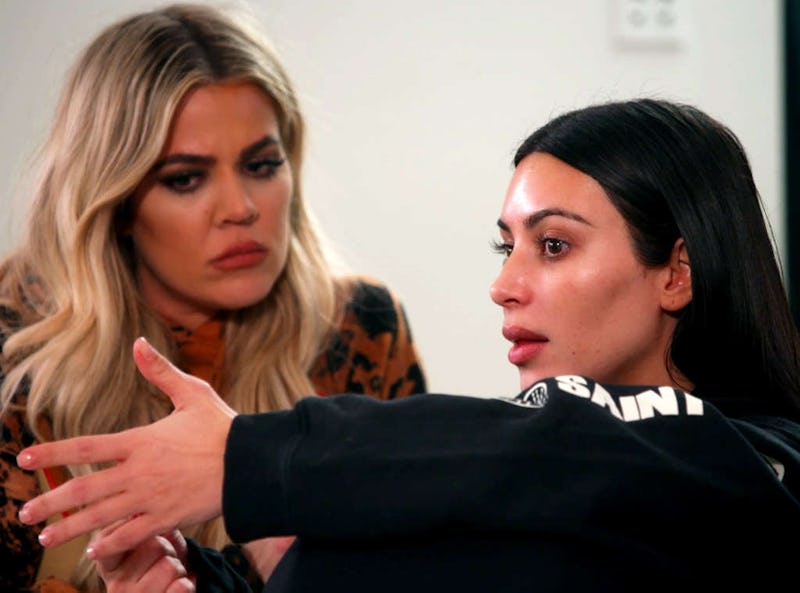 E!
Another Keeping Up With The Kardashians clip from the highly anticipated episode where Kim Kardashian gives the gritty details of her October robbery was released on Thursday, and it's absolutely chilling to watch. In the one-and-a-half-minute preview, Kim K gives a play-by-play of the incident — from the moment she heard loud footsteps approaching her bedroom, to when she was thrown on the bed by her attackers — and it shows just how terrifying the Paris robbery truly was.
Kim recounts being in her bedroom, while her sister Kourtney, a friend, and their security guard Pascal were out at a nightclub. She says she was on the verge of falling asleep, when she heard what she thought was the gang coming back pretty inebriated, but this was actually the burglars. Kim recalls yelling downstairs to see exactly who it was, and when she didn't get a response, she knew something was up. As she said in the E! clip,
"And then at that moment when there wasn't an answer, my heart started to get really tense. I knew something wasn't quite right."
Then, Kim says she saw two men dressed in police uniforms holding another man down through the crack of her door, and quickly took cover on the other side of the bed. She goes into more detail in the video, saying, "So I slid off my bed and picked up my phone and I'm like, 'I don't know how to call 9-1-1 in a different country.'"
You can hear the rest of her chill-inducing story in the video below:
It all sounds like a really scary dream, and I can't imagine how hard it has to be for Kim to relive these moments on the show.
The episode, which premieres March 19, shows Kim rehashing the event with her sisters, Kourtney and Khloé, on the sofa. And the previews are so dramatic, they're almost too much to handle. I don't know how I'm going to make it through the full show without freaking out. With that said, clear your calendars and set your DVRs — this is definitely one KUWTK episode that you don't want to miss.