You'll Definitely Recognize This 'Legally Blonde' Star In Ariana Grande's "Thank U, Next" Teaser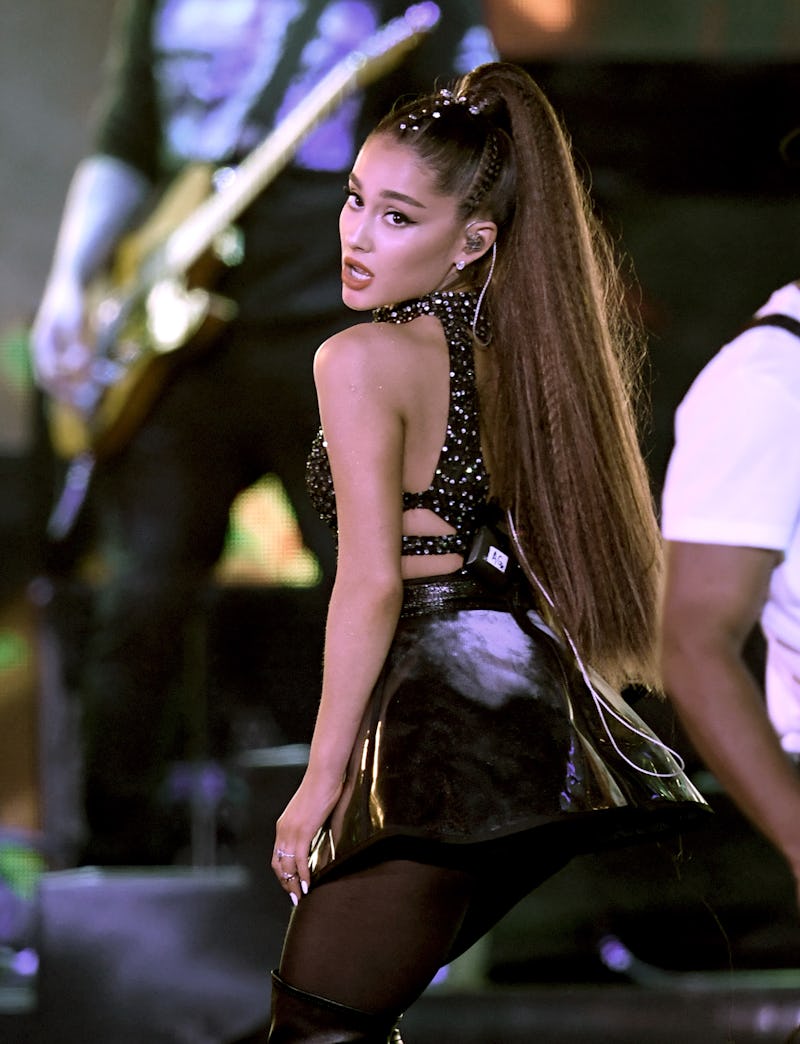 Kevin Winter/Getty Images Entertainment/Getty Images
This one definitely taught love. The Legally Blonde cameo in Ariana Grande's "Thank U, Next" music video teaser showed Jennifer Coolidge nailing it as Elle Woods' pal and trusted manicurist Paulette Bonafonté from the classic 2001 comedy. The sneak peek, which Grande dropped one day ahead of the official "Thank U, Next" music video's Nov. 30 premiere, also paid homage to other beloved films Bring It On, 13 Going on 30, and Mean Girls, but no one can inspire a bend and snap quite like Paulette.
After the three-plus-minute clip shows Grande behind the wheel of a convertible — decked out in the bespectacled look Reese Witherspoon proudly rocked in the Legally Blonde scene where she schools Paulette's deadbeat ex Dewey Newcombe on habeas corpus and subject matter jurisdiction — Coolidge comes onscreen looking just like she did as Paulette. Couldn't you almost hear her saying she's "takin' the dog...dumb*ss!"?
Grande and Coolidge hug it out twice in the clip before also transporting Arianators to the salon where Elle taught Paulette her signature move: the bend and snap. ("Works every time!") It's no wonder, then, that Grande called Coolidge her "new best friend" in a Nov. 20 Instagram post.
Later in the preview, Coolidge (wearing Paulette's signature bedazzled denim blazer) intently huddles around a monitor with Grande, as director Hannah Lux Davis shows them what is undoubtedly all of the raw money footage from earlier in the day.
After tantalizing fans for days with behind the scenes photos from the "Thank U, Next" shoot on social media, Grande released an official trailer for the music video on Nov. 27 that was honestly so fetch. Aside from Elle Woods, Grande took on several other early 2000s fictional comedy icons including Mean Girls' Regina George (portrayed in the 2004 film by Rachel McAdams). The Mean Girls portion of the cameo-heavy video also featured several actors from the OG movie, including Aaron Samuels himself, actor Jonathan Bennett.
"Aaron ❤️ Regina," Bennett wrote with one pic of him on set with Grande, while referencing one of Mean Girls' classic quotes in another caption: "You're like really pretty, @arianagrande." So grool.
Other celebrities and online personalities seen in the video's previews include Troye Sivan, Elizabeth Gillies, Colleen Ballinger (AKA Miranda Sings), Stefanie Drummond, and Gabi DeMartino. According to TMZ, a Kardashian sister will appear in the "Thank U, Next" video, and "will bust a move for the cameras," too.
One Mean Girls star who won't be seen in Grande's homage, however, is Lindsay Lohan, who played protagonist Cady Heron in the movie. LiLo did catch wind of the parody though and addressed the project — and Dynasty's Gillies playing the role of Cady — in an Instagram caption. "Ain't nobody Lindsay Lohan like the real Lindsay Lohan," she wrote. "But so flattered by @arianagrande loving #MeanGirls so much! Also, I love #dynasty"
Gabrielle Union also joined the ranks of actors addressing their films getting the Grande treatment. The Bring It On star replied to Grande's tweet of an image of a new set of actresses dressed as East Compton Clovers cheerleaders. After Union, who played Isis in the 2000 cheer flick, offered to meet Grande and "bring the punch," the Grammy nominee wrote back, "I'm gonna pass out."
Grande most recently tapped Davis to direct her "breathin" music video, which showed an "emo Ari" and illustrated her struggles with anxiety. With their followup project, however, Ari is certainly showing off her sillier side.
"Ariana's a comedian, straight up," Davis recently told Bustle. "She has really great comedic timing. She's constantly cracking jokes and making everybody laugh. There's been a lot of serious, but she's also shown a lot of personality."
Giving new life to beloved characters like Elle Woods — and bringing along sidekicks like Coolidge's Paulette — for "Thank U, Next" only allows that personality to shine more than ever.