The Teaser For Ariana Grande's "Thank U, Next" Video Is Here & It's FILLED With Rom-Com Homages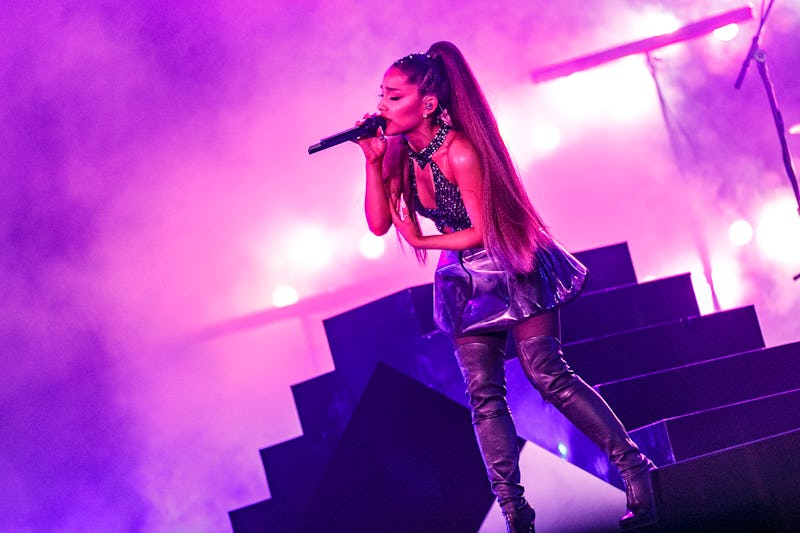 Rich Polk/Getty Images Entertainment/Getty Images
As reports suggested, the wildly anticipated "Thank U, Next" music video is set to drop on Friday, Nov. 30. And we know this because just this morning, the inventor of the ponytail announced the vid will be out tomorrow. Ariana Grande also released a new teaser for "Thank U, Next" this morning, because she is forever a benevolent and generous pop goddess. Yes, just a few days after she gifted us with that phenomenal tribute to the Regina George gossip montage, the same day the Dangerous Woman Diaries docuseries hit the internet, and one day before the "Thank U, Next" music video is set to come out, Ari G. teased us with another "Thank U, Next" teaser.
And what a tease it is. The latest sneak peek at the music video, which pays homage to classic aughts comedies Bring It On, 13 Going on 30, Mean Girls, and Legally Blonde, gives us a behind-the-scenes look. We get to see a little bit of the video's tribute to Bring It On, a sliver of the Mean Girls portion, some 13 Going on 30 moments, and quite a bit of Legally Blonde magic.
We knew Ari's Elle Woods was going to be flawless, but wow. We are not worthy. And as for Toulouse's impression of Bruiser, Elle Woods's beloved Chihuahua? We still are not worthy.
This behind-the-scenes clip gives fans so much to be thankful (next) for. The costumes. The cameos. Ari/Elle and Toulouse/Bruiser in the convertible. Jennifer Coolidge's Paulette and Neptune's Beauty Nook. Grande and Matt Bennett, aka Cat Valentine and Robbie Shapiro from Victorious, doing the Bring It On toothbrush spit-off scene. Wow. We will never be worthy.
Earlier this week, TMZ reported the music video would arrive on Friday, and what do you know? "Thank U, Next" really is arriving on Friday. And y'all, the exhilarating behind-the-scenes video is only a preview of what is to come. As Ari tweeted before she unveiled the latest teaser, "we're not going to put all of the set ups in the sneak peek tho because we don't want to spoil everything... so just a taste."
She does not want to spoil it, but she also wants to make sure we fans get "a taste" of the forthcoming masterpiece. She is forever a considerate pop goddess.
Grande also called the teaser a "tiny something" to "hold u over until tomorrow." Forever a considerate and modest pop goddess.
"Thank U, Next" is the first single off of Grande's to-be-released fifth album, and just as the lyrics predicted, the song is a smash. Earlier this month, Grande earned her first No. 1 single when "Thank U, Next" debuted at the top spot on the Billboard Hot 100. And tomorrow, Grande will release what is sure to be the greatest music video we've ever put in our eyeballs. The 2019 MTV Video Music Awards might as well set aside a few Moon Person statues for this thank u, smash of a music video.