What The Abortion Rights Movement Can Learn From The Marriage Equality Win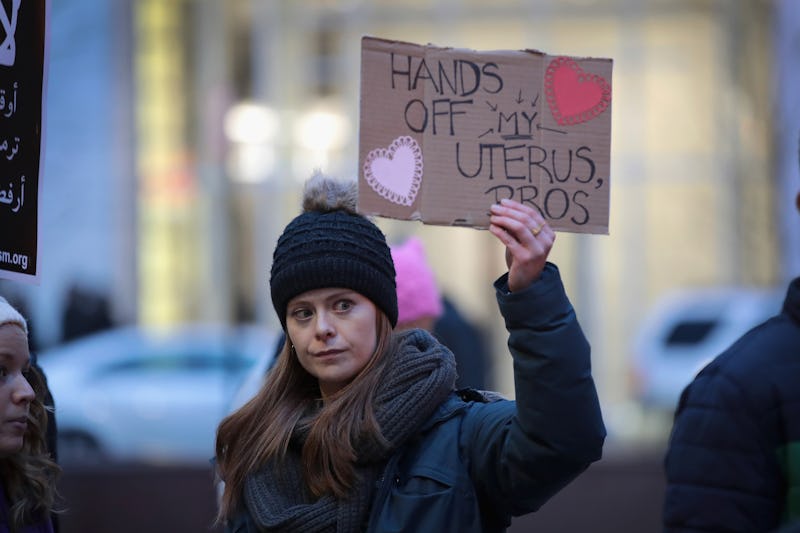 Scott Olson/Getty Images News/Getty Images
There are two major issues that have to do with sexuality in our culture: Abortion rights and marriage equality. And while the country finally got marriage equality two years ago, abortion rights have taken a beating in the past couple years. Since 2010, we've seen over 300 laws passed restricting abortion across the country. Abortion clinics are closing at a rapid rate, making it increasingly difficult for women to access health services. And this is all despite the fact that American opinions about abortion have stayed pretty much the same for almost half a century.
So what gives? Why did marriage equality succeed, while abortion rights activists are struggling harder than ever? Sociologist Dr. Katrina Kimport from Advancing New Standards in Reproductive Health (ANSIRH) tells Bustle it's less about the issues themselves, and more about the structure of individual movements.
"When you look at what makes for social movement influence, no where in the literature does it say, 'You've got to have a good issue,' right?" Dr. Kimport says. "What we know from decades of social science research in social movements is that, in some ways, the issue itself is not the driver to influence. There's evidence that structure matters a lot more."
So it's not that same-sex marriage is somehow more palatable to the American public than abortion rights — history shows that's definitely not the case. Instead, Dr. Kimport argues, the structure of the organization is significantly more important than the issue itself. Here's what she's found the abortion rights movement can learn from the fight for marriage equality.