This Instagram Is Destigmatizing Your Body, One Suggestive Image At A Time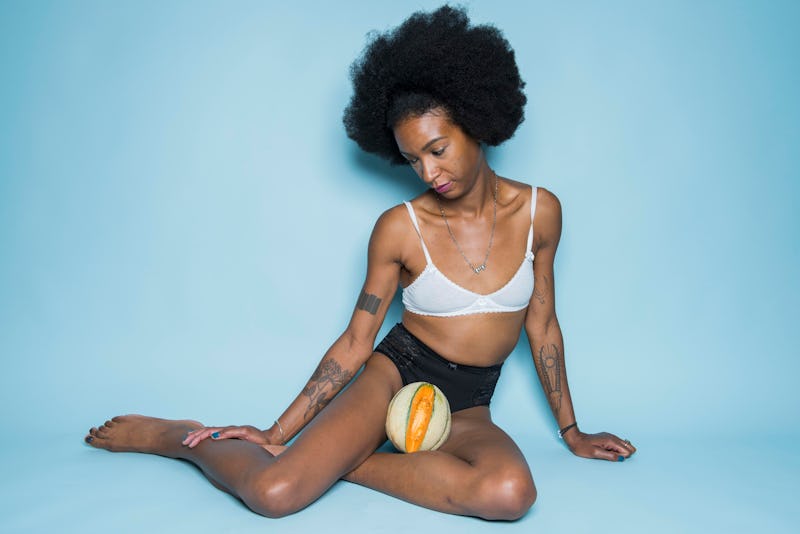 BDG Media, Inc.
The vulva gets a bad rap. Between jokes about its taste and smell, narrow representations of labia in porn, oral sex double-standards, and complete silence about what's between our legs the rest of the time, vulva-owners aren't taught to take pride in their genitals. The "Look at This Pussy" Instagram aims to change that.
From candy wrappers to stained glass windows, the page features photos of things that look like vulvas. The captions contain reflections on sex, feminism, politics, and everything in between. They come both from viewers' submissions and from the Instagram's creators, Eva Sealove and Chelsea Jones. "We started texting each other things that look like pussies," Sealove tells Bustle. "We thought it was funny, and one day, one of us started an Instagram. We didn't expect it to take off the way it did."
Sealove was interested in depicting the vulva in a way that neither denigrated it nor objectified it. It's a strange paradox: When vulvas aren't being made fun of or insulted, they're reduced to objects that exist for men's pleasure. Sealove felt that showing vulvas in everyday objects, the way we often do with penises already, could be a way to subvert this double-bind.
"It's complicated and confusing to navigate life from the inside of a body that is as desired as it is reviled," she says. "It's sort of liberating to look around into the landscape to inanimate objects and to invite the outside world into that experience, or at least there's an attempt to process objectification away from the embodied experience. I like to think of the pussies on Look At This Pussy as a symbol of feminine energy, rather than a reference to biology. There are lots of different types of bodies with different gender identities; using the pussy to stand in, visually, for a kind of 'yin' expression feels vital, in a 'Where's Waldo' kind of a way."
Even though it doesn't depict real vulvas, one thing about these images is more realistic than many depictions of genitals: There's a variety of them. Sealove hopes this can combat the "porn-ification of attitudes towards the body," particularly with labiaplasty on the rise. A 2015 MedExpress study found that 36 percent of people consider their genitals abnormal, and 73 percent of those with this attitude are women. By showing all the things around us that look like vulvas and don't gross us out, Look at This Pussy shows we shouldn't be grossed out by vulvas themselves.
Although we've started talking about vulvas more as a society, it's still often in the context of improving them. Rituals like vagina contouring, cucumber vagina cleanses, and even glitter-bombing have popped up under the guise of self-care. Meanwhile, you don't hear about any products geared toward making penises look or smell better. In this way, even as we're being encouraged to take care of our privates, we're being subtly shamed for them.
In the midst of this, it's nice to have a reminder that vulvas are fine just the way they are — in all their natural manifestations. "In the way that Instagram allows its users to collect a public, visual archive, I'm collecting a gallery filled with sameness and difference," says Sealove.
Looking through all the vulva-esque shapes in nature (as well as man-made artifacts) made me think about all the times I've heard someone remark that something looks like a penis. Vulvas are around us just as much, but we don't acknowledge them as often. It's about time they got the recognition they deserve. I will never look at tortellini the same way again.