The First 'Making A Murderer: Part 2' Trailer Is Here, So Gear Up For Another Intense Season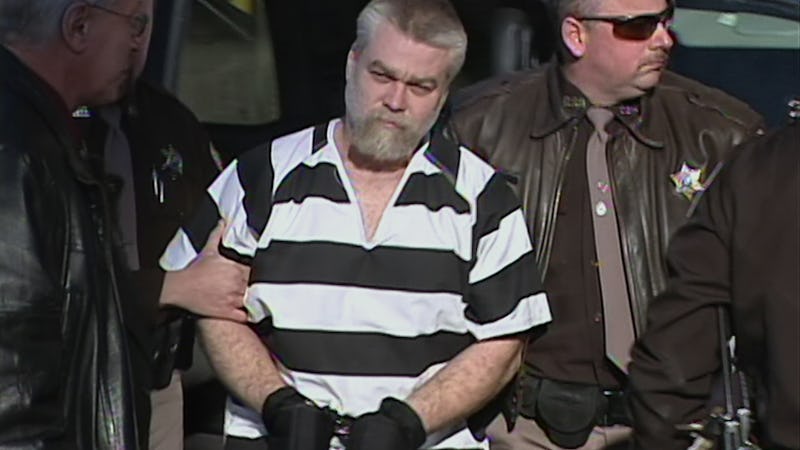 Netflix
For all those armchair investigators out there, Steven Avery's case has officially been reopened in Netflix's official Making A Murderer: Part 2 trailer. From the looks of the clip, the new season will delve deeper into Avery's 2007 conviction for the murder of 25-year-old Teresa Halbach, which he has continually stated he didn't commit, while also kicking off the fight to have his conviction possibly overturned. This time with a new team of lawyers led by Avery's post-conviction lawyer Kathleen Zellner.
Making A Murderer Season 2, returning Oct. 19, will look at what happened to Avery – who spent two decades in prison on a sexual assault charge until DNA evidence helped prove his innocence in 2003, only to be found guilty of murder four years later — after his story became a worldwide phenomenon. The docuseries helped bring his case to light, but couldn't get him out of jail. "Sometimes it feels like you want to cry, but you can't," Avery says in the trailer. "I didn't think all of these people would care."
One of those people who cares about his case is Zellner, who is known for overturning wrongful convictions. No surprise, that's what she wants to do here. "I have one goal," she says.,"and that's to overturn the conviction of Steven Avery." And she'll do this by revealing new evidence that she states will exonerate Avery of Halbach's murder.
Zellner isn't the only one who thinks Avery's case deserves another look. Forensic scientists have examined the Steven Avery case and the methods that were used to convict him. But in this trailer, Zellner specifically shared evidence that she thinks helps Avery's case including Halbach's cell phone records. "The prosecution's case was Teresa never left the property," Zellner says in the trailer. "But the last call pings off a cell phone tower miles away from the Avery property."
Zellner is also looking for the police to investigate other possible suspects because, as one of her colleagues states, "seventy to eighty percent of people who are murdered are murdered by someone they know. She also questions the prosecution's bullet theory, which claimed that a bullet fragment in Avery's garage had Halbach's DNA on it and was fired from Avery's gun. "There's an abundance of evidence," Zellner says in the trailer. "This could flip the whole case."
After following Avery's story, it's exactly what many are hoping for, but the trailer doesn't look to get fans hopes up. Like last season, this one might not have a happy ending.
Making A Murderer: Part Two also focuses on Avery's co-defendant and nephew Brendan Dassey, who, in 2007, was sentenced to life in prison with a possibility of parole in 2048 after telling detectives he helped his uncle kill Halbach. Dassey's lawyers including Laura Nirider have argued that his confession, which was given when he was just 16, was false and had been coerced. The courts have upheld his conviction, with the Supreme Court ruling in June that they will not hear Dassey's case.
In the trailer, Nirider lays out why overturning a decision like Dassey's is so difficult. "Once somebody's convicted they have to move mountains to get out of prison," Nirider says. "Our task now is to upend an entire system."
So, it won't be easy, but it's not impossible and fans will tune into Making A Murderer: Part Two hoping to get answers to the many questions they were left with last season from last season. Hopefully, they'll end up being the ones they want to hear.