Empowering Celeb Quotes About Mental Health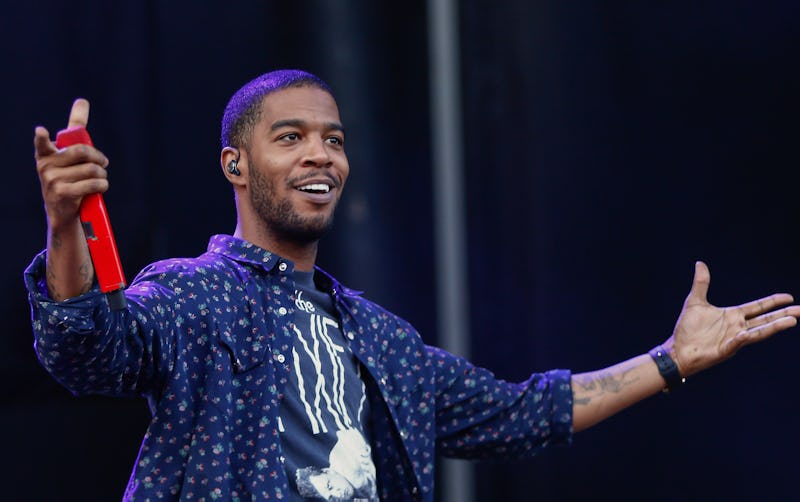 Michael Hickey/Getty Images Entertainment/Getty Images
2016 was an exhausting, infuriating, all-around draining year for a lot of us. There isn't even a need to rehash it all because the mere thought alone kills any good vibes. Although it may seem like celebrities have easier, more stress-free lives, for celebrities who are suffering from a mental illness, things are far from as perfect as they seem.
Just because celebs have money, fame, and power, it's easy to forget that they are also human. They hurt. They are anxious. They are insecure. They breakdown. Couple that with being in the spotlight, suffering from a mental illness, and all of the stigmas that come with it and the glowing lights of Hollywood lose a little bit of their shimmer.
But, the show must go on. While this year offered no shortage of celebrity meltdowns, those who found a light at the end of the tunnel and used their platforms to inspire others to lift themselves out of the doldrums are worth raising a champagne flute to as we continue to welcome in this new year. Here's a list of some of the most inspiring quotes from celebrities regarding mental illness in 2016.
Kid Cudi
On Oct. 4, rapper Kid Cudi revealed on Facebook that he checked himself into rehab for depression and suicidal thoughts. In his impassioned statement, Cudi acknowledged the shame he felt for letting his friends, family, and fans down for allowing anxiety and depression to control him, but found the strength to chose life over death. "I deserve to have peace. I deserve to be happy and smiling. Why not me?" he wrote.
Selena Gomez
On Nov. 20, at the American Music Awards, actor and singer Selena Gomez opted to forgo a traditional acceptance speech when she won Favorite Female Artist in the Pop/Rock category. Instead, she held back tears as she shared how "broken inside" she was living her life in the spotlight and grappling with lupus, anxiety, panic attacks, and depression at the same time. Disillusioned with social media, even as the most followed celebrity on Instagram, the "Come and Get It" singer had this to say about why she quit to blaze a new path: "I'm not trying to get validation, nor do I need it anymore... If you're broken, you do not have to stay broken. And if that's anything whether you respect me or not, one thing you should know about is I care about people."
Lady Gaga
On Dec. 5, Lady Gaga revealed on Today that she suffers from post-traumatic stress disorder and chronic pain. Gaga said she owed her resilience to her doctors, family and friends. "I've been searching for ways to heal myself, and I've found that kindness is the best way," she said. In an open letter to her fans on the Born This Way Foundation's website, the "Perfect Illusion" singer wrote that indeed not everything is as it seems and she is still a work in progress, "I am continuing to learn how to transcend this because I know I can. If you relate to what I am sharing, please know that you can too."
Demi Lovato
On Nov. 30, Demi Lovato spoke to People magazine about her issues with addiction, cutting, eating disorders, bipolar disorder, and sobriety. "If you know someone or if you're dealing with it yourself, just know that it is possible to live well," she said. "I'm living proof of that." The "Confident" singer said March 2017 will mark five years free of addictions for her. "Every day is a work in progress so hopefully I make it to 2017 with my sobriety. I take it one day at a time and for today I'm doing great."
Kristen Bell
On May 31, Kristen Bell penned an open letter for Motto about her battles with depression and anxiety. The Frozen star wrote that rather than keeping her issues inside, she chose to "Let It Go" and be open in order to heal: "It's important for me to be candid about this so people in a similar situation can realize that they are not worthless and that they do have something to offer. We all do."
Catherine Zeta-Jones
On Sept. 23, Catherine Zeta-Jones spoke with People magazine about why she wanted to be open with battle with bipolar II disorder: "If my revelation of having bipolar II has encouraged one person to seek help, then it is worth it. There is no need to suffer silently and there is no shame in seeking help."
JoJo
On Oct. 10, R&B singer JoJo discussed her issues with drinking, depression, and weight loss on Entertainment Tonight. After freeing herself from her record label and dodging the pressures of perfection from Hollywood, JoJo rose from the ashes with help from her music. "I don't feel confident one thousand percent of the time, but oftentimes I write the songs that I need to hear, with the messages that I need to," she said.
Colton Haynes
On Dec. 19, Colton Haynes checked in with Paper magazine about how his life has changed for the better since seeking help for his mental health issues. Sharing what he called on Instagram his "truth," the actor said, "I've accomplished so much with so little and my smile is finally not forced. I've taken control of my own life for the first time... I'm finally free."
Dwayne Johnson
On Nov. 20, actor and current "Sexiest Man Alive" Dwayne Johnson responded to a fan on Twitter about their shared struggles with depression and encouraged the young man to speak up:
Ginger Zee
On May 17, Good Morning America meteorologist Ginger Zee opened up to People magazine about her past issues with anorexia after revealing her struggles on Dancing with the Stars. Zee said she wished she could tell her teenage self to look on the bright side: "Just realize that there is such a bright life ahead and you don't have to torture yourself. You can beat this."
Going into 2017, surely even more stars will speak out about their own inspiring quotes about mental health, and inspire fans for years to come.