The Name Of Kylie Jenner's Baby Is Here & It's Totally Unexpected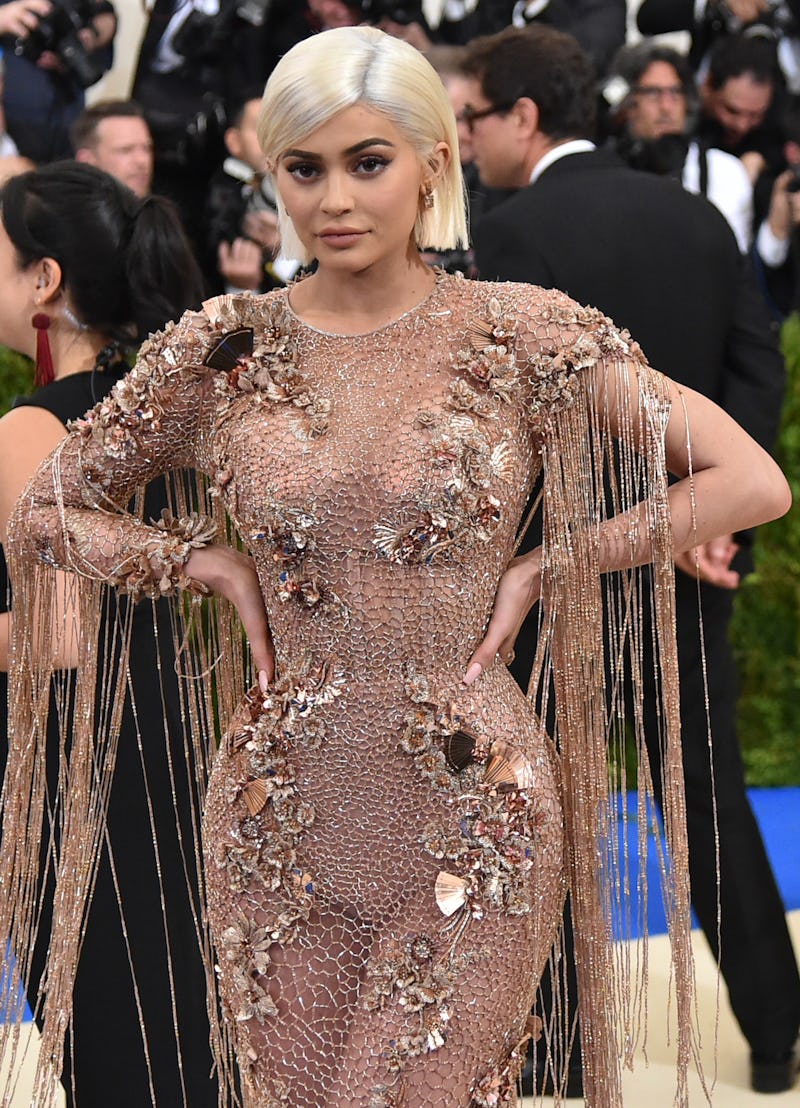 Mike Coppola/Getty Images Entertainment/Getty Images
The time has come! The name of Kylie Jenner's baby is here and it is totally unexpected. The new mother revealed that her daughter's name is Stormi in a Instagram post on Tuesday. Next to a photo of the baby's tiny hand holding onto Jenner's thumb, she wrote, "Stormi" along with an angel emoji. Also worth noting is that Jenner's manicure perfectly matches Stormi's outfit. There's a nice color scheme going on here.
Since Jenner's Instagram caption is only one word, she's definitely leaving everyone with some questions: Is Stormi a nickname? Is her name really Storm? What's her last name? Jenner? Webster? Scott,(even though that doesn't really add up)? Does she have a middle name? What was up with that "C" or "L" flower arrangement that Khloé Kardashian sent her younger sister? And, most importantly, how does this relate to butterflies, Ms. Jenner?
Well, the answer to that last one is probably that it doesn't. Fans were convinced ever since Jenner released the 11-minute video documenting her pregnancy on YouTube on Sunday that the name would have to do with butterflies is some way. The video, titled "To Our Daughter", featured a couple shots that included butterflies. Jenner was shown wearing a butterfly necklace and the baby's nursery was decorated with butterflies on the wall. She had also previously posted an Instagram of herself wearing butterfly rings and she and boyfriend Travis Scott have matching butterfly tattoos and he has a song called "Butterfly Effect" AND butterflies were featured on Jenner's reality show Life of Kylie, although she was terrified of them in that instance. Whew! Basically, there was just a lot of butterfly stuff going on and it seemed suspish.
There were theories that the name would be "Mariposa", the Spanish word for butterfly, especially after Jenner shared that she would be releasing a special edition of one of her lipstick colors called "Posie K." The idea was that the baby would be named Mariposa, but called "Posie" for short. There was also a theory that the baby would be called "Chrysalis" (especially after Khloé sent her that C-shaped arrangement) and one that the baby would just be named "Butterfly", plain and simple.
Now, we know that none of these were true. Unless, of course, the baby has a middle name that we don't yet know about that has to do with butterflies.
So far, this is the only photo that Jenner has shared of her new baby. Although, Stormi was briefly featured in "To Our Daughter," but only her arms and legs were shown in a clip filmed immediately after she was born.
After staying mum on the rumors that she was pregnant for months, Jenner shocked fans on Sunday when she announced that she had welcomed a daughter on Feb. 1. And, after not sharing anything about pregnancy the entire time she was expecting, her video showed her entire experience from the last nine months, including stories about when she found out she was pregnant, her baby shower, ultrasound appointments, and footage from the hospital room where she gave birth.
Before reports surfaced that Jenner was pregnant, she posted on social media constantly, but that all stopped at the end of last year. At this point, it's unclear where Jenner will go from here when it comes to her social media activity and how much of her time she will choose to spend in the spotlight. But, this post about Stormi only two days after the video and announcement is a sign that she might be getting back to her old ways.