'Nashville's Cast Is Taking This News Pretty Hard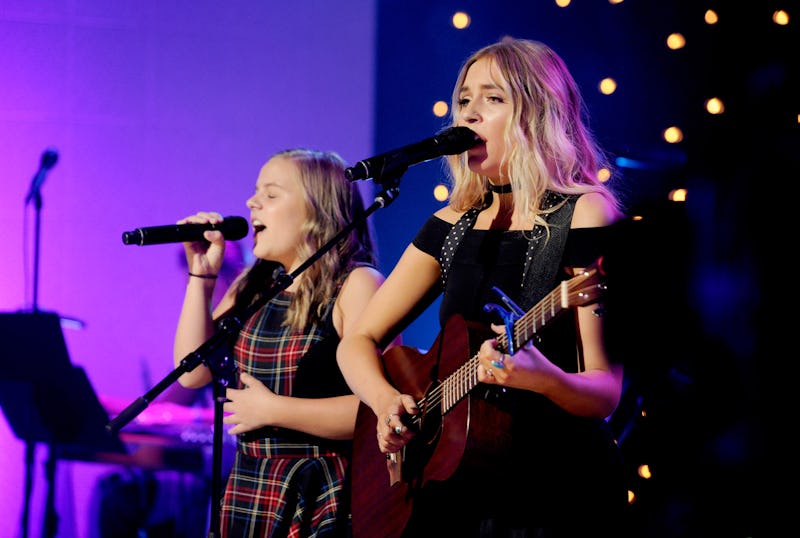 Frederick Breedon/Getty Images Entertainment/Getty Images
Spoilers ahead for the Feb. 23 episode of Nashville. The worst has officially happened — smack dab in the middle of Season 5. Nashville star Connie Britton exited the show in the most tragic way on Thursday night, and fans and the cast have plenty of reactions to Nashville's big twist — summing up what a loss this really is. According to The Hollywood Reporter, Britton attributed her leaving to "the right timing," as well as "personal reasons," so I guess we'll just have to take her word for it.
The Nashville O.G. has been the face of the franchise since its start on ABC in 2012. After its cancellation with the esteemed network in May 2016, fans launched a massive Change.org campaign to bring the show back to life. A month and over 170,000 signatures later, CMT took on the task of rebooting the music drama this winter — and it's been on heck of an emotional rollercoaster since.
As expected, Thursday night's episode had many of the cast and crew dealing with bouts of sadness. It's never easy to say "goodbye" to a character as loved as Rayna Jaymes was, and the cast and crew certainly made that clearer than ever. Actor Clare Bowen, who plays Scarlett O'Connor in the series, had this to say on Twitter about the heartfelt episode:
And Sam Palladio, aka Gunnar Scott, couldn't handle all of the emotions coming his way.
Heartthrob Charles Esten, who plays Deacon Claybourne, said that the episode was a tough one to shoot, and showed love by retweeting a ton of the cast and crew's messages to fans.
Meanwhile, Maisy Stella, who plays Rayna James' daughter Daphne Conrad, posted a statement on Instagram about her loving TV mom. Along with an adorable still featuring her sister IRL, Lennon Stella, and Britton, the 13-year-old wrote:
Connie has taught me everything I know as an actor. She has been a set mother to me since I was 8. She has been someone I look up to so much. Rayna James is a character that inspired and changed people's lives. I love you. RIP Rayna. And thank you Connie for being such an amazing person.
"Yoby is a lucky boy," she added, acknowledging Britton's son Eyob.
As for Hayden Panettiere, aka Juliette Barnes, the actor hasn't said a word about Britton's departure yet, but I can guess that she's pretty bummed about it too. The actor's character has had a tug-and-war relationship with Britton's Rayna Jaymes for almost five seasons now.
And Chris Carmack (or Will Lexington) summed up what many others were feeling on Twitter.
Knowing that it pretty much took blood, sweat, and a ton of tears to bring back the show, Nashies had mixed emotions about the news of Rayna Jaymes' death. Many felt as though since they had a hand in bringing the show back to life, they should've had a say in who goes and who stays — and Rayna Jaymes should've definitely stayed.
Just thinking about where the show is going from here gives me a headache. Here's hoping that things turn around emotionally for us all.