The Latest 'AHS: Apocalypse' Trailer Shows The World's End — And How Your Faves Survive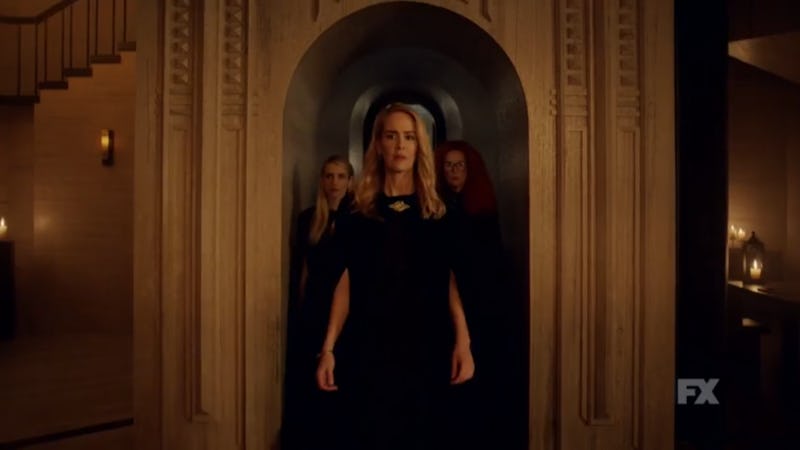 FX Networks/YouTube
The beginning of the end is near. FX released the first full-length American Horror Story: Apocalypse trailer on Wednesday, Sept. 5, and the all-new footage finally gives fans a sneak peek at how all of their favorite characters will attempt to survive the end of the world when Season 8 premieres on Sept. 12.
"No need for the rules anymore; the chaos has won," an ominous-sounding narrator says at the beginning of the dark, creepy new trailer for the crossover of both AHS: Murder House and AHS: Coven. Throughout the clip, which is, indeed riddled with said ensuing chaos, viewers also get a glimpse of returning fan favorites from the powerhouse ensemble cast, including Sarah Paulson, Evan Peters, Emma Roberts, Lily Rabe, Frances Conroy, and Kathy Bates, in a struggle to stay alive in a safe house called Outpost 3. But is anyone ever really safe in the AHS universe?
Up until FX dropped the new trailer, fans' only information on Paulson's new character — one of three parts she will play this season — was that she is a mysterious woman named Venable. It is now known, however, that Venable is the leader of Outpost 3, where several characters seem to be trying to seek refuge from the dangerous radiation plaguing the planet following a nuclear explosion. The AHS vet will also be reprising the roles of Murder House's Billie Dean Howard and Coven's Cordelia Foxx, in addition to directing Apocalypse's sixth episode, which will mark the return of Murder House alums Connie Britton and Dylan McDermott.
"The house rules are simple," explains Paulson's Venable in the trailer. "You may never leave the building due to radiation contamination. And no unauthorized copulation. No exceptions." The seemingly evil character later tells Bates (also dressed in garb that appears to have come from a past century, as Ms. Meade): "Strangely satisfying, isn't it? Dispensing punishment. It's our world now to re-mold as we see fit." Cut to Venable dolling out a forceful slap across the face to another female. Seems she really is in charge.
Earlier in the trailer, fans see Leslie Grossman's Coco St. Pierre Vanderbilt shouting, "there's a plane waiting for us," while riding in the back of a black SUV, which is swerving through traffic as mayhem erupts in the streets. Her fellow AHS: Cult alum Billy Eichner is next seen screaming, "Do not leave me in Santa Monica! You b**ch!" as a plane zooms by overhead.
Also on the private jet with Grossman: Billie Lourd, Dynasty legend Joan Collins, and Peters, who, according to co-creator Ryan Murphy, will play a comedic hairdresser (and Collins' onscreen grandson), in addition to reprising the role of Murder House's Tate Langdon. After Lourd's character grimly states, "There's nobody in there," and the video shows an image of an empty cockpit, the plane begins to rattle and viewers next see all of the above key players in the Outpost 3 house.
While AHS stans will undoubtedly be thrilled to see the return of Coven's witchy trifecta of Paulson's Cordelia, Roberts' Madison Montgomery, and Conroy's Myrtle Snow (Rabe's Misty Day is seen later on, too) in the trailer, a new character, who will undoubtedly wreak havoc in Apocalypse, was particularly noteworthy. Michael — the child (and probably the "Anti-Christ") that Peters' Tate fathered after sexually assaulting Vivien Harmon (Britton) in Murder House — is now grown. In the trailer, Bates' Ms. Meade looks Michael (played in Apocalypse by Cody Fern) in the eyes and says, "Hail, Satan." What could possibly go wrong in this "safe" house?
Also interspersed in the clip, which debuted just one day after FX released another new AHS: Apocalypse teaser, are images of people in hazmat suits (holding guns to two characters' heads in one scene), zombies, sorcery, a slithering black snake, Peters with a blood-stained face, and, of course, Murder House's Rubber Man. Oh, and it looks like Venable's "no unauthorized copulation" rule will be broken as well.
With just one week to go until AHS: Apocalypse debuts on FX (at 10 p.m. ET, for those marking their calendars), the horror anthology's diehards now have plenty more to pique their interests and stoke their excitement. The end is, indeed, only the beginning.