Alert: These New 'Fantastic Beasts 2' Photos Give Us More Young Dumbledore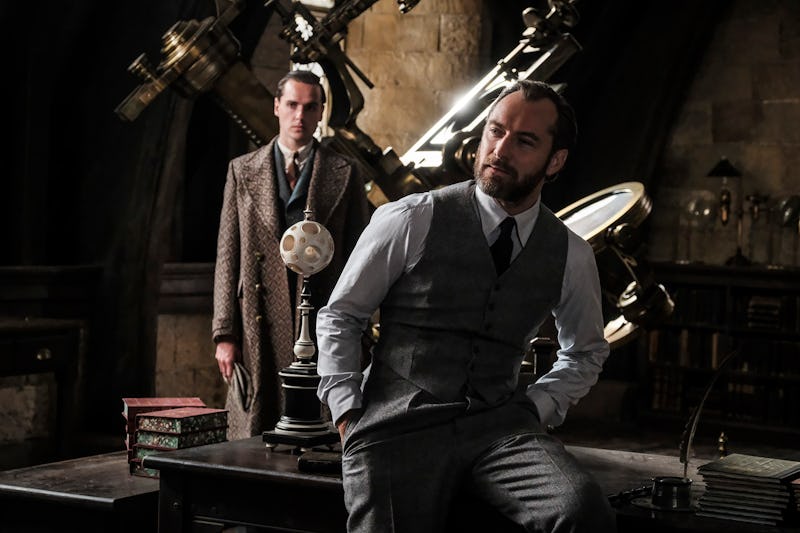 Jaap Buitendijk/ Warner Bros. Pictures
Showing the sort of sexy magic that could never be conjured from just a wizard wand, there's some new Fantastic Beasts 2 photos featuring hot Dumbledore that you need to see. Especially if you have a growing thing for attractive, intelligent men wearing finely tailored suits and leaning on things tremendously well. And, if you do, you have fine taste. The three new photos from Fantastic Beasts: The Crimes Of Grindelwald all focus on different characters, and supposedly different aspects of the story. One shows Newt Scamander (Eddie Redmayne) and Jacob Kowalski (Dan Fogler) walking somewhere with a shared look of trepidation, while another shows Gellert Grindelwald (Johnny Depp) and his loyal follower Rosier (Poppy Corby-Tuech) looking dark, powerful, and maleficent. But it's the third one, showing young, studly Albus Dumbledore (Jude Law) that will set your passions racing.
Looking like a dapper expert on all of the finer things in life, Dumbledore is shown casually sitting on a desk like a cool librarian sneering in the face of every etiquette rule in the book. And, well, it's a lot. Fans were already thirsty at the first glimpses of young Dumbledore, but this new picture will likely give your daydreams a whole new dimension of hotness.
As you're more than likely aware, in Fantastic Beasts: The Crimes Of Grindelwald, Dumbledore will be teaming up with Scamander to thwart Grindelwald's evil plans to raise pureblood wizards and rule over Muggles and Muggleborns. Judging from every photo we've seen so far of the character, our boy Dumbledore is clearly dressed to win.
Of course, Grindelwald (controversially played by Johnny Depp) is looking like quite the foreboding figure in this new photo released by Warner Bros. Pictures on Friday.
The character looks every inch as dark and menacing as he should do, with Rosier giving off some enchanting dark magic of her own. It's worth noting that, in all three of these images, the costumes appear to be revealing a great deal about the characters. Though Dumbledore was wearing a traditional suit, and wearing it incredibly well, he was also without his suit jacket, which made him look smart and impressive but still quite casual. A man who gives off a sense that power comes effortlessly to him and is wielded with care.
While it's not surprising to see Grindelwald and Rosier in matching dark palettes, it is interesting to note that their outfits are tightly structured — perhaps even oppressively so. And that their outer garments are so long that they almost entirely hide their forms. Those are the sort of clothes you'd expect to see from two people intent on carrying out an evil plan and hiding some dark secrets in the process. Which brings us the final photo of Scamander and Kowalski.
We're already familiar with Scamander's quirky tailoring and Kowalski's dashing yet homely style from the first movie. But what's interesting in this photo isn't what they're wearing but what they're carrying. Scamander is lugging a suitcase, presumably because he's off on an important mission to stop Grindelwald. But Kowalski is carrying what looks to be a bucket. Given their facial expressions, they look to be on edge, wherever they're walking to. So could it be that the bucket is some sort of makeshift weapon that Kowalski grabbed from the bakery in a hurry to protect himself and Scamander from peril? Or could it be an emergency device should they need to capture any errand creatures?
At this moment in time, it's hard to tell. But all that we do definitely know is that Dumbledore is continuing to cast a spell on all of our hearts. He's one hell of a magic man.