The First Pic Of Jude Law As "Hot Dumbledore" Is Here & The Internet Is Losing It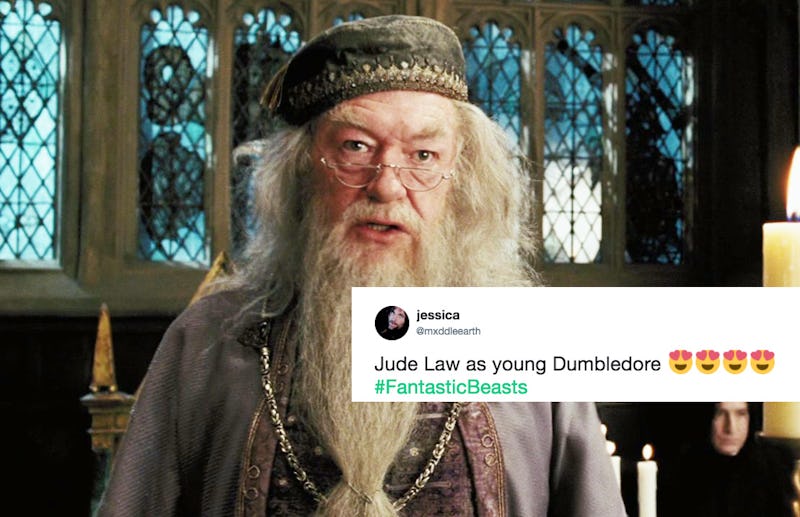 Warner Bros. Pictures/Bustle
Hold on to your hats, Harry Potter fans, because the recently released cast photo from the Fantastic Beasts sequel has the internet going absolutely nuts. It seems that fans have a lot of feelings about Jude Law as young, hot Dumbledore, and it's safe to say that you will too once you get a look at him. The teaser from the second film, Fantastic Beasts: The Crimes of Grindelwald, features Albus Dumbledore in a way that fans could have never possibly imagined as Law's handsomely sharp features make it quite hard to concentrate on much else.
In addition to the captivating photo, a recent unveiling of details from the forthcoming project provided by Warner Bros. also reveal the official title of the highly-anticipated sequel as well as a few other tidbits about the film that fans are sure to love. Fantastic Beasts: The Crimes of Grindelwald will be released in theaters On Nov. 16, 2018 — exactly a year from when the news was released. The announcement means that the countdown is officially on for fans of J.K. Rowling's Wizarding World franchise who have been patiently awaiting the follow-up to 2016's Fantastic Beasts and Where to Find Them.
Naturally, it took fans no time at all to get into Law's portrayal of Dumbledore as many took to Twitter to swoon over the 44-year-old actor's feature in the upcoming film.
1. How You Doing?
One fan wanted to get to know the hot character a little better.
2. Uncomfortable AF
Law's fiery Dumbledore swag took another Twitter user completely out of their comfort zone.
3. Love Spell
Someone was totally entranced by the young wizard's drop-dead gorgeous features.
4. Hard to Focus
Priorities.
5. Headmaster of Hotness
Another commenter went completely lawless, directing their feelings straight to the source.
6. So Wrong, Yet So Right
This person simply couldn't deny how dreamy young Dumbledore looks in the photo.
7. You're Not The Only One
This person wanted confirmation that they weren't the only one in their feelings about Dumbledore's new look.
8. Parched & Thirsting For More
Unlimited free refills couldn't quench this fan's Dumbledore dehydration.
9. Thumbs Up
Jude Law as Dumbledore is totally fine with this fan.
10. Amirite?
One commenter focused in on what was really important about the announcement.
11. The Duel of Handsomely Hotness
While another is totally here for both Dumbledore and Grindelwald.
12. The Wizard of Wardrobe
Law seems to have the Dumbledore game on complete lock, giving a fan total life in his wizardly warlock stance.
Along with Law, the total cast photo notably features Dumbledore's one time pal-turned-archenemy Gellert Grindelwald — a role which will, controversially, be reprised by Johnny Depp. It seems that the two will likely face-off against one another in the film, as Dumbledore attempts to put an end to his former friends's reign of terror. Check out the official synopsis:
"At the end of the first film, the powerful Dark wizard Gellert Grindelwald (Depp) was captured by MACUSA (Magical Congress of the United States of America), with the help of Newt Scamander (Redmayne). But, making good on his threat, Grindelwald escaped custody and has set about gathering followers, most unsuspecting of his true agenda: to raise pure-blood wizards up to rule over all non-magical beings. In an effort to thwart Grindelwald's plans, Albus Dumbledore (Law) enlists his former student Newt Scamander, who agrees to help, unaware of the dangers that lie ahead. Lines are drawn as love and loyalty are tested, even among the truest friends and family, in an increasingly divided wizarding world."
As details about Fantastic Beasts: The Crimes of Grindelwald come to light, Jude Law has quickly become quite the hot topic amongst fans of the franchise. And, with just one good look at the photo, it's easy to see why.