21 Major Obama Policies Trump Tried To Ax After Taking Office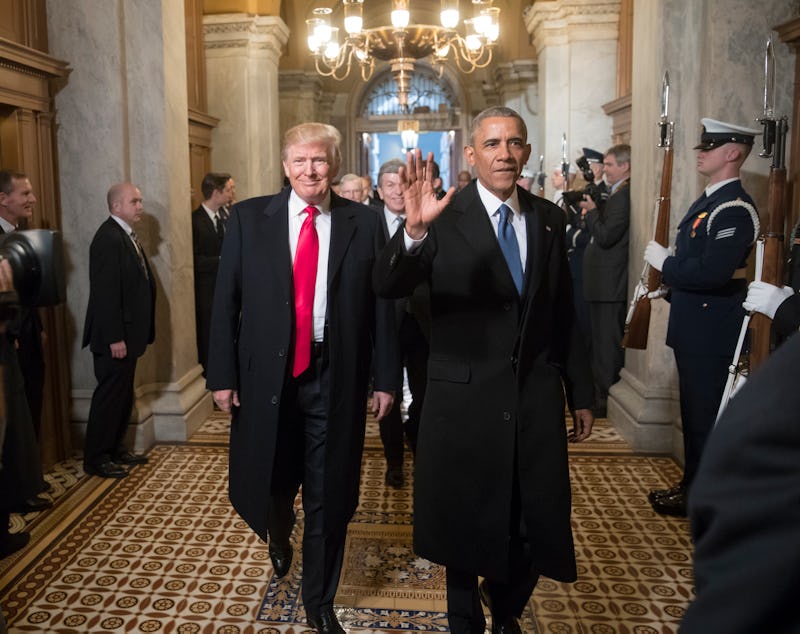 Pool/Getty Images News/Getty Images
Donald Trump was inaugurated as president of the United States on Jan. 20, 2017. Since then, he has run an administration vastly different than that of his predecessor, Barack Obama. Moreover, Trump has killed many Obama policies that were once considered hallmarks of the 44th president's administration.
The number of Obama-era policies that Trump has ended is quite extensive and the issue areas covered by these policies are vast. They include everything from women's rights to immigration, worker protections, climate change, and beyond.
In May 2018, The Guardian reported that many perceive Trump's approach to his predecessor's policies as particularly aggressive and unique for a president. Lanhee Chen, a research fellow at the Hoover Institution in Stanford, California, echoed this sentiment to the paper. As she put it to The Guardian:
It's not unusual for a president to want to do things differently from his predecessor. I will say the scope and ambition of Trump's effort to do that is breathtaking. Whether it's breathtakingly good or breathtakingly bad depends on your point of view.
It's quite clear just by looking at the Obama-era policies that Trump's administration has reversed that the 45th president is governing very differently than the 44th. The list below reflects just some of the many policies proposed or implemented by the Obama administration that the Trump administration has now scaled back or ended completely.