Don't Miss This Movie Before It Leaves Netflix In July 2017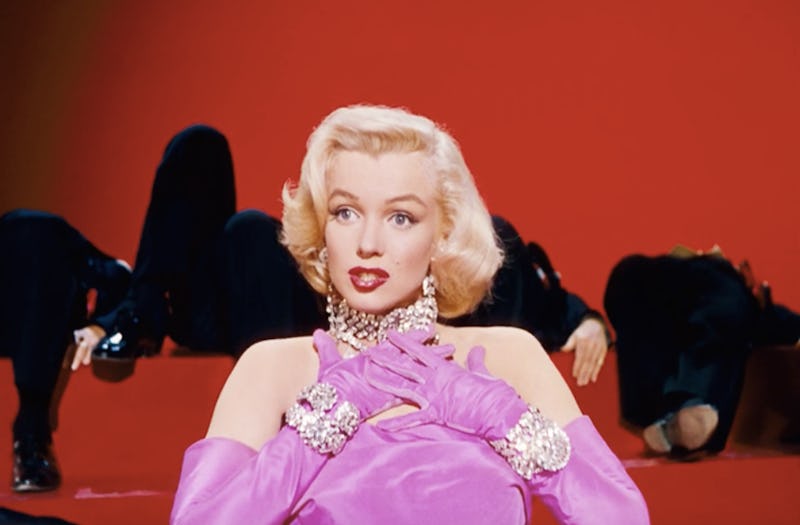 20th Century Fox
Long before Broad City aired, there was the ultimate female power-duo: Lorelai and Dorothy. This scheming pair are the heroines of Gentlemen Prefer Blondes, which I'd argue is the one movie to watch before it leaves Netflix in July 2017. The comedy is a must-see since it showcases Marilyn Monroe at a vital moment in her career.
At this point, she was still up-and-coming, having recently had her first box office hit with Niagra. Since the film was adapted from the book of the same name by its author, Anita Loos and her husband John Emerson, Monroe's character Lorelai Lee wasn't written specially for her — but it might as well have been. This film is essential, since Lorelai defined the image often associated with the actor that Norman Mailer once called "our angel, the sweet angel of sex."
Michelle Morgan, the author of Marilyn Monroe: Private And Undisclosed, explained the myth built around the star when she told The Telegraph, "She played ditzy blondes and, for some reason, people believed that was the person she was, but that couldn't have been further from the truth." Of course, the ditzy blonde role that she would go on to reprise in films like How To Marry A Millionaire, Some Like It Hot, and The Seven Year Itch started with her playing Lorelai, who, like her other roles, is irresistible to men, a little silly, sweet, and incredibly sexy. As such, if you care even a little bit about understanding how Monroe came to be the megastar she is today, this movie is compulsory viewing.
I mean, what a stroke of luck for the star to win a role on this, of all movies. Working on the film gave the blonde a chance to connect with Jack Cole, the choreographer who plotted the scenes that are still living on in gif form all these decades later, like her gorgeous rendition of "Diamonds Are A Girl's Best Friend." (Which, if you're in any doubt to its enduring appeal, has been covered by Nicole Kidman in Moulin Rouge, pop star Kylie Minogue, Anna Nicole Smith, and, most wonderfully, Serena Van der Woodsen in Gossip Girl in a dream sequence.) This matters even more since the actor wasn't a naturally talented dancer, with Monroe's co-star Jane Russell (who played Dorothy Shaw) telling Dance Magazine: "Marilyn and I had never danced before; we were a pair of klutzes."
According to The LA Times:
"In "Gentlemen," Cole connected the non-dancer Monroe to her fulsome body, giving her the power of movement. But he went even further, injecting comic zing into her line readings and coaching her breathy song delivery...Cole helped solidify the dumb-blond persona she introduced in "Monkey Business," "All About Eve" and "Love Happy." In her much beefier role in "Gentlemen," they perfected it, together."
And what a scene it was. Even if you just want to get one thing out of your Netflix viewing, this song alone is the perfect reward for watching the movie.
Yes, there are many other great reasons to see this movie. If you don't believe my swooning, here are some more facts: It's got a 98 percent fresh rating on Rotten Tomatoes. Important film director Rainer Werner Fassbinder cited it as one of his 10 favorite films. Plus, the technicolor in this movie is so intense and over the top gorgeous that watching it is like rolling around in a rainbow for one hour 31 minutes. And, of course, decades before Thelma And Louise or Bridesmaids or Set It Off, this is a film that's ostensibly about two women hunting rich men that actually puts female friendship at the heart of the tale.
So sure. Futurama Season 6 is leaving, as are gems like Blondie's New York and Kate & Leopold. But if you've only got time to slot one more viewing in before July hits, make it this one.