The One Quote From Taylor Swift's Testimony That Every Woman Should Remember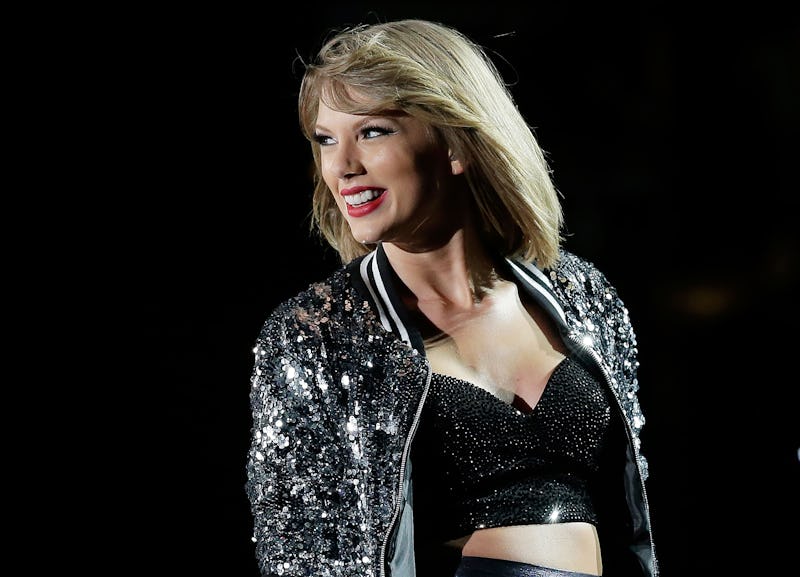 Mark Metcalfe/Getty Images Entertainment/Getty Images
Leave it to Taylor Swift to basically drop the mic in the middle of a serious courtroom. On Thursday, Aug. 10, Swift testified in court for her lawsuit against a radio DJ who she alleges groped her during a 2013 meet-and-greet. The testimony went viral, and, in particular, a specific quote from Swift's testimony proves that the singer can craft dialogue that's just as impactful as many of her popular songs.
While she said a number of powerful statements during her testimony, one of her quotes stands out above the rest as a reminder about who is really to blame when it comes to an alleged assault. According to a tweet from BuzzFeed reporter Claudia Rosenbaum, Swift told the court,
"I am not going to allow your client to make me feel like it is in any way my fault, because it isn't."
And, regardless of the outcome of the trial, this particular quote is one that can be a teaching moment for everyone.
The ongoing trial is against DJ David Mueller, who the songwriter alleges stuck his hand under her skirt and allegedly grabbed her bottom while a picture was taken at 2013 meet-and-greet. Meanwhile, Mueller's lawyer, Gabriel McFarland, claimed during opening statements on Tuesday that "David Mueller unequivocally denies he touched her inappropriately in anyway. No inappropriate contact that is Mr. Mueller's position." Mueller was fired from his job after Swift's allegations and filed a lawsuit in September 2015, claiming Swift's accusations were false and led to him losing his job. But the singer maintains that his alleged actions were inappropriate and demands repercussions.
In a world where, according to USA Today, huge numbers of assaults go unreported, it's very notable when influential figures like Swift stand behind allegations such as these. While under immense pressure both in the courtroom and in the public eye, Swift has held her ground to make sure the conversation remained focused on the allegations of inappropriate contact that she has made against Mueller. Doing so as a celebrity can only help change the way society both discusses and understands assault.
The very definition of sexual assault includes any unwanted sexual touching or groping without both parties' consent. It can happen quickly and without any physical evidence, resulting in a "he said, she said" type situation (though it doesn't have to include both a man and a woman). And, because there's such a culture of backlash toward victims of assault, it takes a lot of bravery for victims to openly talk about and stay true to the allegations they present. Not to mention, oftentimes people accuse sexual assault victims of being partially to blame for what may have happened. So hearing Swift stand her ground and strongly defend herself, her body, and her boundaries resonates with every person who has been in this (alleged) situation, or a similar one.
It's OK to stand up for yourself, it's OK to believe yourself, and it's OK to let a person who did something wrong take the full blame for their actions. It is never your fault if you're assaulted. If something inappropriate has happened to you, fear of the backlash or judgment shouldn't keep you from speaking your mind. Know that you're allowed to say "no" and "that's not right" when something is truly not right.
While the truth of her situation with Mueller has not been proven, Swift's quote can still stand on its own.