Taylor Swift's Mom's Testimony Will Hurt Your Heart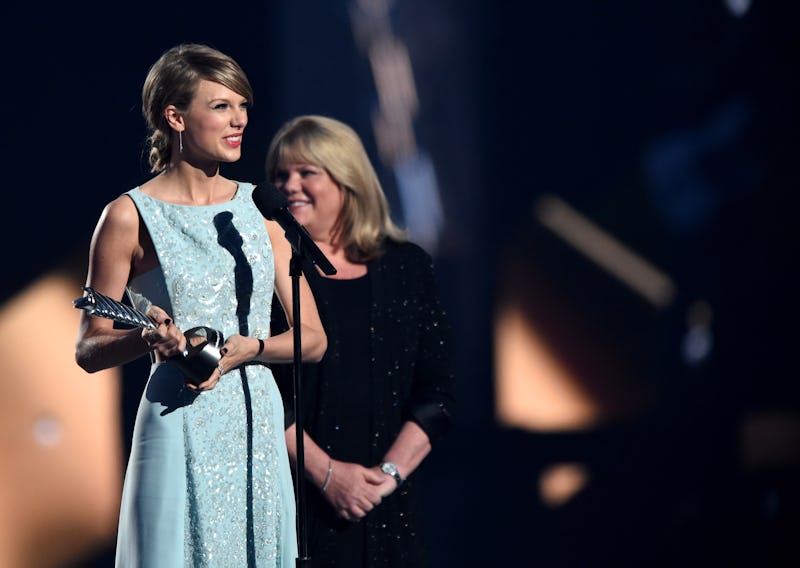 Cooper Neill/Getty Images Entertainment/Getty Images
Taylor Swift's trial regarding the assault allegations she made against former radio DJ David "Jackson" Mueller is now underway, and on Wednesday, Swift's mother Andrea gave a heartbreaking testimony, according to People. People reported that Andrea became emotional while recounting the moment her daughter told her about the alleged assault. She testified,
"I knew there was something horribly wrong in that picture. I know those eyes better than anybody. She was pulling away. She has that smile frozen on her face, but there's something going on in her eyes. I just looked at it and I was sickened."
The "Wildest Dreams" singer claimed Mueller allegedly groped her during a photo opp at one of her concert meet-and-greets in 2013. The 27-year-old pop singer alleges that Mueller put his hand up her dress and grabbed her bottom. Mueller denies these claims and sued Swift in 2015, claiming that the allegations were false and led to the loss of his job. Naturally Swift's mother came to her daughter's defense with a passionate testimony about the effects the alleged assault have had on the singer.
Reportedly, Andrea recalled the moment Swift told her about the alleged groping. She claims that her daughter spoke to her after the concert, on June 2, 2013. "Mom, a guy just grabbed my ass," Andrea recalled Swift saying in her dressing room after the show. Swift's mother also claimed that since the alleged incident, Swift's team heightened security at meet-and-greets, and they are no longer as trusting during these events as they were in the past.
Swift's mother may seem like an odd witness, but fans know that she and her daughter are very close. Andrea is almost always at Swift's concerts, and she's also acted as a chaperone for her daughter during radio station visits since her career began. In one particularly heartbreaking moment, Andrea reportedly testified that she was "upset to the point of feeling like I wanted to vomit and cry at the same time" after learning of the alleged incident. At one point on the stand, Andrea said,
"She couldn't believe that after the incident, she thanked him for being there. She said 'Thank you.' It was destroying her. It made me question why, as a parent, I had encouraged her to be so polite."
For a mother, even just the thought of your child being assaulted must be heart-wrenching. Swift is supposed to take the stand before the trial ends, and her mother will no doubt be in the courtroom to continue supporting her daughter during this trying time.