The Original 'West Side Story' Cast Shared Their Feelings About The Movie's Upcoming Reboot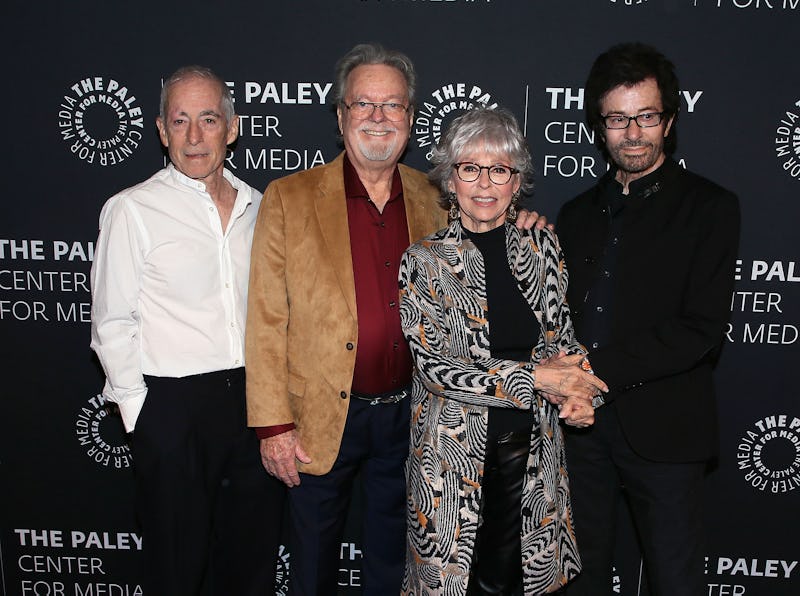 David Livingston/Getty Images Entertainment/Getty Images
Something's coming, something good, and it's the new remake of West Side Story. Well, at least there's hope it'll be good, possibly even great. With only a few pieces of information known thus far, it's too soon to tell, but now the original 1961 cast of West Side Story have shared their thoughts on Steven Spielberg's reboot, and they're all pretty positive about it.
According to EW, On Oct. 11, as a part of their series "Words on Dance," The Paley Center Los Angeles hosted a panel with members of the original West Side Story cast as a tribute to the choreographer for the movie, Jerome Robbins. The actors who attended were Rita Moreno (Anita), George Chakiris (Bernardo), Russ Tamblyn (Riff), and Eliot Feld (Baby John), and it was all moderated by Rob Marshall, director of Chicago and the upcoming Mary Poppins Returns and The Little Mermaid reboots.
During the red carpet and the panel itself, the new revival of this classic musical was on everyone's mind. Before the event, EW was able to ask the original cast about a possible cameo. Some of the were definitely interested, but Moreno was a little hesitant about doing one. "That would be strange," she told the outlet. "I think it would be distracting. No, no, no I don't belong in there in any capacity."
While it's a little sad to hear that, it certainly makes sense. Moreno won an Oscar and Golden Globe for the role of Anita, and she's well-known for her other roles too, most recently as Lydia on One Day At a Time. Her cameo would, without a doubt, be a scene stealer.
Overall, the tone around the new reboot was good-natured and curious. Tamblyn reportedly said that some people have come to him, expecting a negative response, but he told EW, "I said, 'No, [Spielberg] just might have something.' He doesn't need West Side Story, so he's probably got something in his head that's great."
And that's a great point. Will he breathe new, modern life to it a la Baz Luhrmann's Romeo + Juliet or Marshall's 1997 Cinderella with Brandy and Whitney Houston? Not much is known about the project other than the fact that Spielberg is directing, Tony Kushner is writing it, and Ansel Elgort has been cast in the role of Tony. Casting for main roles and background Sharks and Jets have been ongoing, but only time will tell who else will appear in the film.
While Tamblyn also talked of updating the choreography, Moreno had other ideas about what should be updated as well. "[I'm] anxious to see what he's going to do with it," she said in her interview with EW. "Obviously some of the language has to be updated. But it had to be updated when the movie came out. We were saying things like 'I'm hep' and it pained all of us because even then that was kind of out of date. But an old guy wrote it."
She went on to express her admiration for Spielberg, but still had reservations. "Tony Kushner, I get nervous," she said, according to EW. "I get nervous because you can only get just so gritty and then is it the West Side Story we know? Should it be the West Side Story we know? I don't know. I'm kind of torn about the Kushner aspect of it." Her concern, as an actor heavily involved with the original, is valid. She added, "I just want it to be successful."
West Side Story has had some of the most iconic songs out of any musical in the past century. From "I Feel Pretty" to "America," there are dozens of iterations, each unique and each still true to its origin. Considering the musical itself is a retelling of a classic love story (Romeo and Juliet), a reboot isn't the craziest thing to happen with the musical. And if the representation of Latinx characters is authentic, and the music and choreography are kept as tributes of the original, then this is one reboot that could be downright necessary.