These Lawmakers Want You To Know The Pink Tax Affects More Than Just Razors & Deodorant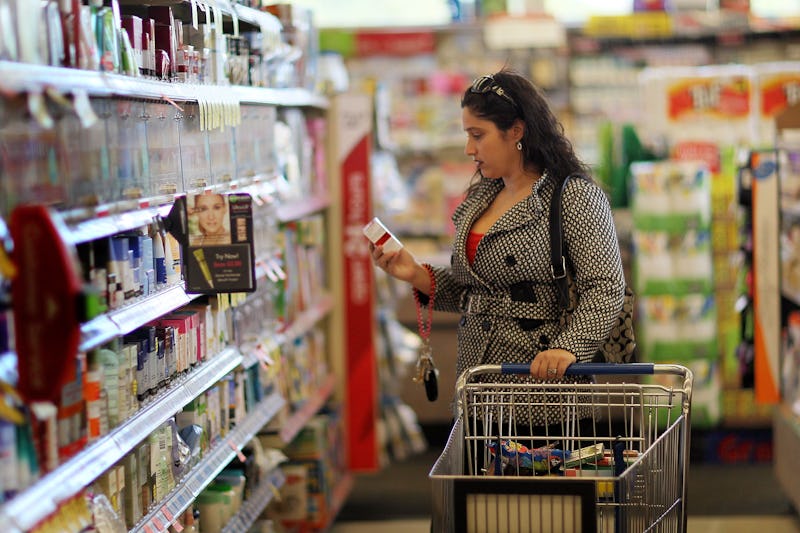 Joe Raedle/Getty Images News/Getty Images
It turns out the "pink tax" associated with shaving cream and deodorants marketed toward women may be seen in more than just consumer products. In fact, while women paid more for personal care products, they may end up paying more for home mortgages and auto loans as well, according to a new report released by the Government Accountability Office on Thursday.
"The so-called 'pink tax' has been observed in numerous media reports, and extends beyond products purchased in stores or online to services and financial services transactions that cost women more than men," according to a summary of the report.
The 10 product categories studied "serve identical functions" across genders, but are marketed to different genders. Women pay more on average for underarm deodorants, body deodorants, shaving cream, designer perfume, and mass-market body sprays, the report found.
In contrast, men pay more for shaving gel and non-disposable razors on average. There was no difference in average price paid for disposable razors, razor blades, and mass-market perfume, according to the GAO's findings.
Sen. Bob Casey of Pennsylvania says the report was a necessary step to have hard data on the landscape for female consumers. He requested the study along with Rep. Carolyn Maloney of New York back in August 2016.
Casey says he hoped the report could have revealed "better news" so near to Women's Equality Day, which is Sunday, Aug. 26. "I was hoping this report was indicating better news, but unfortunately this this is not case," Casey tells Bustle. "We all see on the market, products that are differentiated by gender, but I never thought we'd see as much disparity that we saw in [GAO] research."
In addition to the research about consumer product price differentials, the GAO reviewed published studies for "financial products and services" that aren't marketed differently based on the gender of the person applying for them, including mortgages, small business credit, auto purchases, and auto repairs.
The GAO reported that it is "unable to generalize findings" because the available studies are too old or contain too small a sample. But the agency did find that available research shows that the "consistent and pervasive wage gap" between genders has a greater impact than just earned income. The report found that American women may pay more in auto loans on average, and women may end up paying more for their mortgage despite defaulting less than men who apply with similar credit. One study suggested it's because women make less money, which in turn makes a credit application less attractive.
Maloney tells Bustle in an email that she hopes the next step will be to better understand the differences in these financial products. "We saw a trend in financial services and products that is worrisome, especially given the gender wage gap women also face," Maloney writes.
The average American woman makes 80 cents for every man's dollar. It's worse if you're a woman of color: Native women make 57 cents while Latina women make 54 cents, and black women make 63 cents.
"This report makes clear that we need to further research these inequities, but what sticks out to me most is how the gender pay gap seeps over to thinks like mortgages and loans — compounding this issue and putting women at an even greater financial disadvantage," Maloney tells Bustle. "Women 75 years and older are almost twice as likely to live in poverty as men. It's hard to believe that's a coincidence once you see data like this."
For Maloney, the next step to combat these disparities is clear: Pass the Equal Rights Amendment.
"We need to pass the Equal Rights Amendment," Maloney says. "With women's equality in the Constitution we will have the legal bedrock to fight against discrimination like that mentioned in the report."