'HOC' Season 5 Bears An Uncanny Resemblance To Washington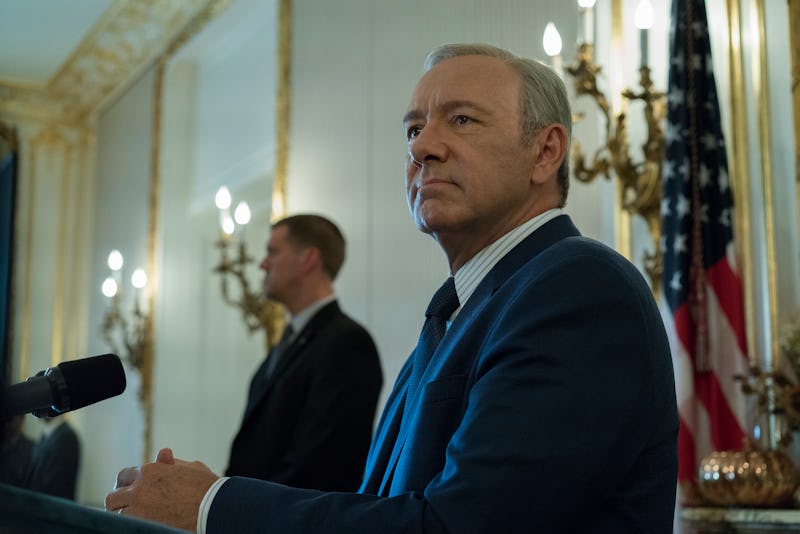 David Giesbrecht/Netflix
It feels like an understatement to say a lot has changed in the real life American political landscape since House Of Cards Season 4 premiered in early 2016. Many are now joking that politics in the real United States feel even more intense than what's happening in the Netflix series. Yet the politics of House Of Cards Season 5 feel more relevant to our political climate than ever before. (There are SPOILERS ahead for House of Cards Season 5.) So many moments of the new season will feel weirdly familiar to its audience, from the Underwoods undermining the press to protesters chanting "not my president" outside the White House.
According to The Hollywood Reporter, most of House Of Cards Season 5 was shot before the election, in which Donald Trump was elected president in a very close race. Co-showrunner Frank Pugliese told the publication that the show did not make any changes to its plans for Season 5 once Trump was elected.
"Because of Trump, it actually seems to be relevant at the moment," he told The Hollywood Reporter. "People might think we added in things like the protests after Trump. We actually shot it way before and it was written in way before. Some of this stuff may seem new, but it's sort of happened in the past and what we notice is it could actually happen again."
With that timing in mind, these 19 political developments from House Of Cards Season 5 may seem eerily prescient: