The New 'RHOA' Trailer Is Phaedra-Free, But Full Of Drama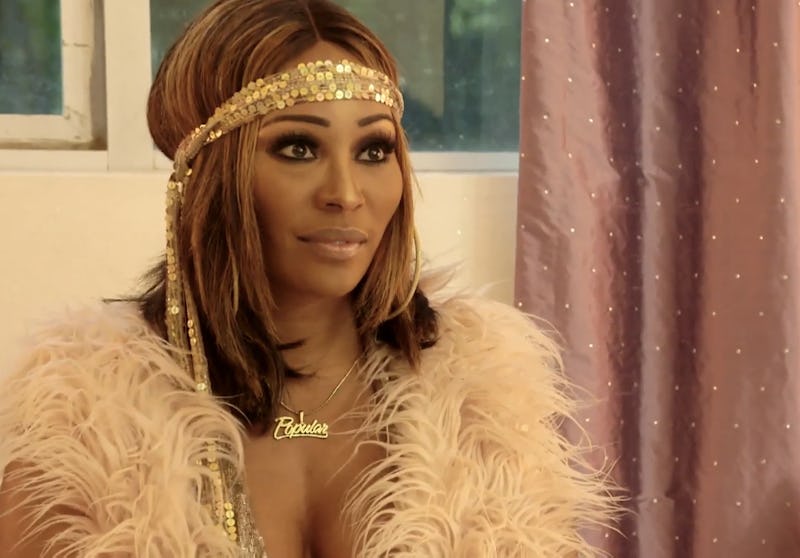 Bravo
The wait for footage from the newest season of Real Housewives of Atlanta is over. On Tuesday, the Real Housewives of Atlanta Season 10 trailer dropped, and as expected it is over the top. To begin, it's important to note that Phaedra Parks is not part of this season's cast. After the controversy fueled by her in Season 9, there were rumors she wouldn't be returning and now the trailer confirms those reports. The Season 10 cast is clearly doing just fine without her — at least in the drama department.
First, Cynthia Bailey, Porsha Williams, Kenya Moore, Kandi Burruss, and Shereé Whitfield are all returning. There are also two familiar Housewives making quite the comeback. As previously announced, Kim Zolciak-Biermann is back, but only in a part-time capacity. "I'm coming to play with the ladies over at RHOA," she revealed in July. "However, since you all have made my OWN show such a huge success, I've decided to continue to carry that instead of carrying a peach! See you soon b*tches! #CANTWAIT #2ShowsSameNetwork #Blessed #SeeUAtLeastHalfTheSeason #MoreThenAFriendLessThanFulltime."
To make matters even more exciting, NeNe Leakes is also coming back, but, unlike Kim, will be back as a full-time Housewife when the series returns on Nov. 5. "I am back and of course the haters know I'm here," she says in the trailer. In June, NeNe revealed her return to the series that put her on the map. "I just want to be the person to finally say to my fans who have supported me for so many years... I'm back and ready for Season 10. Let the shade begin, hunni!" she told Bravo's The Daily Dish at the time.
As for the trailer, well, there are a lot of changes happening in Atlanta, including a possible friendship between Kim and Porsha. It seems these two are newfound besties. Not only are they seen holding hands, but Porsha asks Kim, "You my new frack?" Speaking of Porsha, she is also trying out a vegan lifestyle this season. "I am a baby vegan," she declares. It's unclear what she means by a "baby vegan," but it appears she is still eating meat.
Of course, there is talk of Kenya's surprise wedding to Marc Daly. It doesn't even seem like Cynthia, who is supposedly Kenya's BFF, has any idea who this man is. Some of the women even question her marriage. "Let's play a game," friend of the Housewives, Marlo Hampton, says, before adding, "How many believe Kenya's really married?"
Kenya's not the only one pursuing romance. Cynthia is in a new relationship and is even shown kissing a new man. However, Peter Thomas (yes, her ex-husband is back) isn't convinced that he and Cynthia are over for good, as he tells Gregg Leakes and Todd Tucker. Even Shereé is apparently dating someone, who NeNe refers to as a "con artist." To that revelation, Kandi utters, "I hope he don't con her out of Chateau Shereé."
This season, there is also a trip to the hospital made by an unknown individual. At one point in the trailer, Gregg says to NeNe, "Sometimes I black out," so there's a chance it could be him. Either way, it looks quite scary.
Finally, to bring all of the drama full-circle, Kenya and Kim share several heated words, but the worst is when Kenya says to her: "Worry about pimping your daughter out, b*tch." Yeah, that happens.
Based solely on the trailer, it sure looks like it's going to be quite the season — and better than what Real Housewives of Orange County has been putting out for the past two years. Thank goodness these Atlanta favorites are returning sooner rather than later.