The Real Kitty From 'To All The Boys' Talks Hanging With Lana Condor & Noah Centineo On-Set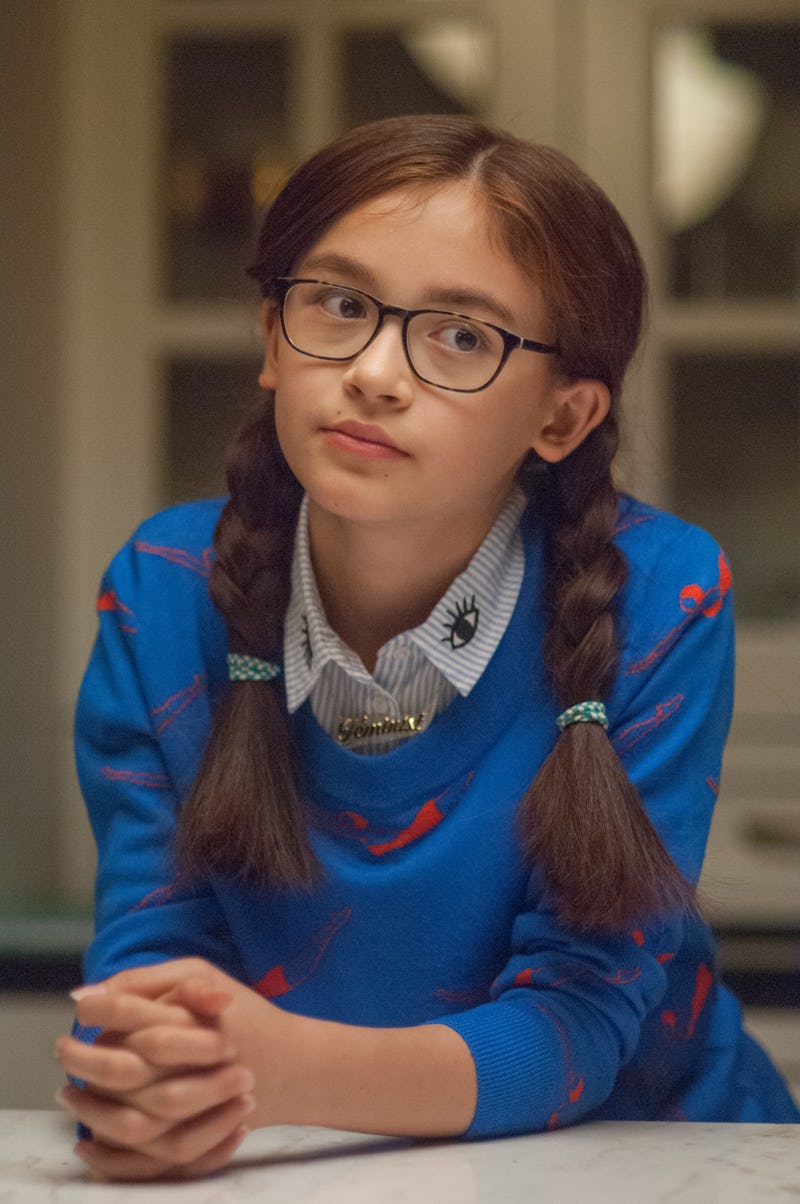 Netflix
Anna Cathcart isn't a household name just yet, but Katherine Song Covey — Kitty to her friends — sure is. The sassy little sister from Netflix's surprise summer hit To All The Boys I've Loved Before has been a hit with audiences, thanks in part to 15-year-old Cathcart's scene-stealing performance. And, while the actor might have just been playing a role, the real Kitty from To All The Boys actually has a lot in common with her on screen persona.
Like Kitty, who involves herself in her older sister, Lara Jean's (Lana Condor), love life once their eldest sibling, Margot (Janel Parrish), leaves for college, Cathcart has an older sister that she would do anything for. Now, though, with Parrish and Condor, it looks like she has a few more loved ones to look out for. "We would hang out on and off set all the time," the actor tells Bustle over the phone of her co-stars. "We were so comfortable with each other and we'd always be making each other giggle, and always just having the best time."
Cathcart talks a mile-a-minute, not unlike Kitty herself, especially when she's describing the ladies' "Covey Sister group chat." What do the Covey sisters talk about in their secret group chat, you ask? According to the teen, other than exchanging texts when a celebrity posts about their film on social media (Cathcart tells Bustle that she and Condor were especially pleased to find out Hailey Baldwin had watched it), the three actors can really talk about anything and everything. "We're very open with each other," she reveals. "We can just tell each other whatever, and it's so much fun hanging out with them."
It's no surprise, then, that some of Cathcart's favorite scenes to film were scenes that involved at least two of the three sisters. In fact, the first behind-the-scenes moment that comes to her mind is the scene in which Lara Jean chases Kitty around her room with a stuffed unicorn, ready to murder her little sister for sending out her private love letters. "I really liked filming with the three sisters, of course. The fight — like the little run around the bed, fighting and stuff — was super fun when we were all arguing," Cathcart recalls. It might not be fun to fight with your sisters in real life, but on a movie set, it turns out, it's way better.
Of course, the actor admits she loved filming scenes with Noah Centineo, too, specifically the scene in which Kitty and Peter first meet and bond over the "Korean yogurt smoothie" she packs for breakfast. "I think that was my first scene filming with Noah," Cathcart remembers. "And it was so much fun; I loved it so much." Not only did she get to deliver her favorite line of the movie in that scene — "My name is Katherine Song Covey, Kitty to my friends. You can call me Katherine" — she also says she loved being around Condor and Centineo, noting, "Lana and Noah... they're so comfortable with each other and best friends, so it was awesome being with all three of us."
Equally enjoyable for the young actor was the now infamous popcorn scene. "That one's also one of my favorites," she says. "It was so fun to have a pillow fight with [Centineo]. And we ate so much popcorn." It's a good thing Cathcart had fun with the popcorn, because at 15, she, much like Peter Kavinsky, has never seen Sixteen Candles. "I'm like Peter, 'What is that? The Candles movie?'" she admits. "I did not know who Jake Ryan was."
It's hard to believe, but Cathcart actually almost didn't take on the part of Kitty in To All The Boys. First, the production asked her if she'd be willing to dye her hair darker for the role, so that it would more closely resemble Condor's black hair. Cathcart, who identifies as "half Chinese, half Irish," has naturally auburn hair, and she and her mother worried that if she dyed it black, it would never grown back the same way. The actor says she and her mother decided that this was a deal breaker. "We decided to stand our ground and say, 'We really don't want to change that part of Anna,'" she recalls.
It's a pretty strong stand to take for such a young actor, but Cathcart says, looking back, it was very in line not just with who she is, but who Kitty is as well. Explains the star: "I feel like that was a very Kitty thing to do, she definitely stands up for herself, stands up for things."
Let that be a lesson to all To All The Boys I've Loved Before fans: whenever you face a tough decision, just ask yourselves: What would Kitty Covey do?