Khloé Kardashian Just Revealed Why She Spent Thanksgiving Away From Her Sisters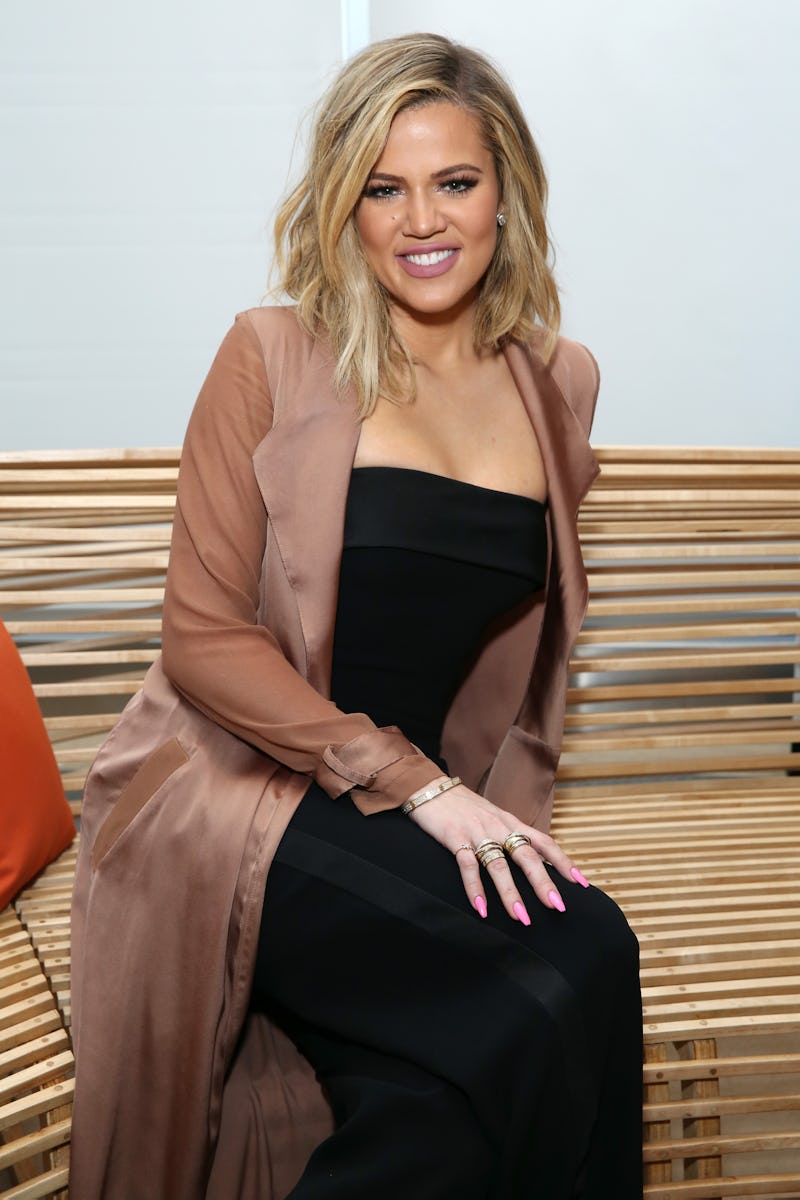 Cindy Ord/Getty Images Entertainment/Getty Images
After enjoying a cozy holiday dinner with her boyfriend and his family in Ohio, Khloé Kardashian has explained why she spent Thanksgiving in Cleveland after fans have speculated that her decision to skip out on the Kardashian family celebrations mean that she's fighting with her family.
On Thursday, the Good American founder shared a series of sweet family photos of her Thanksgiving celebrations in Cleveland with Tristan Thompson and daughter True, where she expressed that she was "thankful" for her family. Thompson echoed her sentiments with a Thanksgiving post of his own, writing that he was "soo blessed" to be celebrating with his loved ones. "Happy thanksgiving from my family to yours #GiveThanks #blessed," Thompson captioned his own Instagram photo.
However, after a fan speculated on Friday that Kardashian's decision to skip out on her famous family's get together was a sign of tension, she explained that her Cleveland celebrations was simply a matter of convenience.
"Y'all are reaching now," Kardashian wrote on Twitter. "I've spent the past 3years in Cleveland for Thanksgiving. Not sure why people are trying to create drama between my family and I. My sisters and I are perfectly fine thank you! All of their families were able to travel but TT being in season, he can not."
She continued, "The truth is never as fun as some story some of you like to create. So here we goooooooooooo!! Happy Thanksgiving I guess lol."
Kardashian and Thompson's Thanksgiving celebrations come at a tense time for the couple, as they have been reliving the drama surrounding his alleged infidelity just days before True's birth back in April. Though the couple worked through their issues at the time, the Keeping Up With the Kardashians episodes chronicling the cheating scandal are currently airing, which Kardashian herself has admitted has been "incredibly difficult."
"Tonight's episode is an uncomfortable and super emotional one for me, but when we signed up for this show over a decade ago, we signed up for a reality show, which meant showing you guys inside our lives, the good, the bad and the ugly," Khloé wrote in a series of tweets in early November. "To relive these moments all over again is incredibly difficult emotionally but I also hope that with every trail, tribulation and curve ball life throws at us, that we ALL get to learn from our journeys."
She added: "Amidst the tough times, I have been blessed with the ultimate gift, my sweet baby True who has changed my life in ways I never could have imagined."
And while Kardashian has been open about appreciating all of the support that her family offered up during her labor and the months following True's birth, seeing the way her sisters reacted to the news of Thompson's alleged infidelity might understandably be causing some tension. After all, Kim in particular hasn't held back when talking about Thompson in the wake of the cheating scandal, even calling the NBA player a "f*cking loser" after he blocked her on Instagram.
"When I see him, I'm going to, like, spit on him," Kim told her younger sister after finding out about the social media diss, according to an upcoming episode of Keeping Up With the Kardashians. "Whatever, I'll save it all for him. I won't stress you out. We can co-exist, I'll be nice." However, she made her disapproval of Thompson very clear, adding to Kardashian, "Your boyfriend's a f*cking loser."
With the famous family all being forced to relive those tense, uncomfortable moments on television, it wouldn't be a surprise if any of that residual resentment was still causing problems. However, it seems that the Kardashian family has put their differences aside for the sake of their newest addition, True — and for the happiness of her parents.