The Royal Wedding Cello Player Just Commented On His Amazing Performance With So Much Joy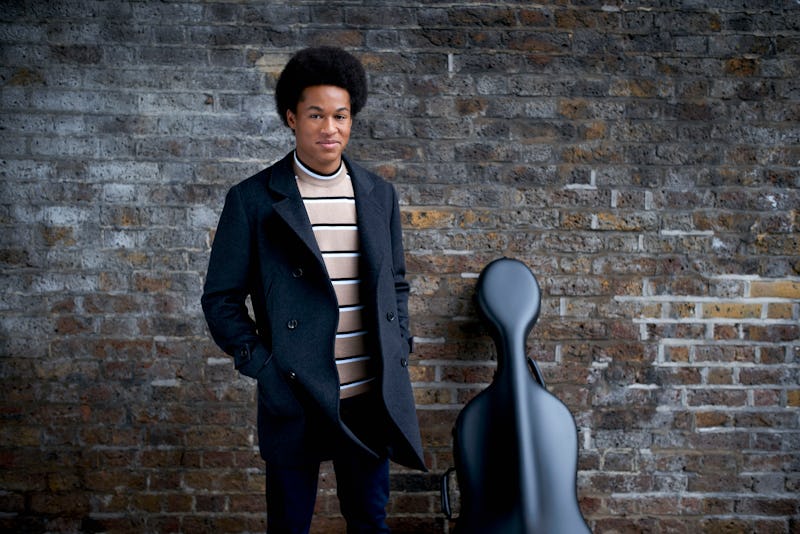 Handout/Getty Images Entertainment/Getty Images
At the 2018 Royal Wedding on May 19, Prince Harry and Meghan Markle walked into St. George's Chapel at Windsor separately, and walked out as the Duke and Duchess of Sussex. However, it's the cello player at the Royal Wedding that undeniably stole the show. Spectators from around the globe fell in love with Sheku Kanneh-Mason and his heart-stopping performance of "Ave Maria." And as Bustle just learned, he enjoyed it just as much as his fans.
After his performance, Kanneh-Mason told Bustle the following via email about playing cello for the 2018 Royal Wedding on May 19:
"It was just such an awesome moment — just really incredible to perform for Prince Harry and Meghan at their wedding! The atmosphere was amazing and I'm proud to have played a small part in the celebrations. It's a day I will remember for the rest of my life."
He's certainly not alone there. According to UK publication The Guardian, the cellist inspired fans to write 28,000 tweets per minute during his performance. That means that more than 450 people around the world published a tweet about the cellist every second of his 2018 Royal Wedding appearance. Not too shabby for a man just doing his job on a Saturday morning. It's obvious that the Royal Wedding planners chose well.
As Bustle has previously reported, this is not Kanneh-Mason's first moment in the spotlight. The 19-year-old cellist appeared with his siblings on Britain's Got Talent in 2015, and he performed with them at the BAFTAs 2018. He performed the Leonard Cohen classic "Hallelujah" at the BAFTAs in 2017, which makes him the first musician invited to perform at the awards ceremony twice. When he received the BBC Young Musician of the year award in 2016, Kanneh-Mason was the first black man to do so since the award's creation nearly 40 years prior. It's amazing that he's able to stay so humble, focused, and genuinely excited about doing what he loves — after all, he told Bustle that it was an "awesome" moment that he was "proud" to be a part of. Aww.
Per IMG Artists, he's already racked up awards by himself and with musical partners. He the winner of the Duet Young Instrumentalist award from the Royal Philharmonic Society in 2016, and at the Sky Arts Awards in London in 2017, he took home the Times Breakthrough Artist award. Now, Kanneh-Mason is obviously breathtaking as a soloist, but never let that go to his head.The official website for his family's group proves that he and his siblings are all classically trained musicians, with broad talents and taste. The cello is simply a less popular instrument among young musicians, which means Kanneh-Mason is able to seek out more opportunities for solo work.
He's quite the decorated musician at any age — but he just turned 19 this year! And if 19 years old sounds young to you, that's because it is. To be clear, Sheku Kanneh-Mason was born in 1999. That makes him too young to remember the Y2K panic about computers not being able to recognize the millennium. It makes him the same age as actor Kiernan Shipka, and photographer Brooklyn Beckham, but younger than the entire cast of Riverdale. He's younger than Dua Lipa. He's younger than Lorde. He just rocks.
It's obvious that Kanneh-Mason has a long, successful career ahead of him. If he was winning awards and making history before he even got to the 2018 Royal Wedding, what's next? Winning a dance fight against celebrated cellist Yo-Yo Ma? In all seriousness, though, it's a lovely honor to play a modern royal wedding — especially when the bride is a person of color herself. What an accomplishment for Kanneh-Mason, and a proud day for his family. Twitter fans will definitely be fighting over him for many celebrations to come.