What Watching The Royal Wedding Uplift Black Church Culture Meant To Me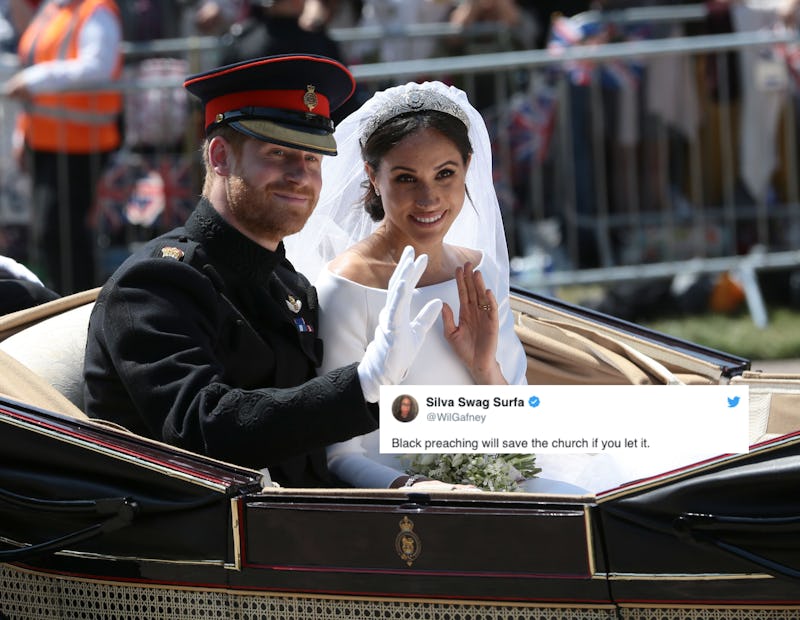 WPA Pool/Getty Images Entertainment/Getty Images
I was eager to watch the royal wedding for superficial reasons — seeing Meghan Markle's dress for the first time, listening to mundane commentary from news anchors, seeing which celebrities attended the affair. For all the glamour, royal wedding ceremonies are usually reserved and relatively boring — at least, that has been the case in previous years. But the new Duke and Duchess of Sussex surprised me during their ceremony with a powerful service that centered Black church culture.
When Episcopal Bishop Michael Curry took the pulpit and began to speak, I felt a moment of déjà vu. I grew up in churches filled with people who looked like me, and although I'd never heard Curry's sermon before, his fiery passion made me think of Sunday mornings spent in pews. As Curry addressed the couple and the rapt audience, he drew on spirituals and quotes from Martin Luther King, Jr. He referenced American slavery and the transformative power of love. He delivered his message with passion, but it was more than just a moving sermon.
Consider that evangelical churches in the U.S. are facing what The New York Times describes as "a quiet exodus" because Black parishioners are leaving en masse. In theory, Black parishes are a safe space for people of color to worship without fear of discrimination. In reality, tragedies like the 1963 Birmingham church bombing and the 2015 Charleston church massacre are a reminder that even holy places aren't exempt from racial violence.
When we have discussions about Christians in the U.S. supporting far-right politics, we sometimes forget to acknowledge that we're usually talking about predominately white, Protestant churches. The Black church in the U.S. — despite its homophobia, among other issues common in churches of all kinds — has historically preached a gospel heavy on liberation and racial justice, and the Most Rev. Bishop's sermon at royal wedding was no exception.
But other aspects of the Meghan and Harry's wedding honored Black culture in truly meaningful ways. The couple chose an all-Black choir to sing "Stand By Me," a song made popular during the American civil rights era by Black musician Ben E. King. And the cellist who played "Ave Maria" during the ceremony, Sheku Kanneh-Mason, was the first Black man to win the BBC Young Musician of the year award in 40 years. It's no surprise that #RoyalWeddingSoBlack was a popular hashtag for people of color watching the wedding ceremony. Seeing the royal family have a church service that honored Blackness was revolutionary.
Of course, there were people who wondered why race was even relevant. Conservative commentator David Vance tweeted that the BBC is "obsessed with race" for writing about the Blackness of the wedding. But I don't believe anyone questioning the importance of Saturday's ceremony is asking in good faith — only because the answer to the question is painfully obvious, especially for people who have been marginalized due to systemic oppression. Just like Black Panther showed the world Black excellence without stereotypes, the royal wedding acknowledged Markle's upbringing without fetishizing or degrading it — which felt monumental, considering British tabloids' previous coverage of the Duke and Duchess' relationship. And seeing the British monarchy — a historically white institution known for imposing British culture on the nations it colonized — engage in this celebration of Black culture was incredible.
About 18 million people across the U.S. watched the royal wedding over this past weekend. But the fact that many of them were likely experiencing the same gladness that I felt made me realize that May 19 wasn't just a wedding. It was a much-needed reminder that we're going to be okay.
Markle showed the entire world the richness of Black church culture during her wedding ceremony, making Saturday historic for more than one reason. Markle is the first biracial American to marry a member of the British royal family, and she's also the first royal family member to center Blackness in her praxis. This is only the beginning of change for the royal family, and it started in that church.