These Royal Wedding Tributes From Princess Diana's Siblings Will Make You Tear Up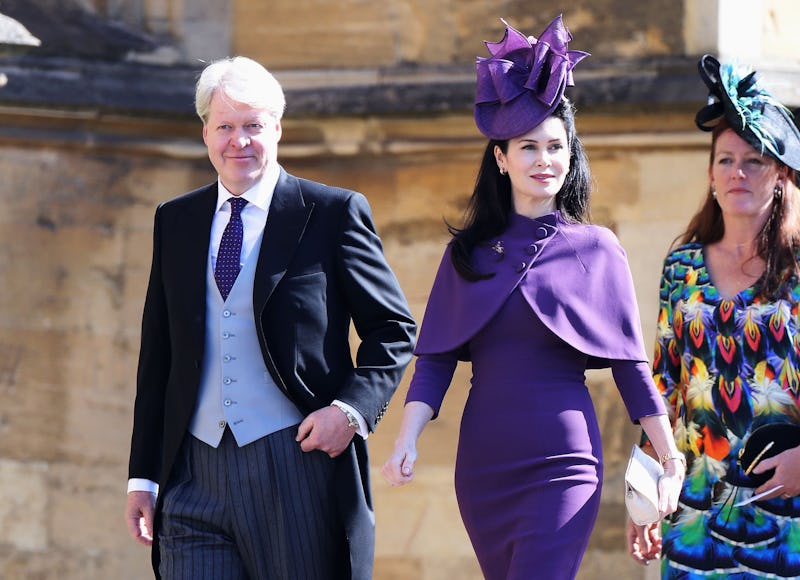 Chris Jackson/Getty Images Entertainment/Getty Images
Although Prince Harry's beloved mother Princess Diana died when he was just a child, her presence was felt throughout the royal wedding. Nowhere was that more apparent than in the royal wedding tributes from Princess Diana's siblings. Charles Spencer, Lady Jane Fellowes, and Lady Sarah McCorquodale were all in attendance at the wedding, and Prince Harry's aunts and uncle made sure that their sister was honored.
Even though he lost his mother when he was young, Princess Diana remains an important figure in Harry's life. His mother inspires much of his charity work, and her death influenced how he feels about the press. There's no doubt that she helped make him the man he is today, and from the flower displays to Meghan Markle's bouquet of forget-me-nots, there were homages to Harry's late mother throughout the ceremony.
If anyone understands the impact of losing Princess Diana like Prince Harry and Prince William, it's her siblings. Having them there made it clear that Harry's mother's side of the family is still very much a part of his life. The bride and groom even asked Fellowes to give a reading at the ceremony, and her words helped make Harry's mother's presence feel all the more tangible.
Fellowes tries to stay out of the spotlight, so her participation in the ceremony is meaningful for a number of reasons. After Diana's death, Fellowes chose not to speak to the press, and she didn't participate in a recent documentary about the life of the princess. However, she's remained a fixture in Harry's life since he was a boy. And the fact that she so rarely makes public appearances added even more meaning to the Biblical passage she read. Her reading included this line from Song of Solomon:
"Set me as a seal upon your heart, for love is strong as death."
The moment was so beautiful that Prince Harry seemed to have tears in his eyes.
While Fellowes was the only person to give a reading at the wedding, having Spencer and McCorquodale at the ceremony was a tribute too. Princess Diana's siblings grew up with her, and since her death, they have continued to play an important role in their nephews' lives. For Harry, having them at his wedding seems to be a way to make sure that his mother's side of the family feels just as included as everyone else.
Prior to the wedding, the palace confirmed that Harry was "keen to involve his mother's family in his wedding," according to Vanity Fair. When the news that Fellowes would give a reading was confirmed, the bride and groom issued a statement expressing just how much it meant to them that she would be part of their special day. The Kensington Palace statement read,
"Prince Harry and Ms. Markle both feel [honored] that Lady Jane will be representing her family and helping to celebrate the memory of the late Princess on the wedding day."
In addition to his aunts and uncle, Prince Harry also reportedly invited his maternal cousins to the ceremony and reception as well. There truly is no doubt that Princess Diana's side of the family was represented at the wedding, or that every effort was made to incorporate her memory into the day.
The many ways that Prince Harry and Meghan Markle incorporated the prince's late mother into their wedding is yet another reminder of what an amazing woman that Princess Diana was. Even though it's been years since her passing, it's heartening to know that her siblings are still helping keep her memory alive for her sons and the rest of the world.