The Rugrats Movie' Soundtrack Is Way Cooler Than You Remember (Patti Smith?! Lenny Kravitz?!)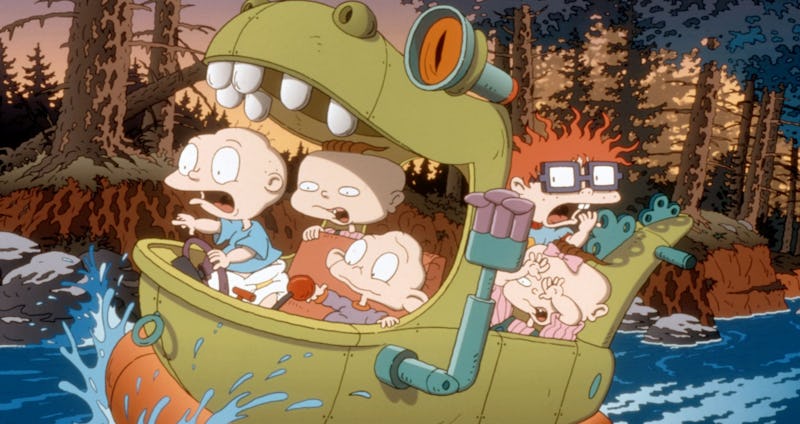 Paramount Pictures
Pharrell made music for Despicable Me and Tyler, the Creator recently did the same for The Grinch, but in 1998, including hip-hop on a soundtrack for an animated movie was a big deal. So big, in fact, that Entertainment Weekly's original review of The Rugrats Movie soundtrack let classic rock lovin' baby boomer parents know that with this album they were about to confront something truly cringeworthy: "their children's love of rap!"
Revisiting this statement on the 20th anniversary of The Rugrats Movie, it's clear that it didn't age well. But Mark Mothersbaugh – who composed all of Rugrats' music, including the show's iconic theme song – isn't surprised that people at the time of the movie's release weren't sure what to make of a kids' album that featured Busta Rhymes, Kevi of 1,000 Clowns, and legendary emcee Rakim. (For the record, EW thought the "kid-hop" was "truly child-friendly.")
"I think early in my career I decided not to play down to kids," Mothersbaugh tells Bustle over the phone. "I always tried to do something that gives them some new piece of information rather than go to that safe zone." And Mothersbaugh has never played it safe. Back in the '70s, his band Devo defied genre — not to mention, conventional fashion. And for Rugrats, the musician teamed up with the show's creators Arlene Klasky and Gábor Csupó to push the boundaries of conventional children's fare.
Rugrats didn't just do this through progressive storylines focused on religion, gender roles, and grief, but with its music, too. "We didn't want it to be a Barney show, nobody did," Mothersbaugh says of Rugrats' musical direction, which was anti-purple dinosaur, but obviously, very pro-Reptar. "I always thought the Barneys of the world were creepy. We wanted it to work on another level."
It was one in which kids weren't treated like kids, but like the intelligent and curious little beings they are. It's why Csupó, Mothersbaugh says, hired music supervisor Karyn Rachtman for The Rugrats Movie. She had worked on Pulp Fiction and Boogie Nights and was there to push the limits of what kids' soundtracks usually were. She was the one who recruited Blackstreet, Mýa, and Ma$e on the soundtrack's biggest hit "Take Me There," which interpolates the Rugrats theme.
"It's got a Pavlovian quality to it," Mothersbaugh says of his intro, which is why fans may notice it sounds a little off on "Take Me There." "They kind of messed up the melody a little bit," he says of the track. "They should have listened to it a couple of more times."
Mothersbaugh's favorite moment on the movie's soundtrack is "This World Is Something New To Me," a song sung in a maternity ward by a bunch of babies whose voices may sound familiar. Lenny Kravitz, Beck, The B-52's, Jakob Dylan, Lisa Loeb, and Mothersbaugh's old friend Iggy Pop all sang a line on a song that focuses on how big and scary the world can seem where you're that small.
It wasn't tough to convince artists to get in the studio for The Rugrats Movie, Mothersbaugh says, as they were all fans of the show. Patti Smith, who voiced another one of those newborn babies, even had a sweet request. "She said, 'I'll sing on the song on one condition.' I said, 'What's that?'" 'You let me bring my daughter to the recording session,'" Mothersbaugh recalls with a laugh.
Because of Rugrats' success, Mothersbaugh even got access to an unreleased David Bowie track called "Sky People," which the artist recorded in 2000 for The Rugrats' Movie sequel, Rugrats In Paris. "I have a tape in my archives, a multi-track tape of David Bowie, he wrote a song for that movie and it never got used," Mothersbaugh says. "I'm thinking, I have this unpublished Bowie song that I should put out."
Unfortunately, Mothersbaugh doesn't say if or when he'll ever do just that. But the fact that so many musicians of so many genres participated in The Rugrats Movie soundtrack and its two sequels shows just how much people love Tommy, Angelica, and Chuckie, who happens to look a little like Mothersbaugh.
Yes, the musician also heard the rumors that he's the inspiration for Chuckie. "I was working on music for [creators Arlene Klasky and Gábor Csupó] while they were still figuring out what the characters would look like for the show," he recalls. "And they were looking at the back of my head and the side of my head every day. So it could be true."
Mothersbaugh wouldn't mind if it was, since he says he owes so much to Rugrats. "I didn't go to school to become a film composer," he says, nothing that The Rugrats Movie was his first big flick. "Gabor Csupó and Arlene Klasky stood behind me 100 percent while [the studio] Paramount was going, 'He's never scored a film with an orchestra in it.'"
He jokes that Paramount was probably right to be concerned, but the movie ended up jumpstarting his composing career. He's gone on to work on other children's films like The Lego Movie, Cloudy With A Chance Of Meatballs, and Alvin and the Chipmunks, purposely making music that doesn't condescend to young viewers.
"Kids don't need to be played down to and I don't think they appreciate it even," he says. "I think for the most part, kids really want to be treated like humans." It's obvious that others have taken this same stance — just listen to a kid's movie soundtrack made in the past two decades and you'll hear The Rugrats Movie's influence.