The Most Hurtful Tristan Thompson Rumor To Date Finally Got Debunked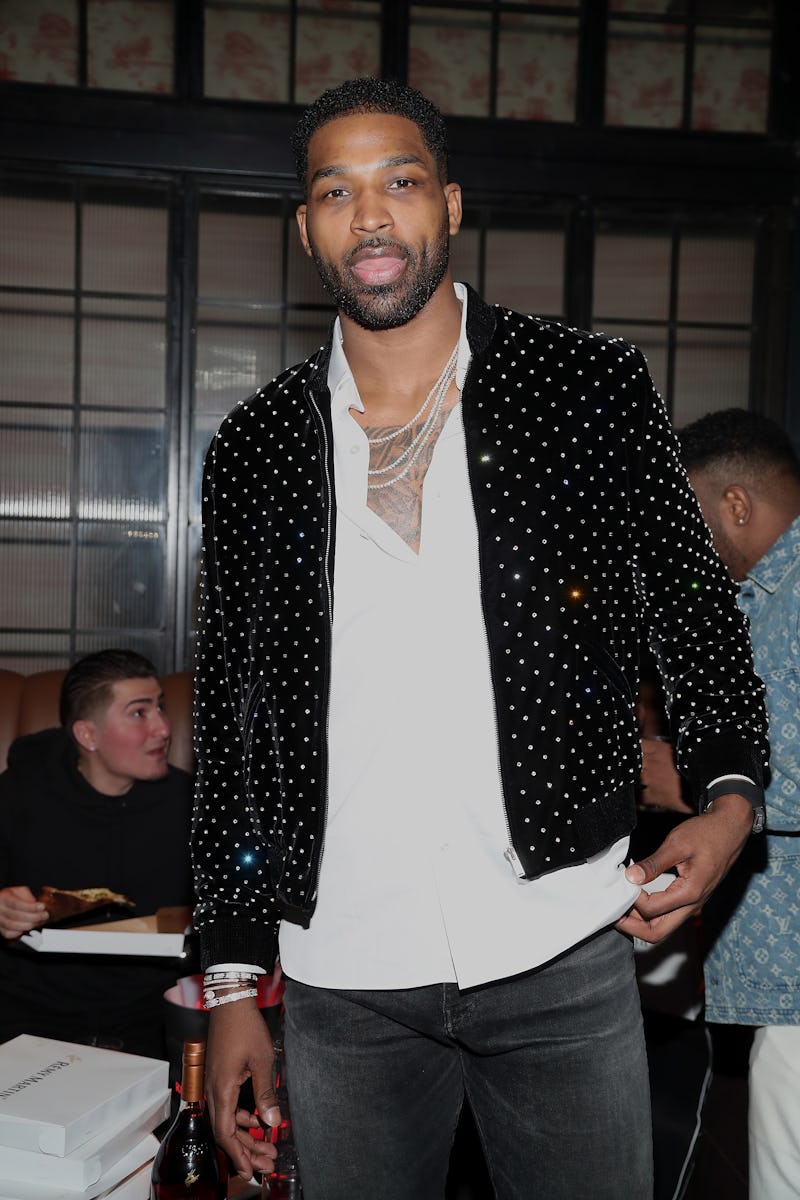 Cassidy Sparrow/Getty Images Entertainment/Getty Images
Rumors are continuing to circulate that Tristan Thompson may have cheated on Khloe Kardashian while she is nine months pregnant with their child. Videos and pictures of a man that may or may not be Thompson with other women continue have circulated through the media. But the rumor that Thompson may have gotten a woman pregnant just came to an end. (Bustle reached out to Thompson's agent and Kardashian's rep regarding the pregnancy rumor, the cheating rumors, and the videos, but did not immediately receive a response.)
People reported that a person who goes by the Instagram handle @ms.stephaniee_ claimed to be the woman who appears with a man who may or may not be Thompson in a video outside of the Four Seasons Hotel in New York City posted by The Shade Room. @ms.stephaniee_ later shared a graphic video of sexual activity between two unknown people and a series of text messages that she claims were from the 27-year-old Cleveland Cavaliers basketball player, according to TMZ.
The woman reportedly then took to her Instagram story to announce, "I'm pregnant too since everything out here," according to a screenshot obtained by the Daily Mail. However, it seems that fans believe and several media outlets (such as People and TMZ) have reported that the woman in the hotel video is not the same woman claiming to be pregnant by the athlete. TMZ reported @ms.stephanie_ may not actually be involved at all. Soon after the reports circulated, the photos, videos, and stories were erased from the @ms.stephanie_ Instagram account and the account no longer has a profile photo. The bio of the account is also blank.
At the moment, all of these rumors circulating are just that — rumors. Kardashian and Thompson have not publicly commented on the cheating or the reported pregnancy rumors. Thompson's NBA team the Cleveland Cavaliers are playing a game against the New York Knicks on April 11 at the Quicken Loans Center in Cleveland, according to the NBA. Earlier in the day, TMZ reported that Kardashian was having early contractions, but it is currently unknown if Kardashian has given birth yet.
Thompson and Kardashian started dating in 2016 and Kardashian is currently nine months pregnant with their child. In December 2017, Kardashian joyfully announced the pregnancy via Instagram, expressing much love for Tristan:
"My greatest dream realized! We are having a baby! I had been waiting and wondering but God had a plan all along. He knew what He was doing. I simply had to trust in Him and be patient. I still at times can't believe that our love created life! Tristan, thank you for loving me the way that you do! Thank you for treating me like a Queen! Thank you for making me feel beautiful at all stages! Tristan, most of all, Thank you for making me a MOMMY!!!"
On Monday, April 9, Kardashian posted a photo of herself and Thompson to Instagram, in which they embrace her pregnant belly. Eagerly waiting the birth of their child, Kardashian wrote in the caption:
We are ready whenever you are little mama [butterfly emoji]
On social media, Kardashian has tweeted and written about how she is about to give birth very soon. Kardashian tweeted about having a hospital bag ready on April 6 and she tweeted about how she was "about to give birth" on April 8. As she is nine months pregnant, the child could be arriving any day now.
While many rumors continue to swirl surrounding Thompson's reported cheating, it seems that this latest chatter has turned out to be a rumor and nothing more.