Get Rid Of The Winter Blues With This Movie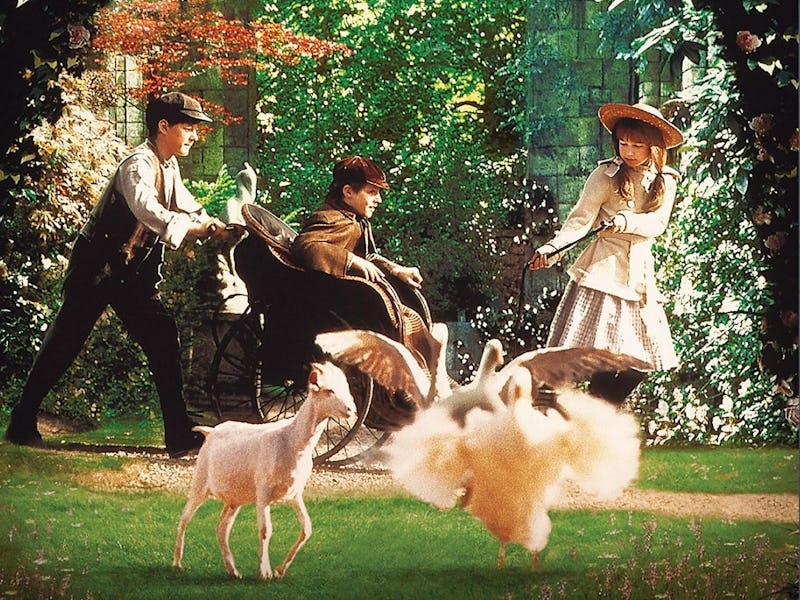 Warner Bros.
February is the shortest month of the year, but it sure as heck feels like the longest right now, doesn't it? Winter is often a struggle, but November and December have holidays in which to partake, and January still has that fresh, New Year's feeling to it that can be inspiring. February, though, can seem like a cold, dark slog before we get to spring. So if you've got the winter blues, or February doldrums, why not get a taste of spring from a good '90s throwback movie? 1993's The Secret Garden was one of my favorite films as a kid, and if you rewatch it now, it will definitely give you the taste of spring you're craving.
Based on the 1911 book by Frances Hodgson Burnett, The Secret Garden is one of the most classically beloved pieces of children's literature. It's been adapted into multiple film, TV, and theatrical versions, including a Broadway musical and anime series. But probably the most well-known of all is the '93 film directed by Polish female director Agnieszka Holland and produced by Frances Ford Coppola. It's not only a lovely ode to the original book, but it's also the perfect hit of springtime and rejuvenation that you might need to get through these final winter moments.
The Secret Garden tells the transformational story of a young girl named Mary Lennox. Raised in India by her nannies and housekeepers and ignored by her parents, Mary grows into rather a spoiled, selfish child. But when her parents die of a cholera epidemic, she's shipped back to England to live under the care of her reclusive, hunchback Uncle Craven. Left to wander the halls of an enormous mansion, she soon discovers that she has an ill cousin named Colin that she's never met who's forbidden from going outside. She also befriends a young boy named Dickon, and discovers a locked garden that once belonged to Colin's mother, who died in childbirth. Together, the trio break into the garden, revive the plants, and bring the whole family, including the cranky uncle, a new life-affirming sense of rebirth.
The '93 version of the film has a lovely ambiance to it, where the sentiment is sincere and any cynicism one might have towards watching a movie about children reviving a dead garden immediately disappears. Between the gorgeousness of the visuals, the charming child actors, and the earnestness of the story, it's a total mood changer for a dark, cold, winter movie night. Watching the blossoms break free from cold, winter soil, baby animals take their first steps, and feisty kids defy the strict rules and regulations of their adult caregivers is a perfect way to get into the springtime mood.
Also, did I mention Maggie Smith? Who doesn't love Maggie freaking Smith? The actor, with all of her smirking, pursed-lipped perfection, plays the wicked Mrs. Medlock, the Craven house's head housekeepers who is in charge of Colin's care and keeps the boy shut up in the dark house like a prisoner. Smith is certainly lovable as Professor McGonagall in the Harry Potter series and can be sweet and hilarious (and occasionally mean) as Dowager Countess on Downton Abbey. But The Secret Garden is a film where Smith can go full bad guy, and it's pretty great — not to mention scary — to watch.
A revisit to The Secret Garden offers more than just a compelling story and a great cast, though. The movie provides a glimpse into the work of one of the most talented female directors working today, who isn't that well known here in America. Agnieszka Holland has had films play at the Cannes Film Festival, was nominated for an Academy Award for her film Europa Europa, and recently won the Silver Bear at the 2017 Berlin International Film Festival. She's also directed for American TV, having helmed episodes of HBO's Treme and The Wire, as well as The Killing, The Affair, and House of Cards.
So if you're feeling like February is lasting a bit too long or the winter months have left you feeling down, a revisit to this childhood favorite film may just give you that boost of spring you so greatly need.