Calling All 'Sister, Sister' Fans: The Reboot May Be Here Before You Know It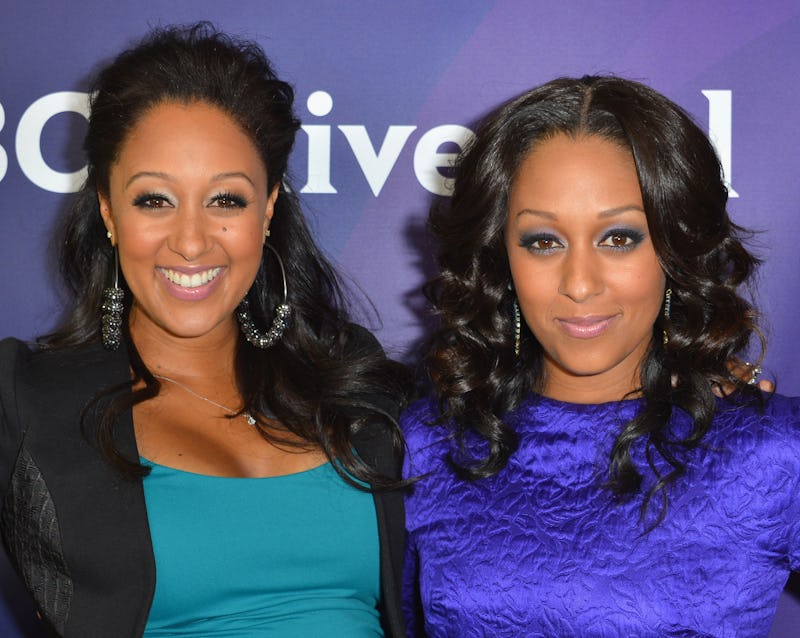 Alberto E. Rodriguez/Getty Images Entertainment/Getty Images
The good news just keeps pouring in for twin actors and momprenuers, Tia and Tamera Mowry. It appears that a Sister, Sister reboot could be happening sooner than you thought. During a recent interview with Us Weekly, Tia shared a tidbit that should certainly appease fans of the beloved '90s sitcom, revealing that there's only "one step left" in the process of bringing the series back to production. The timing certainly couldn't be more perfect in terms of creating a storyline for the new show, as Tia recently revealed via social media that she's expecting her second child with husband, Cory Hardrict.
Tia shared the exciting Sister, Sister revival news prior to her pregnancy announcement, telling Us Weekly,
"[It's] amazing and wonderful. My sister and I are taking meetings as we speak, so it's definitely closer than ever to making this reboot happen. We are being told that they want it to be or happen next year in the fall. So, it's going by so fast, everything."
Tia's pregnancy news may actually prove to be a huge attribute, as far as concept for the show's second-coming is concerned. During her interview, the 39-year-old entertainer expressed hope that the forthcoming project will encompass she and her twin sister Tamera's lives as mothers and siblings — a narrative which couldn't be more perfect, given the fact that Tia appears to be welcoming baby number two sometime in the very near future.
The Seventeen Again actor used no words to share the awesome pregnancy news, opting instead to simply post a photo of her prominent belly while surrounded by her family along with a caption of four heart emojis. In addition to the impending bundle of joy, Tia also has a 6-year-old son, Cree, with her hubby and fellow actor, Hardrict. Meanwhile, her identical sis Tamera shares two children, 4-year-old Aden, and 2-year-old Ariah with husband Adam Housley.
In terms of her hopes for the Sister, Sister reboot, Tia told Us Weekly,
"I'd like it to be where we are in our lives right now. We're moms with children, but I would like for the show to really focus on sisterhood and the strengths and weaknesses of sisterhood."
Seemingly inseparable during their younger years, Tia and Tamera have more recently opted to take on projects that have allowed them to hone in on their personal strengths and talents as individuals. In terms of acting, Tia landed lead roles on the television series, The Game and Instant Mom. She has also been showcasing her talents in the kitchen with her Cooking Channel series, Tia Mowry At Home. Tamera, on the other hand, has appeared to be enjoying her current stint on daytime television while serving as a co-host on The Real alongside Adrienne Bailon, Loni Love, and Jeannie Mai.
The potential Sister, Sister reboot will be the first television series reunion for the twins since their reality TV show Tia & Tamera ended back in 2013, assuming that the siblings will return to reprise their former roles as Tia Landry and Tamera Campbell on the show. It's certainly been a long time coming for fans of the series, who have been longing to see the duo back on-screen together.
However, it's currently unclear whether or not the revamp will incorporate other characters from the original series, such as Jackée Harry (Tia's mother Lisa Landry), Tim Reid (Tamera's father, Ray Campbell), and Marques Houston (their pesky neighbor and friend, Roger Evans). The twins' unison catchphrase, "go home, Roger," was certainly one of the most beloved quotes from the series, which ran from 1994 to 1999.
As buzz surrounding the revival continues to keep fans on the edge of their seats, Tia's recent indication that things are headed in the right direction certainly offers a bit of reassurance that a Sister, Sister reboot is actually going to happen. On another note, it's worth pointing out that Tia and Tamera are totally killing the game when it comes to both their personal lives and careers. Whether together or apart, the Twitches stars have consistently served up major life goals when it comes to being mothers, wives, entertainers, and entrepreneurs — a feat that, hands down, makes them the true definition of #twinning.