11 Reasons 'Sister, Sister' Needs A Reboot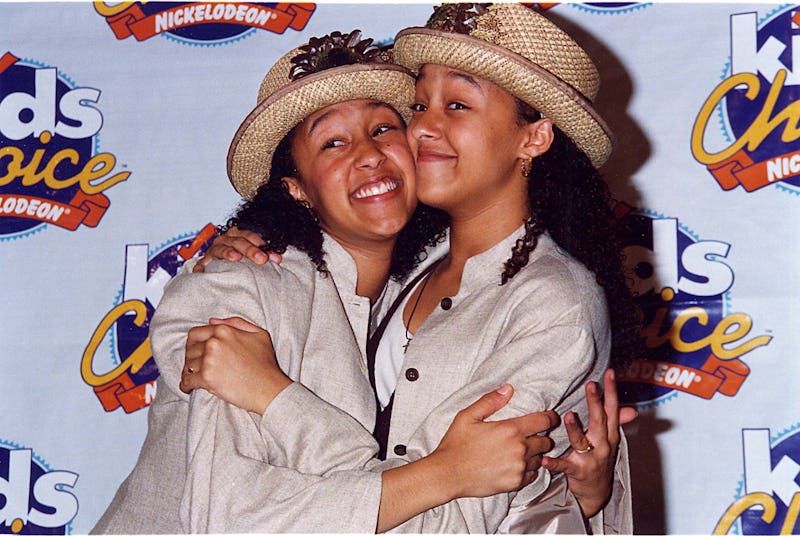 Jeff Kravitz/FilmMagic, Inc/Getty Images
The '90s are having a major moment right now, and with all of the reboots scheduled to return to our TV screens in the very near future, I can think of a hundred reasons we need a Sister, Sister remake ASAP. The iconic sitcom, once part of ABC's epic TGIF lineup in the mid-'90s, featured a set of identical twins who were separated at birth, and later reunited through a chance meeting in a shopping mall as teenagers. I can remember just like it was yesterday: Tia was the smart and reserved twin, while Tamera was bit more jovial and boy-crazy.
After reuniting, they moved into a house together with their respective adoptive parents, and their lives just seemed to be all fun and games from there. I used to literally watch Tia and Tamera and find myself in complete awe of their relationship, secretly wishing I also was a twin. They somehow just managed to make "twinning" seem so great.
And the idea of a reboot may not be too far off. In an October 2016 interview, Tamera Mowry hinted at a Sister, Sister reunion. "We kind of have the idea. It's really cool. The entire cast is down for it," she told HollywoodLife. "We're looking for a studio, then it will be 100 percent. But, we are in the process of making it happen."
Although I can seriously come up with so many mentionable moments from the show, here's a list of the top reasons why we really need a Sister, Sister reboot.
1. "Twinning" Is Trending Right Now
I mean, let's be real, a 2017 revival of Sister, Sister would certainly have the most perfect timing in the wake of Beyoncé and Amal Clooney's bombshell pregnancy news earlier this month, especially since the world's fascination with twins appears to be at an all-time high right now. I personally think this would be the absolute best moment to bring the show back to the small screen — I'm just saying.
2. To Get A Double Dose Of Diversity
As the call for more diversity on television continues, bringing back the cast of Sister, Sister would certainly provide of double dose of cultural cuteness for viewers.
3. Three Words: "Go Home, Roger!"
Who could ever forget about Tia and Tamera's pesky next-door neighbor, Roger, played by Immature lead singer, Marques Houston? Watching him constantly pester the twins until they would finally belt out in unison, "Go home, Roger!" was no doubt one of the major highlights of the series.
4. Major #CurlGoals
Young Tia and Tamera had the some of the most perfect curls on television. These twins were certainly serving up major natural hair goals way back in the '90s.
5. Lisa's Many Wisecracks At Ray's Expense
In the series Lisa, Tia's adoptive mother, would often jokingly shade Tamera's adoptive father, Ray. It was always interesting to me that Lisa's boisterous personality seemed to be more aligned with that of Tamera's, while Ray's more conservative ways paralleled Tia's persona, despite the fact that the girls were raised by the opposite parent.
6. Guest Stars Before They Actually Became Stars
Sister, Sister may be known for catapulting the entertainment careers of both Tia and Tamera. However, there are a few other (now) well-known celebs who may have also got a bit of shine on the primetime sitcom: Taraji P. Henson, the late Brittany Murphy, Kenan Thompson, and Mary-Kate and Ashley Olsen were all featured on the series.
7. Tia & Tamera's College Years
Watching Tia and Tamera grow up and go onto college was another one of the great joys of the show. I remember thinking how cool they were, with their new lives and new friends — and like, "real" boyfriend problems. They really turned all sassy-pants right before our very eyes.
8. Odd Couple Antics
Tia and Tamera's character's were pretty much yin and yang on the series. Tia was mostly studious and serious, while Tamera was always down to have a good time. Just late last year, the behind-the-scenes crew revealed in a interview with Life & Style that the twins personalities back then were, in fact, very similar to what we saw on camera.
9. '90s Fashion
Tia and Tamera both had their own unique fashion sense on the series, and although they would occasionally dress alike, you could often see the quirky differences in their wardrobe choices.
10. To Finally Learn How To Tell Them Apart
Sure, they look a little different now that they're all grown up and change hairstyles frequently, but could you tell Tia and Tamera apart on Sister, Sister? I definitely made it my business to learn who was who — but then again, I probably watched the show way too much.
11. So You Can Question How They Even Got Separated In The First Place — With Your Adult Brain
Getting separated at birth sounded pretty feasible back when we were kids, but I'm not quite so sure if my adult brain will allow me to believe that these two got separated and just so happened run into each other in a mall more than a decade later — wearing the same exact thing, no less. Umm yeah, while my kiddie senses really want me to believe that story, my adult brain is definitely telling me no.
So now that Tia and Tamera are all grown up, with families and careers of their own, I really hope that they decide to reactivate their twin power and bring back a reboot of Sister, Sister. *fingers crossed*