You'll Never Guess How Mel C Paid Tribute To Victoria In The Spice Girls Reunion Pic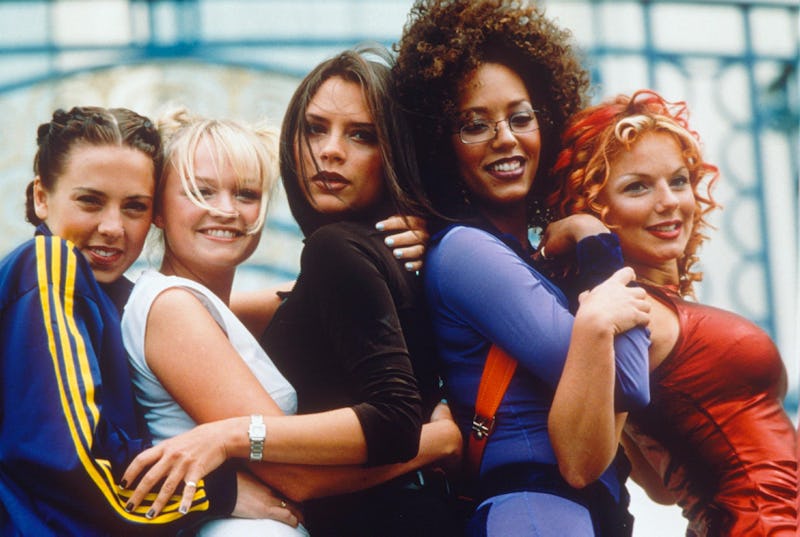 Times Newspapers/Shutterstock
News that the Spice Girls are set to confirm their reunion is bittersweet for fans because only four of the original fivesome will be actively involved. Yep, sorry Posh Spice stans, according to The Sun, the Spice Girls' return won't involve Victoria Beckham. But that isn't to say she'll be entirely left out, if the group's first official comeback image is anything to go by. That's right — the Spice Girls reunion picture references Victoria Beckham.
In an exclusive image published by The Sun, Mel B, Geri Horner, Emma Bunton, and Mel C can be seen posing together. Sadly, although they all look super stylish, they haven't recreated one of the signature looks from their '90s heyday like I was hoping. It's Geri I'm saddest about, she must have that Union Jack dress scrunched up somewhere at the back of her wardrobe, surely! But while their outfits don't reference their former style, one does pay a very subtly tribute to their old bandmate Beckham.
In the picture Mel C is sporting a striking red top and trouser combo which one Twitter user suggested might be a design by Beckham's fashion label. Bustle reached out to Victoria Beckham and they confirmed that the outfit isn't actually a VB original, but there's no doubt that it definitely references the designer's signature aesthetic. The trousers in particular look very similar to a red pair that are available on the Victoria Beckham website. Which, if you have a spare £840 kicking about, you can not only get Mel C's look, but pay tribute to Posh Spice. Win win.
It comes after Victoria Beckham showed her support for Mel C at Eva Longoria's Global Gift Gala, posting a snap of the two together captioned, "So proud of @melaniecmusic X fantastic performance tonight!!! X #friendshipneverends#girlpower kisses VB". See those hashtags — friendship and girl power last forever, guys.
It's reassuring to know that the Spice Girls are all on good terms. Mel B's Halloween costume (she wore a Posh Spice-style little black dress and a Victoria Beckham mask, accompanied by an axe which bore the words: "No I am not going on tour") was interpreted by some as serious shade in VB's direction. Thankfully now it seems it was all just a joke, expect the part about VB not going on tour — sad face.
Even though it's disappointing for Posh Spice fans to miss out on seeing their favourite bandmate perform live, Beckham's rumoured reasons for not wanting to join the other members on tour seem fair enough to me. According to the Daily Mail, the star was reluctant to sing again and The Sun reports she instead wants to focus on her fashion label. It's something Beckham herself has suggested, ruling out touring with the band completely in an interview with British Vogue earlier this year. She told writer Anders Christian Madsen that designing "is what I do now".
While Beckham won't be actively involved in the reunion, she will still reportedly profit from it as, according to The Sun, she has a stake in the Spice Girls' image and music rights. So she'll be doing what she loves, and apparently making even more money while she's at it. You know what VB, that sounds like a pretty sweet deal to me and you sound like a woman who knows what she wants and how to ask for it. And if that isn't the definition of girl power, then I don't know what is.