New 'Stranger Things' Footage Gets Unveiled At Comic-Con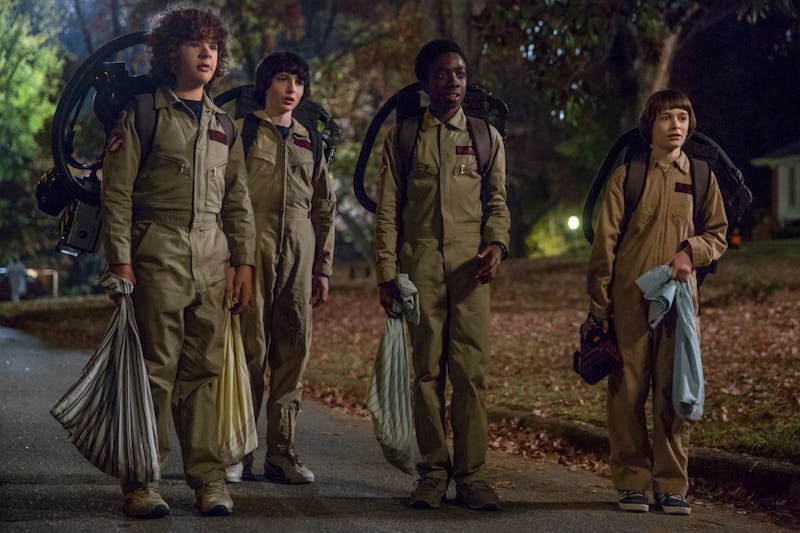 Jackson Lee Davis/Netflix
During Saturday's Comic-Con panel, some exciting new Stranger Things Season 2 footage was released. Judging by the sheer intensity and mystery of this trailer, things are going to get bigger and more intense for the characters of Stranger Things in Season 2.
Where to begin? Should we get excited about the fact that Eleven is back? Or what about our favorite Hawkins foursome teaming up to help Will? Or what about the fact that Michael Jackson's "Thriller" is basically being used to underscore the ominous events that are about to take place? The suspense is almost too much to bear.
During the Stranger Things panel, actor Noah Schnapp revealed something about his character, Will, that definitely connects back to the Season 2 trailer. He told the audience,
"I think that compared to last season, Will definitely shows more bravery and you'll definitely learn how the Upside Down affected Will. You'll get more into his storyline, but there's not much I can say."
The trailer echoes this statement, as it's clear that Will's presence is just as much a disruption to life in Hawkins as his disappearance was in Season 1. Now with Will back, that bravery of his will certainly be tested as the Upside Down attempts to reel him back in. It's also clear you shouldn't worry about Will's loyalties, though. He's just as much an ally to his friends and family as he is an opponent of the Upside Down creatures. His unique understanding of the seriousness that comes with the Upside Down infiltrating the human world will surely be an invaluable tool to everyone.
In other trailer news, Joyce Byers still looks incredibly worried about Will, Nancy and Steve look like they're on the outs, Mike really misses Eleven, and there's even a glimpse of the new girl in town named Max. But even with the worry and discord in certain relationships, the trailer also focuses on the fact that everyone is uniting to fight back against the creatures of the Upside Down. In Season 1, there were clear divides between the young boys, the teenagers, and the adults. Now, it looks like they're all going to come together. Thank goodness, because those creatures look very big and very scary.
It may feel like a long way away, but hopefully this trailer can tide you over until Stranger Things Season 2 premieres on Oct. 27.
Additional reporting by Sam Rullo.