The Surprising Connection Between Sleep & Sex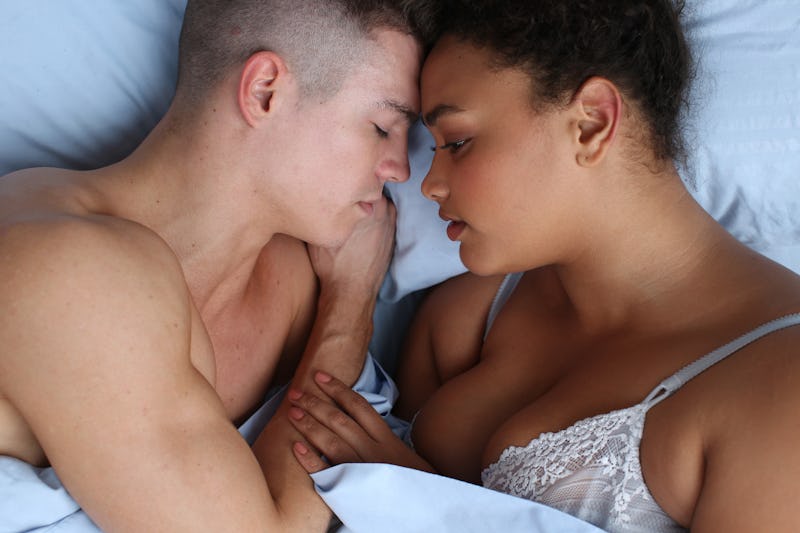 Ashley Batz/Bustle
I've always been the kind of person who needs at least eight hours of sleep to be a functioning human the next day — and I'm pretty jealous of people who can just power-nap and go. If you ask me, there's nothing better than the feeling of staying in bed all day, snuggled up with your partner (or pet)... but for tons of people, they'd much rather be up and about than curled up in a blanket fort all the time. But aside from making us, ya know, fundamentally different as human beings, how do our sleeping habits affect our sex lives?
Luckily, the data scientists at OkCupid decided to look into it, and figure out if users' sleeping habits had any correlation with their sexual preferences. "With Daylights Saving Time coming up, we wanted to analyze the sexual habits of sleepers versus non-sleepers to see if there were any compelling differences," OkCupid spokesperson Kelly Cooper tells Bustle. "It was interesting to find that people who spend more time in bed are actually getting less action than people who don't sleep much. It makes you wonder about these 'types' of people and what other unknown traits they might have."
For the study, OkCupid first assigned users to two categories — sleepers and non-sleepers — based on answers to their match questions. They defined sleepers as those who are not morning people, and go to bed before 11 p.m.. Non-sleepers are morning people who go to bed after 1 a.m.  —  so they're staying up late and waking up early (why though?!).
Users who physically spend more time in bed were less sexually active than those who prefer to sleep fewer hours
According to their data, users who physically spend more time in bed were less sexually active than those who prefer to sleep fewer hours. It might seem counter-intuitive (because bed is where sex usually happens, duh), but LeslieBeth Wish, Ed.D, licensed psychotherapist, author and founder of Love Victory, tells Bustle that it actually makes sense if you think about it. "If you sleep a lot, life seems to slip by," Wish says. "You feel less in charge of you! This lack of feeling good about yourself can taint self-esteem and weaken sexual interest."
If you're curious about how your sleeping habits affect your sex life, here are six interesting observations OkCupid made about their users based on the study's data.