OMG, The 'This Is Us' Cast Had The Cutest Reactions To The Show's Emmy Nominations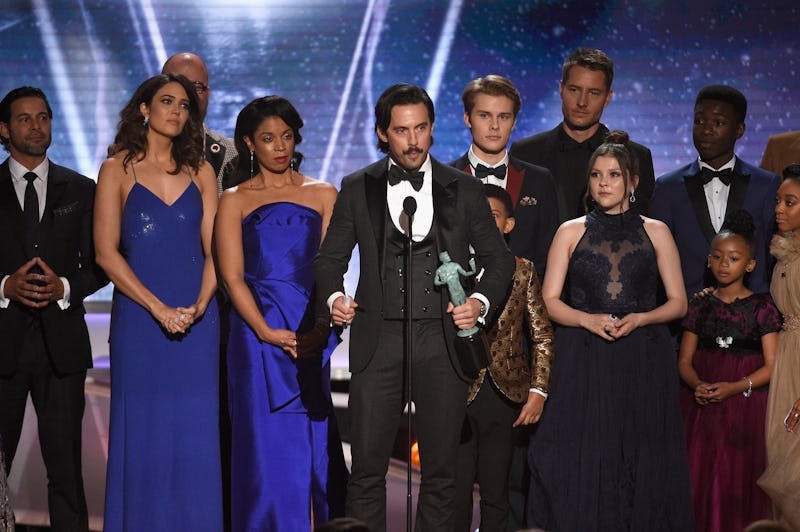 Kevork Djansezian/Getty Images Entertainment/Getty Images
This is us — celebrating the hit NBC series' eight Emmy nominations. On the heels of a groundbreaking sophomore season and an upcoming third that is sure to supply all of the feels, the cast and crew behind This Is Us is feeling anything but teary on Thursday morning. And while the nominations are filling fans with joy, the This is Us cast's reactions to their Emmy nominations remind us why they're so easy to love.
In addition to the show being nominated for Best Drama Series, stars Sterling K. Brown and Milo Ventimiglia scored Lead Actor in a Drama Series nominations for the second year in a row. The Guest Actor in a Drama Series category is represented by two TIU alums, Ron Cephas Jones and Gerald McRaney (who won the category last year), while the show also garnered nominations for costumes, music supervision, and makeup. (Somebody has to age Mandy Moore so expertly.)
So after a Season 2 that broke audience's hearts before reassembling them and repeating the process, it's a bright day in the This Is Us fandom. And per usual, look no further than the Pearson family to lift each other up and support their accomplishments. Brown, who won Best Actor in a Drama Series last year at the Emmys, recorded his excitement over the nomination news straight from Season 3's set. And while there were no spoilers to be given in his speech, Brown did share his thanks for not only his TIU nomination, but his other nom in the Guest Actor in a Comedy Series category for Brooklyn Nine-Nine. Seriously, is there anything that Brown can't do?
Brown's brother on the show, played by Justin Hartley, also congratulated his castmates on the nods while voicing his pride over being a part of such a celebrated series.
Dan Fogelman, the creator of This Is Us and emotional mastermind responded to the critical love for his series in a short but humorous way.
However, a This Is Us social media love fest would not be complete without some adorable posts from the mini-mes of the show. Mackenzie Hancsicsak, who plays the youngest of three Kate's on the series, posted a collage that will make any This Is Us fan reach for the tissues. (Jack and Kate striking "Vogue" poses makes everyone weepy, OK?)
E! Online reports that nominees Cephas Jones and McRaney both released statements of gratitude regarding their guest actor recognition that should solidify William and Dr. Katowski's places in the This Is Us-loving hearts of many.
"I'm so honored to be part of This Is Us. This sort of opportunity comes along once in a lifetime. I'm especially grateful to Dan Fogelman and the writers for finding a way to continue to tell William's story. Thank you to the Academy for recognizing so many of the talented cast and crew from This Is Us today. I can't wait to celebrate with them soon!" — Ron Cephas Jones
"I am so honored and humbled to have received a second Emmy nomination for a show that I love dearly. The writing is spot on perfection and working with the actors on the show is a total joy." — Gerald McRaney
Though the show's entire cast failed to score nominations, with many reacting strongly in particular to Mandy Moore's snub in the Outstanding Lead Actress in a Drama category, the actors are only sending positive vibes for the eight honors that were bestowed upon them. Mandy herself posted a tribute to her cast and crew mates that proved what a gracious matriarch she is.
Couldn't be prouder of our #ThisIsUs family and our 8 #emmynominations today. Congrats to @miloanthonyventimiglia and @sterlingkbrown for their acting nods and @zoehaymakeup, @heatherplott, @ehmakeupartist and their teams for their makeup nom, @hvbahmet and her team for the costumes nod, #roncephasjones and #geraldmcraney for their guest actor noms, and the entire crew for our drama series nomination!! So much to celebrate!! #emmys 🎉🎉🎉🎉🎉
Fans can hold on to this day in the future, when Season 3 of the show airs and all hopes of a full tissue box have disappeared.