The Beyoncé 'Lemonade' Chart You've Always Needed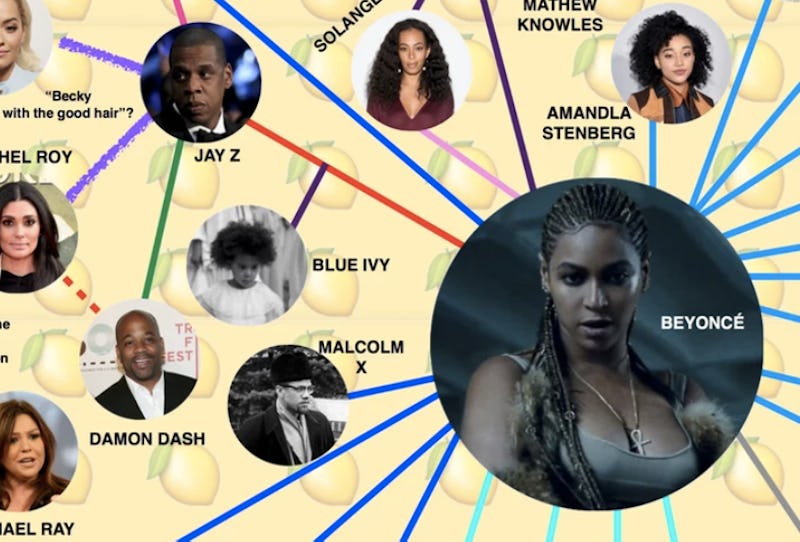 Ever since Beyoncé debuted Lemonade, the Beyhive has been buzzing. Not only did she premiere an HBO special, but an entire album came along with it. Basically, it's the gift that keeps on giving. No matter how many times you've re-watched or re-listened, it's hard to keep track of all the magic that happens. With all the cameos and references in Lemonade , there's a lot going on — and that's what makes it so great. But if you're still wrapping your mind around the hour-long special, I've created a handy chart filled with everything you need to know.
There are cameos from influential women — Serena Williams, Amandla Stenberg, Winnie Harlow, to name a few — and appearances from Bey's own family members. Speaking of family, there's also a poignant tribute to Eric Garner, Michael Brown, and Trayvon Martin that features their three mothers: Gwen Carr, Lezley McSpadden, and Sybrina Fulton, respectively. Beyoncé has been an active supporter of the #BlackLivesMatter movement and this is further proof of that.
In case that's not enough, several artists collaborated on tracks with Bey. Ranging from Jack White to The Weeknd, there's quite a variety. Lemonade also features a sampling of others' work. Somali-British poet Warsan Shire is featured, as well as a powerful quote from Malcolm X. Songs from Led Zeppelin and the Yeah Yeah Yeahs are sampled on the album, too.
Does your brain hurt yet? Fear not, the chart below tackles everything you need to know about the cameos and references in Lemonade . It's essentially the who's who guide that Beyoncé fans always wanted.
Wait, what do all those lines mean?! There's a key to explain all of the connections. Different colored lines represent the contributions of the people who are featured in the visual album — whether a cameo, collaboration, or sampling. For example, ballerina Michaela DePrince danced during "Freedom." Meanwhile, Jay Z's grandmother, Hattie White, is sampled in the same song. At her 90th birthday party, she said this powerful quote: "I had my ups and downs, but I always find the inner strength to pull myself up. I was served lemons, but I made lemonade."
Of course, those "Becky with the good hair" rumors make an appearance on the chart too, including the speculation that Rita Ora may be "Becky." Never again will you make the mistake that Rachel Roy is Rachael Ray. Plus, this may add a bit more context to how Roy knows Bey and Jay.
Phew. Who else is exhausted after all that? Just kidding, I feel fully prepared to dive in and re-watch Lemonade immediately. Cheers!
Bustle has reached out to reps for Beyoncé and Jay Z regarding the cheating rumors, but has not yet heard back. Roy and Ora have both denied the rumors.
Images: Jamie Primeau/Bustle; Getty Images (20), Parkwood Entertainment/HBO (11), Warsan Shire/Instagram