Say Goodbye To 'TVD' With These Amazing BTS Photos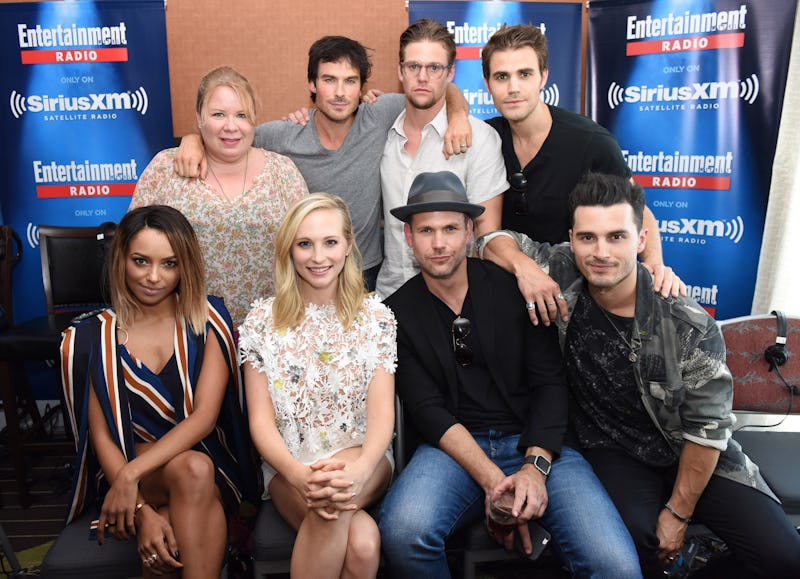 Vivien Killilea/Getty Images Entertainment/Getty Images
After eight seasons of vampires, doppelgangers, and too many love triangles to count, The Vampire Diaries is coming to an end on March 10, and no one, not even the cast is ready to say goodbye. If you are already drowning in a sea of your own Mystic Falls feels, then you need to see The Vampire Diaries cast's goodbye photos. Seeing stars Ian Somerhalder, Nina Dobrev, Paul Wesley, and the rest of the gang's emotional farewells to the show they have worked so hard on for the past eight years is cathartic. I'm not saying it will prepare you for whatever emotional whammys series creator Julie Plec has in store for the finale, but it is a start.
From the Salvatore brothers hanging out on set in their best suits to fan favorite Candice King sitting on Caroline's front porch one last time, these behind the scenes photos are full of lasts. If you have stood by Damon, Stefan, and Elena through car accidents, sleeping spells, and multiple stints as humans and vampires, then you need these photos in your life. Before you are forced to leave Mystic Falls for good, see how the cast said goodbye to the show and each other — and yes, you are going to cry just as hard as you did when Elena and Damon danced on the road, so grab your tissues now.
Elena & Stefan Together Again
If you are still on Team Stefan/Elena after all these years, this photo is for you. Wesley, the first vampire love of Elena's life, snapped a pic with Dobrev, which she simply captioned "8 years."
The Salvatore Brothers Being Photobombed By Caroline
Somerhalder, Wesley, and King are all dressed up in this BTS photo. According to Somerhalder it was a "warm winter day" for the trio.
The Last Scene In Caroline's House
Alongside Plec, King celebrated the final shot ever to be filmed at the iconic Forbes family home.
The Return Of Vicki
Remember Vicki? Well, even she had to get in on The Vampire Diaries' farewell tour. Here her potrayer, Kayla Ewell, hangs out with Dobrev, and Elena's bio dad, John Gilbert, also known as the amazing David Anders.
The Last Day
You will have to flip off your humanity switch, Damon style, to handle this visual reminder filming for the series is officially over.
Mystic Falls The Cake
And here is the cast's scrumptious looking wrap cake with some of Mystic Falls' most iconic locales (and cars).
Tyler At The Salvatore Mansion
Tyler may have faced an untimely demise at the hands of Damon, but that didn't stop Michael Trevino from bidding Mystic Falls farewell. Here he is with series co-creator Kevin Williamson, hanging out at the Salvatore mansion.
Damon & Stefan
Imagining life without these two wonderful, sexy vampire brothers is just too sad for words.
Somerholder With His On Screen Love & His Real Life Love
Somerhalder finally got his on screen and off screen ladies together when he, Dobrev, and his wife, Nikki Reed, all had a post-wrap dinner together. In a sweet caption he wrote, "Only love here — always has been always will be."
Stefan, John, & Enzo
Wesley, Anders, and Michael Malarkey being adorable at the wrap party.
Malarkey Cleans Out His Dressing Room
If you're still mourning Enzo, my sincerest apologies.
Tyler's Return
Before you say goodbye, just remember, you get to say hello to Jeremy Gilbert one more time.
The Women Of The Vampire Diaries
The only thing that would make this photo better would be Kat Graham, but seeing the women of The Vampire Diaries together will always warm even the coldest of undead hearts.
Plec & Her Girls
Plec made Mystic Falls a place full of amazing, powerful women fans will never forget.
Stefan's Car
Even Stefan's car got a fond farewell.
David Anders, Life Ruiner
Anders, breaking your heart.
Dobrev's Last Prank...
On the plus side, Dobrev played the ultimate prank on co-star Matt Davis — Alaric — before the show's wrap.
And Davis' Priceless Reaction
Best. Cast. Ever.
Davis Shoots His Last Scene
Davis gives the fans a shout out before Alaric's final scene.
Dobrev's Gift To Her Vampire Diaries Family
And finally, Dobrev, the one and only Elena Gilbert, says goodbye:
Dearest TVD family, It feels like it was just yesterday that I was saying goodbye. And yet two years have passed and here we are again. This is my true final goodbye, as today I shot my last scene of the Vampire Diaries forever. Coming back for the series finale has been a whirlwind of emotion, nostalgia, love, tears of joy and bittersweet endings. It feels like the beautiful closure we all needed, myself included, and I couldn't have been happier to come home to be with my TVD set family and friends. I feel the fans family will also be happy with the show's conclusion when they tune in to watch the last episode air in a few short weeks. From the bottom of my heart, I send you my biggest thanks for the countless years of implicit dedication, passion, support, and undying love from all the fans that have stuck with us on this truly amazing and beautiful journey. As this last chapter ends, we welcome and look forward to going on to the next adventure and hope that you continue to follow us as our new journeys begin. I grew up on this show and am eternally grateful for all the opportunities it has given me, and so thankful for each and every person who worked on The Vampire Diaries over the last 8 years. We are all pieces of a big puzzle and without every truly amazing cast and crew member, this magical puzzle would not be complete. Thank you for all your hard work, friendship and love. You have touched my heart in ways you will never know. Sending looch smooches,
Love,
Katherine, Amara, Tatia, and of course, Elena Gilbert.
Thanks for the memories, The Vampire Diaries, you were one of a kind.