Angela Kang On Michonne's Grief & The Upcoming Whisperer War On 'TWD'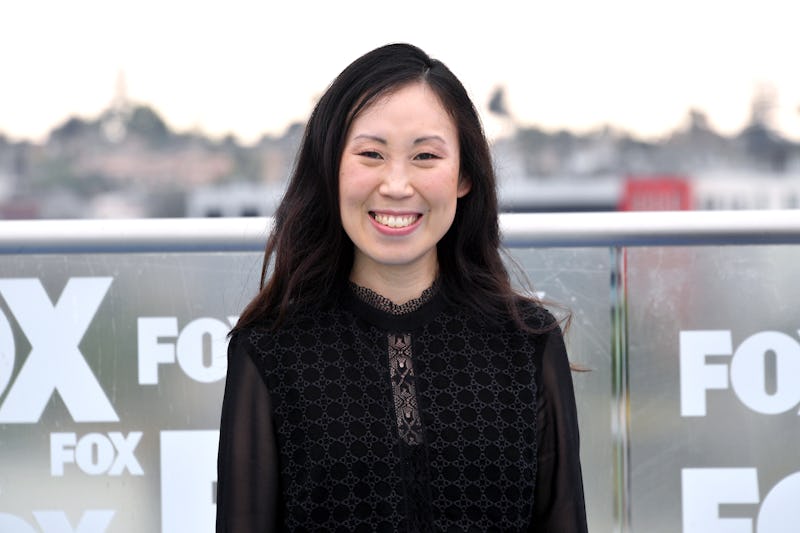 Dia Dipasupil/Getty Images Entertainment/Getty Images
Angela Kang's path towards taking the helm of AMC's flagship series The Walking Dead was seemingly meant to be. The Korean-American writer joined the show's staff in Season 2 and quickly climbed the ranks to producer and co-executive producer while co-writing the stories behind the series' most beloved episodes like "A," "Four Walls And A Roof," and "The First Day Of The Rest of Your Life." Kang's current role as The Walking Dead showrunner was an exciting promotion but she understood the gravity of stepping up at a time when the series was changing direction entirely. So far, it's been a thrilling ride for fans and Kang alike.
Andrew Lincoln leaving his role as Rick Grimes, Season 8's "All-Out War," and Carl's shocking death has alienated part of the fandom, and pivotal comic arcs such as "A New Beginning" and the Whisperer war are on the horizon. Big things are happening, which means all eyes are on Kang, but she's handling the immense pressure as gracefully as Michonne handles that sword.
"The role of showrunner is such a big role in general that I think I had an appropriate amount of respect for the challenges that any showrunner faces, particularly with a show that is watched so closely by so many people around the world," Kang tells Bustle over the phone just before the mid-season finale. Kang is involved every step of the way from working closely with writers on the tiny details and larger story arcs to delivering the final episode cut to AMC. Which means that when things go right, fans praise Kang because she's the boss and when things go awry, she takes the brunt of the blame.
The Walking Dead is still pulling in millions of viewers each week with most of them being hardcore fans who have dedicated years of their life to this show. It's a notoriously intense, loyal fandom, but even they will throw in the towel if the show doesn't meet their expectations during the highly anticipated Whisperer comic arc. This post-Rick Grimes season can either make or break this long-running show, so Kang has a ton of pressure on her shoulders. So far, according to The Hollywood Reporter, people are sticking around to see what's going to go down.
Kang, who says she's a fan of the Whisperer arc, leaned on the comics to craft this season's upcoming storyline, but her creative team also brought in their own ingenuity by stretching the time jump to six years and utilizing a frontier, Western feel to reflect the theme of rebuilding civilization. It's not just time that's shifted. Under Kang's creative eye, the series has also shifted its focus onto the show's women, who are basically running the post-apocalyptic word.
"Rick is the love of her life," Kang says. "They were soulmates and best friends and co-parents. We definitely wanted to show that she has changed quite a bit over the time that's passed and she's in a particular place in her governing philosophy, but it's not something that's not random."
Season 9 began with a lot of interaction between Maggie, Carol, and Michonne as they worked through their dueling philosophies about what actually comes next for the survivors, something that hasn't really been deeply explored in all of these seasons under Rick's leadership. Now, halfway through the season, Kang confirms that Tara, who has been around since Season 4, will take on a prominent role at the Hilltop, while Michonne and Carol are leaders at Alexandria and the Kingdom, respectively.
Michonne has always been brilliant leader with a steadfast resolve, but her once-again guarded persona is a combination of losing Rick and past issues that will be explored this season.
"Rick is the love of her life," Kang says. "They were soulmates and best friends and co-parents. We definitely wanted to show that she has changed quite a bit over the time that's passed and she's in a particular place in her governing philosophy, but it's not something that's not random."
Michonne's knowledge and physical skills are now being passed to her daughter Judith, whose viewpoint will be unprecedented on the series, since she has only lived in this world full of walkers. Now that she's older, fans will see how her perspectives will differ from jaded adults.
Kang says, "She's somebody who has been raised with incredible love by Rick and Michonne. She has a community of people who love her. It's a real opportunity to show a hopeful story with Judith. She should have probably died, it seems like she shouldn't have made it, but yet she did and that kind of gives our people hope for the future that a child can survive the apocalypse and not only survive but thrive and be a bright spot in their lives."
Michonne, Judith, Carol, Tara, and Magna's female-led group are taking front and center this season, especially since some of their male counterparts aren't doing so great. Daryl is trying to reconnect with others after isolating himself in the woods, Jesus refuses to step up at the Hilltop, and no one really knows what the deal is with Luke. Aaron and Siddiq seem to have it together, but they don't have the gravitas to lead Alexandria like Michonne. And, King Ezekiel has barely played a role this season. The ensemble cast is comprised of diverse, interesting women with complex interior lives that viewers get to explore, in a horror and action series, no less. Fans have Kang to thank for that.
Angela Kang's ongoing journey as a showrunner will hopefully continue to breathe some much needed fresh air into the long-running series with powerful character development, cohesive storytelling, and a blend of comic inspiration with ingenuity. And, if the first half of Season 9 is any indication, it looks like she's just getting started.