Here Are The Exact Lipsticks The Weird Sisters Wear In 'Chilling Adventures Of Sabrina'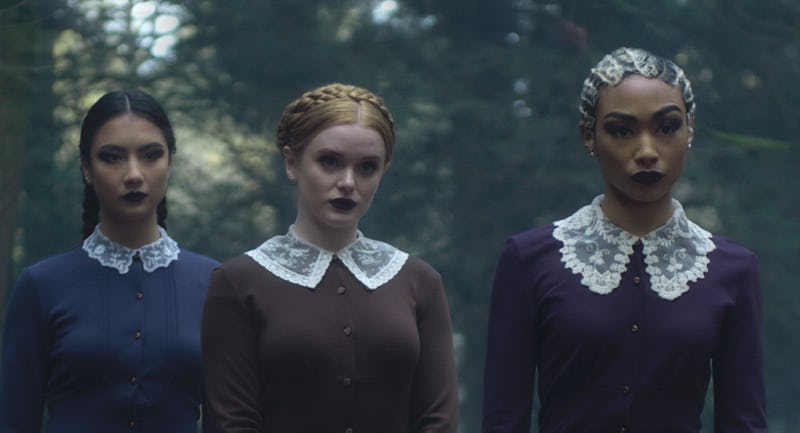 Netflix
Sabrina Spellman's three nemeses in Netflix's The Chilling Adventures of Sabrina may be called the Weird Sisters, but no one could say their fashion choices are anything but on trend. From their Peter Pan lace collars to their black oxford booties to their dark lipsticks, the Weird Sisters stand out for their chic style. And now you can cop their makeup looks for your own witchy wear, because Netflix told Bustle which go-to shades the makeup artist used for the Weird Sisters — aka Prudence, Dorcas, and Agatha.
Chilling Adventures' dark and ominous mood is set in large part by the makeup and costuming. The mortal realm and the magic realm are in part separated by color palette, with black and similarly brooding colors signifying the darkness of the witches' world. As Sabrina toys with trying to decide between the mortal and witch sides of her heritage, her own clothing and makeup choices indicate which "team" she's on. When she's wearing her cherry red coat and pale pink lipgloss, she's more in tune with her human side. But press photos show she'll head to a darker side at some point, with her lips baring the same dark tones that her witch sisters wear.
But, it's not as simple as slapping on a black lipstick and calling it a day. These witches use a blend of lipstick options to create their sinister smiles, and Netflix gave Bustle five of the go-to shades for the Weird Sisters. There's a surprising mix of bold colors like bright blue and deep purple berry. And there are also several finish options — with some being more glossy and others being matte.
Here are the products you need to copy the glammest witches around.
A Purple Berry Matte Lipstick As Deep As Blood.
Charlotte Tilbury's site promises a matte product that will leave your lips hydrated (for kissing mortal boys) and you can layer it to create a more sheer look if you're going daytime witching. Coat on more to achieve Weird Sister-level color.
A Cobalt Blue Matte Lipstick As Cold As Your Heart.
The witches in Chilling Adventures seem to lack empathy at times; perhaps that's why their lipstick is always as dark as their souls. Go for a ice cold blue lip with this velvety Anastasia Beverly Hills lipstick.
A Smoky Topaz Shade For When Your Rage Is Smoldering.
This Anastasia Beverly Hills shade can be worn on its own or layered over another lipstick on this list to create the shade of your dreams (and other people's nightmares).
A Creamy Brown Lipstick For When Black Isn't Doing It For You.
Shake things up with this dark mahogany shade with undertones of red.
A Black Lipstick With Dimension, Just Like Your Goth Witch Soul.
This glossy lipstick isn't straight-up black. The Bite Beauty site lists it as a deep navy with black undertones. You know, for when Cobalt is just too bright and you're feeling a bit more sinister.
Enjoy dark lipstick season with these witch-approved shades in every color of the shadowy version of a rainbow.