You Can Buy A "12 Nights Of Wine" Advent Calendar Full Of Glittery Tubes Of Wine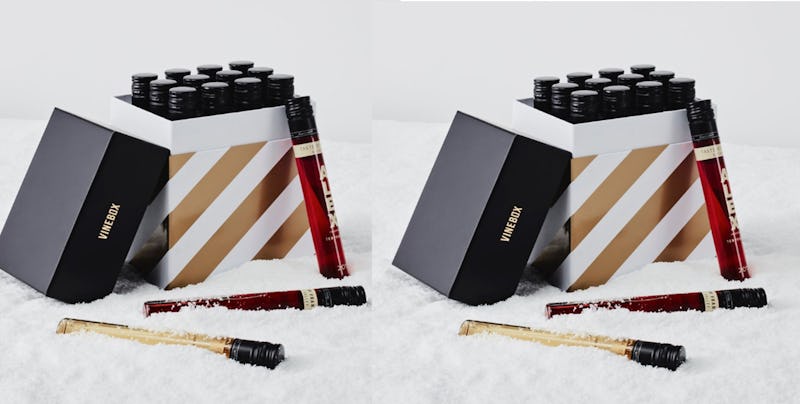 Vinebox
Is it ever too early for a little holiday spirit? What if by "holiday spirit" I literally mean alcohol? Then, is everyone game? Well, hold on to your tacky seasonal sweaters because quarterly subscription service Vinebox just announced their "Twelve Nights of Wine" box for the upcoming Christmas season. It's essentially a twelve-day advent calendar but with wine. Feeling holly jolly yet?
For the third year, people can sign up for Vinebox's one-time holiday-specific box. Each chic yet seasonally decorated box comes with twelve different glasses of wine, a mix of both reds and whites. Each "glass" is festively packaged in individual test tube-shaped bottles. If you want to sip straight from your single-serving bottle, no judgement here. The wines come from around the world, including samples from France, Italy, and Spain, and are curated specifically for the holiday season. The wines are "perfectly paired to wash away the lingering pumpkin spice lattes of your hectic day," according to Vinebox's website. "It's not drinking, it's a wine tasting."
Pre-order is available now and boxes begin shipping November 1. You're going to want to put your order in ASAP because last year's boxes sold out in four weeks. One order of the Twelve Nights of Wine box will cost you $129. With shipping included in the price, that comes out to about $11 per glass of wine. Definitely pricer than your three-buck bottle of Chuck but perfect if you're looking for to treat yourself or someone on your list.
If the description of the typical box doesn't jingle your bells, Vinebox has upped their game by putting a giving twist on this year's box: ten people will receive a special golden bottle in their seasonal box. If you get the ~*sparkly golden bottle*~ you win a year's worth of Vinebox for 2019. (Willy Wonka and his golden ticket are shaking.) The value for that Vinebox runs around $644 so that's nothing to bah humbug about.
And who says you have to choose between a wine advent calendar and your traditional chocolate calendar? Did someone say that? Please direct me to this person so I can ask why they've chosen to live such a Scrooge-like life. If anything, wine and chocolate advent calendars were made for each other. Pair each glass with the chocolate of the day...or the next five days. Again, no judgement on how you choose to advent.
You're never too grown to have an advent calendar. Thankfully, capitalism realizes that and adult advent calendars are just a quick Google search away. Want to treat yourself or someone else to a beauty product sample every day of December? You can do that with a beauty advent calendar. Can't get enough of candles? May I direct your attention to the Yankee Candle advent calendar? What about beer? Or cheese? Or coffee? Or, oh I don't know, pork rinds? Yes, Virginia, there is an advent calendar for everything you desire.
This isn't Vinebox's only foray into seasonally themed boxes. Earlier this year, Vinebox sold a "Shades of Summer" wine box that let costumers rosé to their heart's content. This specific box was a millennial pink-themed Instagram come to life. Each box came with an assortment of wine, organized in a beautiful pink rainbow. Yes, an ombre collection of wine. If you heard something, that was just sound of millennial hearts everywhere bursting with joy.
If you missed the summer edition, you're going to want to snag the Twelve Nights of Wine box. Winter is nothing if not the season for sipping on a red. So, pop open your bottle of the day, curl up around the fireplace, and put the "cheers" in holiday cheer.