The Internet Is Dragging The Woman Tristan May Have Cheated With & That's NOT Cool At All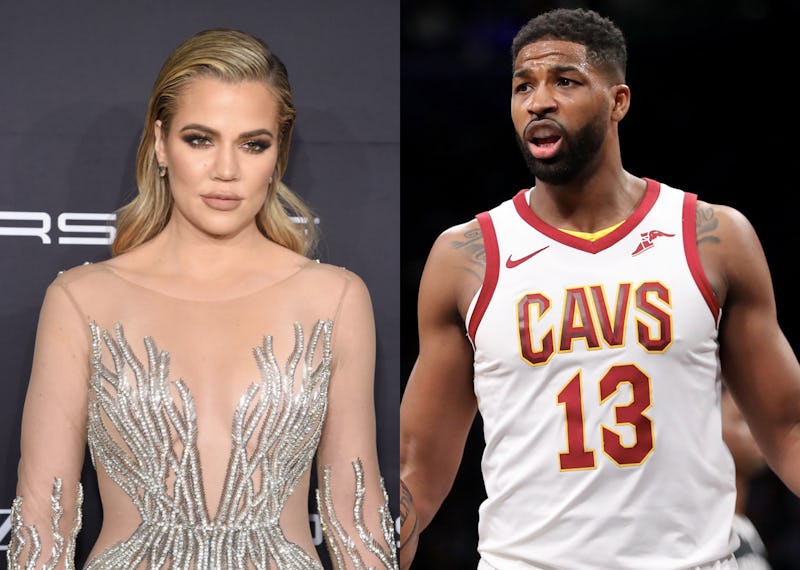 Jamie McCarthy/Getty Images Entertainment/Getty Images; Abbie Parr/Getty Images Sport/Getty Images
It's still early in the reporting of the cheating accusations, and already everyone needs to take a deep breath — the woman Tristan Thompson reportedly cheated with doesn't deserve the internet hate that's coming her way. According to The Daily Mail, the NBA player reportedly spent the night with an Instagram-famous bartender named Lani Blair while Thompson's nine-months-pregnant girlfriend Khloé Kardashian was at home. Page Six reported that the woman is an Instagram model from the Bronx, where the Cleveland Cavaliers player traveled for a Monday game against the New York Knicks. (Bustle reached out to Blair's team for comment, but did not receive an immediate response. Bustle also reached out to Thompson and Kardashian's reps about the cheating rumors, but did not hear back.)
It's also worth noting that prior to Blair being seemingly identified, there was an Instagram user named @ms.stephaniee_ claiming to be the woman from the footage and posting on social media about it. TMZ later updated their post to clarify it appeared to just be a troll account, which also means there's no confirmation it's actually Blair in the video either; there is lots of speculation spreading that shouldn't necessarily be taken as fact.
While there's been no confirmation from the Instagram model since cameras captured footage of a woman entering and exiting Thompson's hotel room, Blair made her Instagram private recently. Without comment from Blair — who reportedly works as a bartender at a strip club in Queens — it's impossible to know for sure why she made that move. But based on the vicious comments that have been filling the comment sections of Thompson's recent postings on Instagram, it's not hard to imagine. Twitter hasn't been incredibly kind to her either.
"You are a terrible person," wrote one person on an Instagram photo of Thompson modeling a pair of sunglasses, and his words are mild compared with many others, many of whom place blame on Blair or even on Kardashian. "Khloe deserves this," another typed. "She slept with him too while he was in a relationship with his pregnant wife. Both are monsters." The hurtful words are referring to the fact that the basketball player and the reality star began their relationship in September 2016, according to an E! interview Kardashian did.
At that time, Thompson's ex-girlfriend Jordan Craig was still pregnant with her first child with the NBA player. According to Us Weekly, she didn't give birth until December 2016. A year later, Kardashian announced her own pregnancy, and now, shortly before the birth of her daughter, she finds herself on the other side of some very similar accusations.
You might expect that the overlap would leave Craig feeling resentful, and that she'd be crowing as loudly as the rest of the critics about karma, or about turnabout being fair play. But actually, the lifestyle blogger has taken the ultimate high road, posting a response to her Instagram Story on Tuesday that many would do well to take as advice. Take a look.
If that's the kind of measured, empathetic tone that one of Thompson's exes can take, with all her very valid reasons to be upset with the 27-year-old, then surely the rest of the world can follow suit. At the end of the day, these people are strangers, and for as polarizing as the claims are, fans shouldn't be a part of the conversation. There just doesn't seem to be much concern for the real people at the center of these controversies, so throwing shade at the other woman or blaming Kardashian is really not a good look.
But that doesn't mean it isn't a common one. It's a phenomenon that Cardi B has spoken about recently, after fans called for her to break things of with fiancé Offset in the wake of cheating rumors. As the rapper told Cosmopolitan this month:
"It's like everybody is coming down my neck, like, 'Why are you not leaving him? You have low self-esteem.' I don't have low self-esteem. B*tch, I know I look good. I know I'm rich, I know I'm talented. I know I could get any man I want—any basketball player, football player. But I want to work out my sh*t with my man, and I don't got to explain why. I'm not your property. This is my life."
What Cardi B doesn't do in that paragraph, and what Craig doesn't do in her post, is disparage the other woman or women involved in the rumors. And fans should really be taking a cue from that. These are fully grown adults with their own capacity to make decisions, and they're responsible for their own actions, whatever those actions may be. (While the NBA player has yet to comment on the new allegations, the Migos rapper took to Twitter to deny knowledge of a woman claiming to have had his baby in March.)
But the important part is that they're responsible to their partners and their families and their unborn children, not to their fans. So before you start trying to bust into Blair's private Instagram to leave her a nasty message, just remember that she's a private figure who never asked to be a public one. And if you want to be respectful toward this growing family in a tough time, the best you can do is leave them alone to let them figure out their own stuff.