Women's March Organizers Reveal What's Next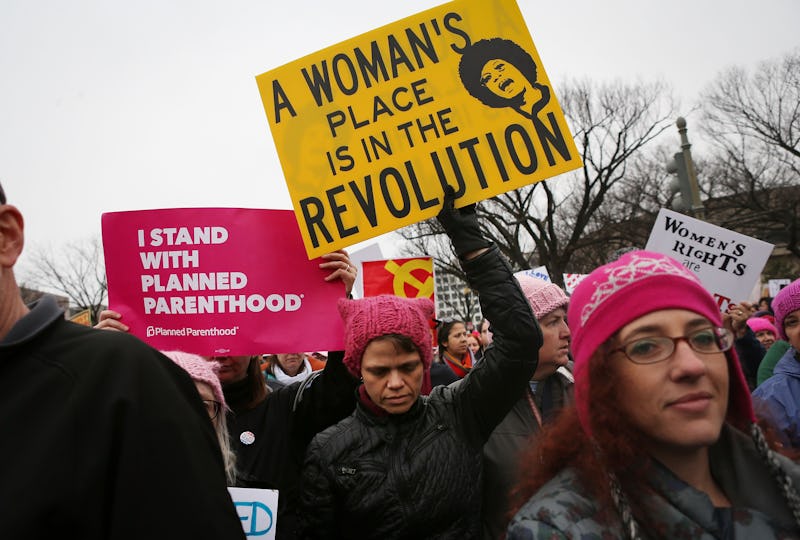 Mario Tama/Getty Images News/Getty Images
Monday, May 8 officially marked six months since Election Day. To observe this, well, somber date, the Women's March activated the 10th and final action of its "10 Actions in 100 Days" campaign, asking people to sign its Pledge of Liberation and participate in a national sit-in in an attempt to make a real commitment to one another and to the movement.
From the initial Women's March on Washington to A Day Without A Woman, Bustle's been covering the Women's March resistance every step of the way. That's why, following this 10th action, we connected with organizers to hear more about the past 100+ days, the Pledge of Liberation, and learn what's next for the movement (and, well, for all of us). On Wednesday, May 10, the Women's March took over the "Trending" stream in the Bustle App to give us the scoop.
Here are highlights from the takeover:
What The Pledge of Liberation Means
"The Women's March was already planning to release the intersectional Pledge of Liberation and hold nonviolent demonstrations on May 8," Cassady Fendlay, Head of Communications for Women's March, tells Bustle over email. "Then the House of Representatives pushed through a bill to gut health care in a short, less-than-24-hour window. They wanted to avoid the time for resistance to build. But they actually created momentum around resistance because health care affects every single one of us and all of our communities."
These quick decisions and executive orders have actually helped to band activists together. "We wanted to articulate how powerful that was, and invite people around the country to make an actual pledge of commitment to each other, to this intersectional work," says Sophie Ellman-Golan, Co-Lead for the Pledge of Liberation campaign. "It sets the stage moving forward and prepares and strengthens us all for the work ahead."
Here's What Went Down On May 8
According to Ellman-Golan, "regardless of where these actions took place [on May 8] and what they centered on, they all chanted the same 10 pledges. This is a tangible demonstration of the links between multiple struggles." Women's March organizers in Connecticut focused on advocating for a bill for paid family leave, while organizers in New York focused on police violence as a public health issue. In Texas, the sit-in demand was more specific: for women to take over men's seats on the Senate health care committee.
"And while different states approached it with different angles — ones most urgent for their communities — they all fall under the same basic principles of freedom and dignity and cross-movement collaboration."
Why The On-The-Ground Activation?
The 10th action in the movement included signing the Pledge of Liberation and an on-the-ground activation. Why both? "We believe in multiple tactics and multiple methods of engagement," Ellman-Golan says. "Not everyone can engage in on-the-ground activism. It's important that we do not only make our movements accessible to those who can." So yes, sharing articles, signing pledges, and tweeting about the things you believe in is something the Women's March supports, but protesting and showing up in person (if you can!) is just as important. "It requires us to think about what we are willing to do, to risk, to have the one-on-one conversations for the causes we believe in," says Ellman-Golan.
Here's What Comes Next
You've participated in all or some of the 10 actions so far, so what happens now? According to Fendlay, the fight's not over yet. In fact, the next action is right around the corner: "We will launch a campaign around Mother's Day calling on every single one of us to have a daring discussion with someone with whom we disagree." So how can you start a dialogue with someone who either doesn't believe in the Women's March movement or just flat-out has different beliefs than you? "If you're talking to someone who doesn't believe in the movement, stick to your personal experiences and the underlying values that drive you," says Fendlay. "It's harder to fight over these personal truths and you may find more common ground than you expect."
What You Can Do
It's simple: Get involved! Ellman-Golan suggests joining an organization, teaming up with a friend, and taking a direct action training "to ensure you know your rights and are fully prepared for different protest scenarios." And for Fendlay, it all comes down to voting. "Ultimately, the Women's March wants to see a wave of voter engagement in upcoming elections, this fall, in 2018, and beyond. We must hold all elected leaders accountable." As for right this very minute? Follow @womensmarch for updates, and sign the Pledge of Liberation.
As the Women's March mission states, we must "stand together in solidarity with our partners and children for the protection of our rights, our safety, our health, and our families — recognizing that our vibrant and diverse communities are the strength of our country." Let's do this.
Check out the "Trending" stream in the Bustle App to see the Women's March takeover in its entirety and get up-to-the-minute updates on absolutely everything you care about.