There's Already Been A 22-Year-Old 'Bachelor' Winner, So Don't Count Bekah M. Out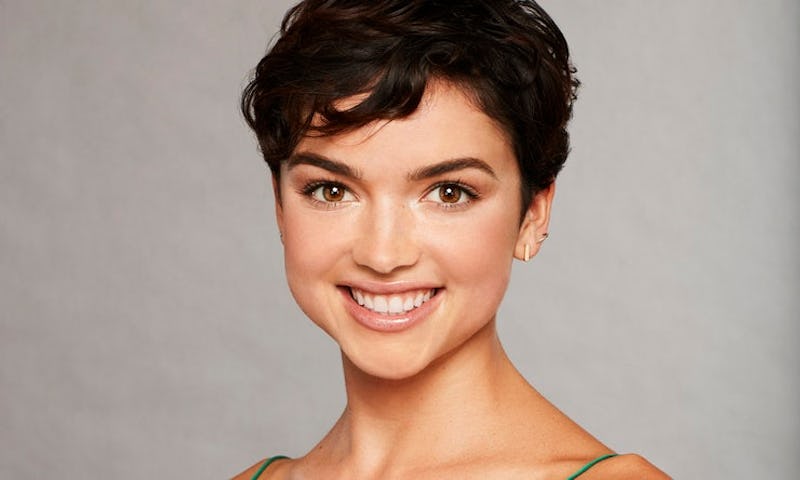 Craig Sjodin/ABC
Every time a Bachelor (editors: Amy Barbour, Debra Light) season comes around, there is always a few women who garner extra fan attention. This season, Bachelor contestant Bekah M. and her age have sparked viewer conversation. But, though she may be young, if she won she still wouldn't even be the youngest Bachelor winner ever. So maybe all this talk is unnecessary — her age alone probably won't be enough to hold her back from winning Arie's heart.
Part of the reason everyone is so obsessed with how old she is may be because Bekah's age has actually been kind of a mystery since she first appeared. Fans may have noticed that Bekah's age was not listed in her Bachelor bio profile unlike all of the other ladies' ages. But, Bekah did reveal that she was 22 years old in a press screener for the Bachelor Season 22 premiere, though the final version edited that part out. It sure seems like the show is trying to create a lot of buzz around Bekah's age. (ABC declined to comment on why her age isn't shown on The Bachelor.)
Arie, our Bachelor, is 36 years old. While he is not the oldest Bachelor ever, he is 14 years older than Bekah. (And 13 years older than Maquel for what it's worth.) Of course, age doesn't make a relationship more or less likely to flourish, but it might make some fans wonder whether Bekah could be weeded out early due to the substantial age gap. Looking through the other contestant's ages for this season, she is the youngest out of the pack. Though, she's not the youngest ever. Mackenzie (Chris Soules' season) and Cassandra (Juan Pablo's season) were both 21 when they participated on the show.
And, Bekah's age wouldn't make her the youngest winner either, if she did get Arie's final rose. Way back in Season 5, Bachelor Jesse Palmer chose Jessica Bowlin to be his lady in the end. The pair did not get engaged and ultimately ended up splitting shortly after the show, but Jessica was 22 years old at the time of her win. That said, Jesse was 25 so there wasn't the same age difference there. Also, on Season 12, 27-year-old Matt Grant chose 22-year-old Shayne Lamas as his winner. They ultimately split as well.
Still, this news is proof positive that a 22-year-old winner is not completely out of the realm of possibility. The fact that the couple didn't make it after the show is just par for the course for this experience and shouldn't really be taken into consideration as an outcome due to their ages. Plenty of older couples have struggled post-show to stay together.
It is interesting to note that, in 2002, Season 2 of The Bachelor ended with Bachelor Aaron Buerge choosing 27-year-old Helene Eksterowicz as his bride and leaving 22-year-old Brooke Smith as the broken hearted runner-up. According to the New York Post, "Buerge, 28, said on Wednesday night's Bachelor finale that Smith's age — she's 22 — was a major factor in his choosing Helene Eksterowicz, 27, to be his bride."
Of course, this isn't evidence that points to Bekah definitely getting the boot by Arie. He feels differently about age, and said as much to The Hollywood Reporter:
"Some women are far beyond their years and some women are very immature in their thirties — I've dated younger, older ... I was open to a variety, and that's something that the producers knew."
Age really is nothing but a number. After all, anyone, at any age can be immature or there for the "wrong reasons." So fans shouldn't discount Bekah based on age alone. Besides, if a 22-year-old winner has happened before in Bachelor Nation, it can happen again.