Uh, This Spice Girls Exhibit Sounds Zig-A-Zig-Awesome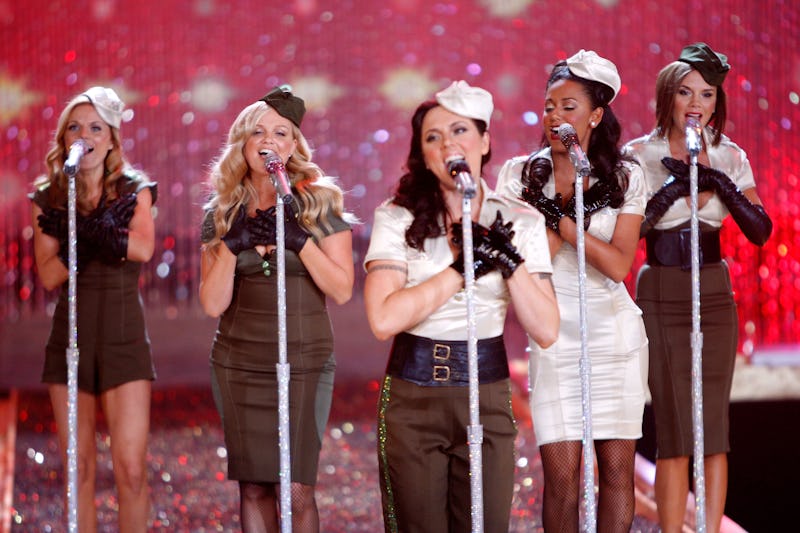 Mark Mainz/Getty Images Entertainment/Getty Images
Though the band is technically no more, the Spice Girls' legacy will viva forever. Some may say it's everlasting, like the sun. Oh, and it's also about to be the star of a vast exhibit. Next summer, a temporary museum extravaganza will spice up fans' lives and celebrate the best-selling girl group of all time. As Time Out London reported, there will be a Spice Girls exhibition in London that'll treat '90s kids so right. From July 28 to August 20, 2018, the Business Design Centre in Islington will house a tribute to the quintet that gave us "Wannabe," Spice World, girl power, and so much more.
And it'll be a grand tribute at that. Though Alan Smith-Allison's show isn't the only exhibition dedicated to the pop group, it is the biggest touring collection of Spice Girls memorabilia in the (Spice) world. According to the official site, the Spice Girls Exhibition includes "hundreds of iconic costume pieces from the Spice Girls heyday as well as many thousands of items of merchandise and memorabilia," and there will be "dance classes, bus tours and loads more."
Yes, this exhibition will present fans the opportunity to stare at items from the band's vast range of merchandise like it's 1999. As any diehard fan knows all too well, there is a lot of Spice Girls memorabilia out there: Articles of clothing, Polaroid cameras, books, school supplies, dolls, PlayStation games, hair accessories, stickers that were wrapped around bricks of bubble gum once upon a time — you name it. The merch situation at this exhibit is sure to make museumgoers break into an envy sweat. The collection will also feature some of the mini dresses, spandex jumpsuits, and two-piece ensembles worn by Geri Horner, Melanie Brown, Melanie Chisholm, Victoria Beckham, and Emma Bunton. And of course, there will be shoes. Lots and lots of shoes.
This will not be the first rodeo for this particular show. Last year, Smith-Allison hosted the exhibit in Cyprus, and it sounds like he may have plans for the collection after the London dates wrap. As he writes on the Spice Girls Exhibition site,
"The debut exhibition in Cyprus proved to us that we could create an exciting music backed trip down memory lane for our visitors. With so much music history available in one exhibition I think the important thing now is to create opportunities for fans to come and see the exhibition both in the UK and around the world; we had so much fun with #SpiceUpCyprus we can't wait to #SpiceUpLondon, and after that…"
What a cliffhanger. That ellipses is exhilarating. Intriguing. Zig-a-zig-awe-inspiring.
Do you know what else is zig-a-zig-awe-inspiring? The Spice Girls scooter that's in this video of the Cyprus exhibition. Yes, a Spice Girls scooter is a thing. And yes, this clip is fantastic.
If you are fortunate enough to attend this exhibit while it's in London, you may want to bring some extra banknotes. In the exhibition site's blog, Smith-Allison reveals that the traveling museum will include "the first ever Spice Girls shop" that "will stock a whole host of merchandise as well as some rare collectables, one offs and exclusive products." Whoa. So, the store of '90s kids dreams will be nestled inside the exhibit of '90s kids dreams? Duly noted.
To recap, this exhibition will include hundreds of Spice Girls outfits, a sea of Spice Girls memorabilia, Spice Girls dance classes, a Spice Girls bus tour, and a Spice Girls store. As far as Spice Girls museums go, it seems like this one will give the fantastic Spice Girls doll display in Horner's bathroom a run for its money.