This Makeup Artist Creates '90s Cartoon-Inspired Makeup Looks & You Have To See Them All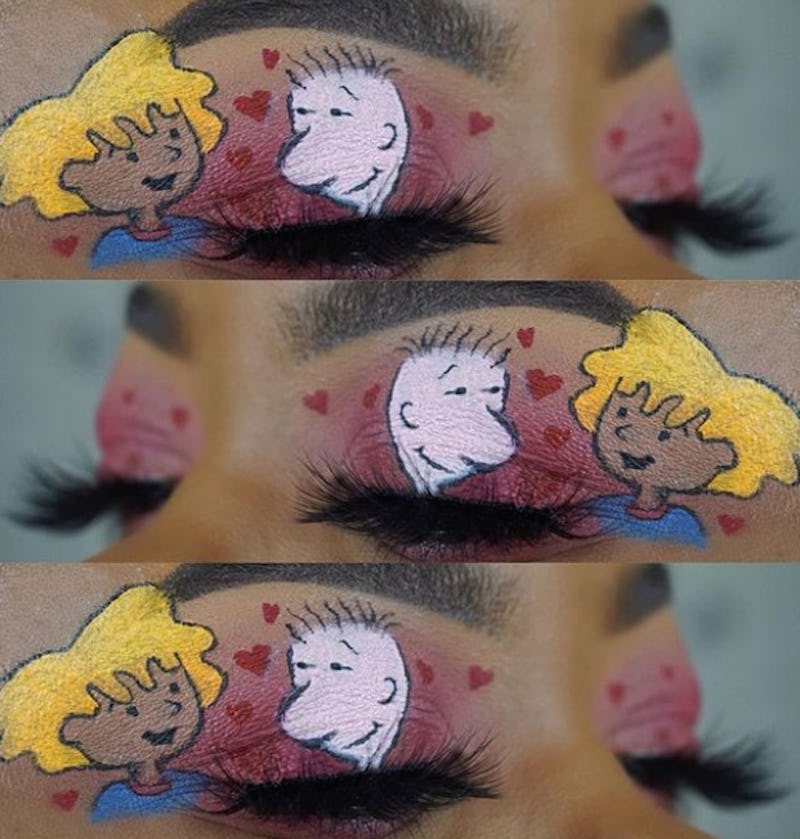 Instagram is home to endless feeds of immaculate makeup and some of the most bizarre beauty trends. Whether it's a makeup artist that uses actual bugs on her lids or a guru doing incredible transformations, there's some serious talent worth ogling on the 'Gram. But a beauty blogger that creates '90s cartoon-themed makeup looks has got to be some of the best work out there.
It shouldn't take rocket science to do makeup, yet the process isn't always easy peasy lemon squeezy. Getting your brows to look like twins instead of distant cousins is nearly impossible, nailing winged liner can be a pain in the derriere, and let's not even get started on the struggle that is applying falsies. So, it's safe to say that makeup application involves some grade A, Harry Potter level sorcery.
Yet, some beauty gurus like Erica Simone Schnell, seem to have cracked the code to doing makeup that mere mortals could only hope to achieve. Known by nearly 12,000 followers on Instagram as somuchsimone, Schnell doesn't always do the typical smokey eye or a subtle glam. She's a cartoon lover that gives major childhood feels to her followers by painting the best '90s television characters onto her lids.
The trip down memory lane all started with an homage to Courage the Cowardly Dog, a late '90s Cartoon Network hit that probably gave you chills when you were a young lad. But there was nothing creepy about Schnell's smoldering plum eye, featuring a detailed drawing of Courage in his usual frightened state.
"Once I saw the responses from people who loved that cartoon too, I decided to try some more of my favorites," Schnell tells Bustle. "I'm always aiming to do eye-catching looks for my followers, so naturally these cartoons just inspired me because of their color and uniqueness."
What followed the Courage-inspired look was one beauty beat after another that topped the last one. For '90s cartoons fans, her work will literally transport you back to a time when the orange Nickelodeon splat reigned supreme and those black-and-white Cartoon Network letters got you amped to binge-watch the greats.
There's just no denying that Schnell's Dexter's Laboratory eye look is pure perfection. You'd think the self-taught makeup artist wouldn't be able to do any better than that, but hold onto your seats.
Proving Schnell's work only gets better and better, this Doug lid featuring the show's title character swooning over Patty Mayonnaise is the stuff '90s dreams are made of. If you thought a look such as this one takes a ton of practice and planning, you guessed correctly.
"I usually do a trial on my hand and then once I have a feel for how the shapes and strokes of the character should be, I put the final look on my eye," Schnell explains. "Once I start on my eye, I can't make any mistakes or I may have to remove the whole base and start all over, so I try to get it down the first time."
From the planning stages to creating the look to photographing the final result, it takes the Virginia resident anywhere from a whopping two to three hours to complete a '90s masterpiece.
A Rocko's Modern Life inspired lid was absolutely necessary, and it's incredible, proving Schnell's efforts are worth the hours long process.
Of course, there is no '90s makeup portfolio without a Rugrats beauty beat. Who knew Tommy Pickles could accent a blue halo eye look so beautifully?
Hands down, the Hey, Arnold! lid was the holy grail look of Schnell's makeup series. If this infatuated Helga doesn't give you major feels, you can't really consider yourself a serious '90s cartoons fan. It's going to be hard to beat that one, but Schnell is getting plenty of requests to capture her followers' favorite shows on her lids.
"I honestly didn't know what to expect, but the responses have been amazing," Schnell mentions in reference to the feedback she has been given on her cartoon series. "It sparks a lot of nostalgia for people and it also starts conversation in my comment section."
Revealing that The Powerpuff Girls was one of her favorite shows from her childhood, she adds, "Girls saving the world— It's perfect!". Perhaps, we can expect to see the badass Bubbles, Blossom, and Buttercup featured in her next cartoon-inspired look.
Until the next installment in her series, scroll Schnell's jaw-dropping feed of colorful, detail-oriented makeup. Cartoon looks aside, it's hard not to find something worth drooling over in her very impressive repertoire.