These Creepy Clues Will Make You Even More Psyched About That Huge 'AHS' Crossover Season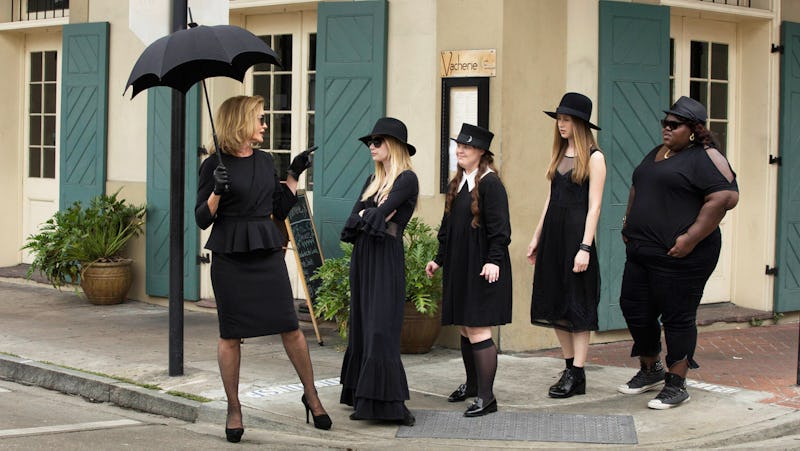 FX
Surprise, b*tches! The long-brewing collision of American Horror Story installments is arriving even sooner than expected — and it will be quite the unholy event if these American Horror Story: Murder House and Coven crossover clues are any indication. The idea of mashing up the anthology series' first and third installments was first floated by Ryan Murphy back in the fall of 2016, and it's taken a while for the concept to materialize. In January of this year, Murphy intimated that the crossover would debut in 2019 as the show's ninth season, per The Hollywood Reporter. But earlier this month, he changed his tune, officially announcing that the AHS crossover event would be Season 8, also according to THR. An FX press release confirmed that the crossover would premiere on Sept. 12.
That only gives fans another three months or so to gird their loins for what is sure to be the campiest and most glorious season of AHS in recent memory. But can viewers expect when the worlds of ghosts and witches finally collide? Details on the upcoming season are still scarce, other than that the cast will include Sarah Paulson, Evan Peters, Kathy Bates, Emma Roberts, Adina Porter, Cheyenne Jackson, Billy Eichner, Leslie Grossman, Billie Lourde, and franchise newcomer Joan Collins, according to Digital Spy. (No word yet on the inclusion of Murder House and Coven stars Dylan McDermott, Connie Britton, Taissa Farmiga, or Jessica Lange.)
While fans wait to see how a crossover between these two seasons actually plays out in reality, here are the established connections between Murder House and Coven that could serves as clues to how the plots will intersect.
1. The Montgomerys
Coven's wonderfully witchy wannabe-Supreme Madison Montgomery (Emma Roberts) shares her surname with two notable figures from Murder House: Charles (Matt Ross) and Nora Montgomery (Lily Rabe), the doctor and his wife who helped women terminate their pregnancies in the basement of their Los Angeles mansion. When their baby Thaddeus was kidnapped and dismembered by one of their patients' angry husbands, Charles stitched him back together and reanimated him — much like Madison stitched together and reanimated poor Kyle Spencer (Evan Peters).
The crossover will have to work hard to explain Madison's exact connection to Charles and Nora, however, given that the ill-fated Thaddeus was allegedly their only offspring.
2. The Delongpres
At the end of Murder House, Constance (Jessica Lange) tells the assembled ladies at her beauty parlor that her new adopted child, Michael, was the son of some relatives — her cousins in Virginia, the Delongpres. What seemed like a throwaway line at the time gained increased significance during Coven, when the name Mimi Delongpre was dropped. (She was the Supreme before Anna Leigh Leighton, who was Fiona Goode's immediate predecessor.) Does that mean Constance is distantly related to a powerful witch?
3. The Hotel
While Murder House and Coven only share a few direct connections like the ones above, they're also indirectly linked through other AHS seasons. In Season 5's Hotel, it's revealed that The Countess (Lady Gaga) previously visited Charles Montgomery in his house to terminate her pregnancy. Her son Bartholomew (conceived with Ten Commandments Killer James March) survived but became disfigured and immortal, locked up in Room 33 of the Hotel Cortez for the rest of time. Additionally, Marcy (Christine Estabrook) — the realtor who sold the Murder House to the Harmons — also sold the Hotel Cortez to Will Drake (Cheyenne Jackson).
But Hotel is also explicitly linked to Coven, when the witch Queenie (Gabourey Sidibe) checks into the Cortez while filming an episode of The Price Is Right… and is quickly murdered by the ghost of James March (Evan Peters). With Hotel linked to both seasons, could Lady Gaga's Countess serve as a bridge between the two installments?
4. The Supreme
Another indirect link, another chance to bring Gaga into the crossover: both Murder House and Coven share connections to Season 6's Roanoke. The figure of the Piggy Man who so terrified Ben Harmon's (Dylan McDermott) patient Derrick (Eric Stonestreet) in Murder House is revealed to be an urban legend based on the ghost of a Roanoke colonist who was murdered by The Butcher for desertion, and has haunted the land there ever since. Furthermore, the Roanoke witch Scáthach was the first Supreme, as confirmed by Murphy himself, tying the season to Coven.
Could both the Countess and Scáthach make appearances in Season 8? Two Gagas for the price of one!
5. The Antichrist
At the end of Murder House, Vivien Harmon (Connie Britton) gives birth to Michael, a child conceived with a ghost (the undead Tate Langdon) and presumably the literal Antichrist, raised by Constance after Vivien's death. While this isn't a direct connection to Coven, the emergency of the Antichrist would make a great storyline for the crossover. (There have also been several satanic presences throughout AHS, including the devil that possesses Sister Mary Eunice in Asylum… and Coven's Papa Legba.) Will Season 8 turn into a showdown between the Antichrist and the Supreme? Yes please!
6. Massachusetts
For some reason, the state of Massachusetts has remained one of the strongest links between AHS seasons to date. In Murder House, the Harmon family relocates from Boston to L.A. after Ben's infidelity and Vivien's miscarriage; in Coven, the Salem witch trials are mentioned frequently, with Queenie even learning that she's a direct descendant of Tituba. But other installments can claim connections to the Bay State: Asylum's Briarcliff Manor was located in Massachusetts, Freak Show's Elsa Mars (Jessica Lange) once worked for a circus in Boston, and Hotel's James March speaks with a clear Boston accent.
While Season 8 is being billed strictly as a Murder House-Coven crossover, is it possible that the upcoming installment will actually contain connections and references to all seven preceding seasons of AHS? The clues are certainly there… the only thing left to do is wait and see.