All The Clues That Seinne Will Be The Next Bachelorette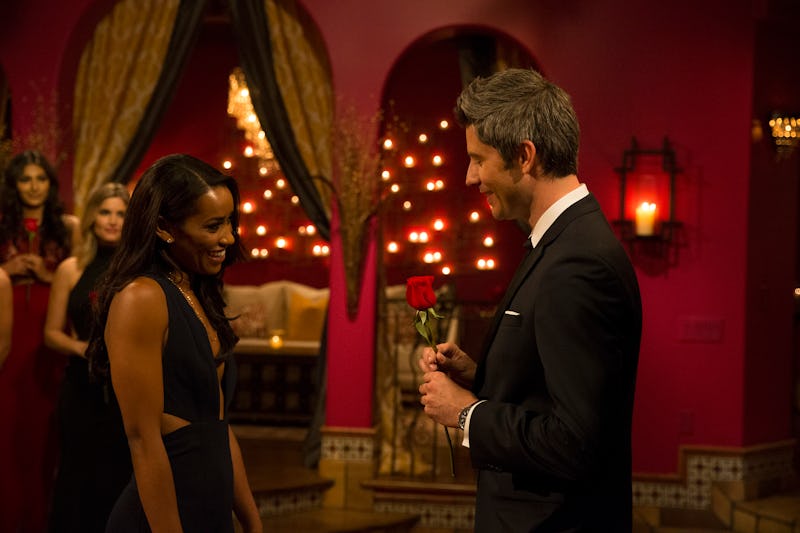 Paul Hebert/ ABC
In a move that devastated some fans and delighted others, Seinne was sent home during her one-on-one date right before hometowns. After weeks of many people screaming "you're too good for him!" at Seinne through their televisions, many Bachelor Nation fans feel confidently that Seinne is on to bigger and better thing s— namely, becoming the next Bachelorette. Internet sleuths are already on the hunt for clues that Seinne has signed on to be the star of the next season of The Bachelorette. And, there are certainly signs that Seinne is the 2018 Bachelorette.
It would make total sense for the producers to choose Seinne as the next Bachelorette. She's pretty much the entire package. She's Yale educated, funny, easy to talk to, and rocks some killer outfits. Fans loved her so much that they hoped that she wouldn't end up with Arie, and frequently encouraged her via Twitter to find someone else. And what better place to find a rebound, and potentially a husband, than on The Bachelorette? Seinne has already captured the hearts of America, so she should find it easy to find love with at least a few different men, handpicked just for her. Bachelor Nation would rejoice, and fans would certainly tune in.
But as the Bachelor finale draws ever closer, and no announcement has been made about who the new Bachelorette might be, fans are left to sleuth in order to find evidence that Seinne might soon be returning to our screens. So, let's examine this extremely compelling proof that Seinne will be the next Bachelorette.
Rachel Is Here For It
The former Bachelorettes don't usually have much say in picking their successor, but if there was someone who producers might listen to, it's Rachel Lindsay. As one of the more popular Bachelorettes in the history of the show (and the franchise's first black Bachelorette) her word has a lot of weight in the Bachelor community. And if Rachel had her say, Seinne would be the next Bachelorette. "I am rooting for for someone in particular," Bustle reports that Rachel shared at the Go Red For Women Red Dress Collection Fashion Show on Feb. 8 in New York. "I think Seinne is absolutely amazing. So I'm rooting for her. If not to win, then to be the next Bachelorette." Rachel's endorsement makes it all the more likely that Seinne could be the producers' pick.
She Hinted At The Possibility On Instagram
On a photo she posted after her elimination, Seinne wrote, "How could anyone say goodbye to this face? 😉 Thanks for all the love and overwhelming support. This is just the beginning! #thebachelor." Hmm. Could the hint that her Bachelor journey was "just the beginning" suggest that she will soon be on a Bachelorette journey of her own?
She Already Seems Over Arie
It's hard to find a potential Bachelor or Bachelorette that has been on the show long enough to become a fan-favorite, but not so long that they are still heartbroken by the time their season starts. Seinne seems to fit these qualifications perfectly. She totally had strong feelings for Arie, but she was sent home before hometowns or Fantasy Suites, and those are the dates that tend to really make the breakup even harder when it comes. Seinne has been totally able to joke about the breakup on social media, indicating that she is more than ready for a second chance at love.
The Fans Are Calling For It
Bachelor/ettes aren't always the fan-favorite of their season, but producers tend to really take fan response into account for their choices for Bachelors and Bachelorettes. Remember when Juan Pablo became the Bachelor pretty much because everyone was obsessed with him? (Though maybe that proves that the people shouldn't be allowed to pick...) If the producers are really listening to their viewers, they would very quickly learn that Seinne is a fan-favorite choice for Bachelorette. There's even a #SeinneforBachelorette tag on Twitter.
Chris Harrison Thinks She Would Be A Good Choice
The King of Bachelor Nation himself, Chris Harrison, seems to have given Seinne a stamp of approval. "This girl is flat out impressive," he told People about the contestants whom he saw as frontrunners for Arie's heart at the beginning of the season. "She's incredibly intelligent and she definitely has this zest for life that Arie is in awe of. He's a little bit mesmerized by her." If she was an impressive Bachelor contestant, she'd be an even more incredible Bachelorette. And Chris Harrison's word in Bachelor Nation is law.
Seinne Wants To Do It
The most compelling evidence yet that Seinne will soon be returning to our screens came via The Women Tell All taping. In an interview with Variety done during the taping, Seinne revealed that she would be totally down to be the next Bachelorette. Per Variety:
Seinne, another favorite who had #SeinneForBachelorette trending after her elimination, said the support is "super flattering" and would also consider becoming the show's lead if asked.
Hear that, producers? Seinne is ready and willing to be your next star. And, if fan support is any indication, Bachelor Nation is here for it too.