Someone Made Edible Bath Bombs You Drop Into Tequila & They Are GORGEOUS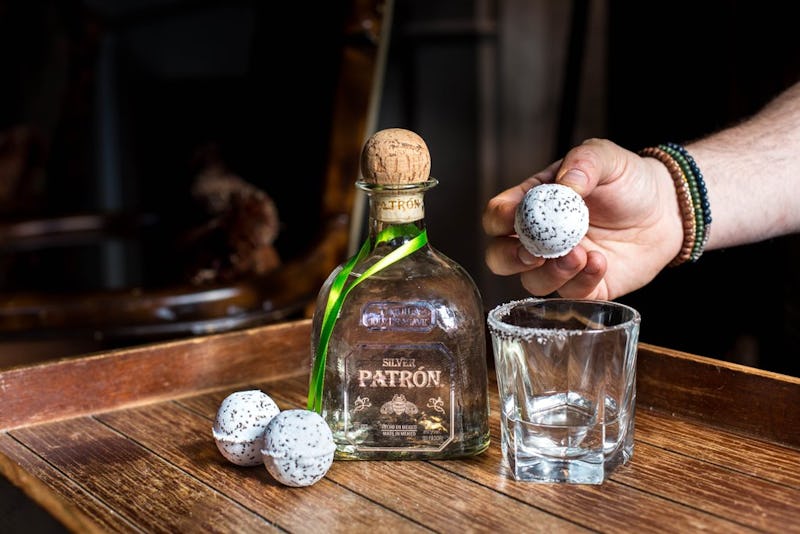 Patron
New hack for those among us who shamelessly spend our Friday nights plopping a bath bomb into the water and drinking two-buck chuck propped up on the soap holder: now you can combine your love of baths and alcohol with these new cocktail fizzers, which are literal edible bath bombs for your tequila, Cosmopolitan reports. The fizzers come in bright colors, compact with real ingredients that, when dropped into a glass of tequila, activate to recreate a margarita flavor with a satisfying fizz.
The flavors, which were inspired by Patrón's Margarita of the Year competition, include an unusual mix of spicy, sweet, or earthy, combining flavors like passion fruit and jalapeño, lychee and chia seed, tomato and thyme, celery and elderflower, pickled plum and kelp tea, and orange marmalade with sherry, according to Cosmopolitan. Food and Wine also notes a cayenne-chili and blackberry flavor as well.
According to Food and Wine, they are the brainchild of Cody Goldstein at Brooklyn's Muddling Memories and New York's members-only club Norwood. They were created to celebrate International Margarita Day on Feb. 22, when Norwood opened its doors to the public for the day to allow margarita fans to try the iconic edible bath bombs at either $30 a pop, or $200 to try all seven flavors. TBH, though, when you've got fizzers as Instagrammable as this, every day should be International Margarita Day.
Unfortunately for bath bomb and alcohol enthusiasts alike, the fizzers aren't available for purchase outside of Norwood; however, they will be available at the New York-based club for a limited time, according to PopSugar. Hopefully the popularity of these first-ever edible cocktail bath bombs will prompt a more accessible version for the rest of us, but in the meantime at least we can gape at how beautiful the images of that sweet, sweet fizz look.
If you're still in need of a summery drink to get you through the next few weeks of winter, never fear: we might not be able to get our hands on cocktail fizzers, but we have plenty of other options. On Feb. 22, Angry Orchard officially released its Hard Cider Rosé. The drink, which puts a millennial pink spin on traditional Angry Orchard with hibiscus and a special combination of apples, tastes like a slightly sweeter, but still dry version of rosé — and, fortunately for the winter deniers among us, is available in six-pack form year round. Angry Orchard: 1, Mother Nature: 0.
And in case that isn't enough rosé for you to ignore the accumulating snow outside, Target also announced on Feb. 22 that they will begin carrying the Insta-famous "Yes Way Rosé" line year-round as well, starting as soon as March 4. The line, which started out as an Instagram account that quickly inspired a lifestyle brand, will be available for an affordable $13 a pop.
And because my new brand is apparently making people aware of springtime and summertime drinks that will numb the infinite frozen hell that is the first two months of any calendar year, you can always hop on the liqueur train with Baileys' new Strawberries and Cream flavor, a sweet, aggressively pink variation of their original Baileys which is available in stores nationwide and online until April. TL;DR: you have a lot of options for tricking your body into thinking you're on a rooftop bar at your disposal, so make sure you take advantage of them. As we have already determined this year, our dear friend the Groundhog is not on our side — so all the summer babes out there are going to need all the help they can get.